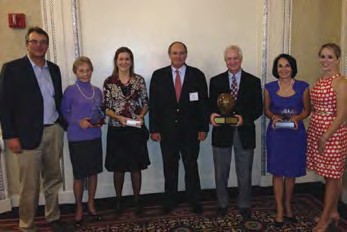 Three sailors from the Northeast were among those presented with US Sailing's highest honors during the Awards Dinner presented by Rolex during the organization's National Conference at the Hilton Milwaukee City Center in Milwaukee, WI in October. The award winners were recognized for their extraordinary achievements in the areas of sailing education, race administration and operations, sailing with disability, safety, sportsmanship, and overall contributions to the sailing.
(left to right): Peter Rich (Vice Commodore, Severn Sailing Association), Barbara Griffin (accepting for Peter Frey), Sally Lindsay Honey (accepting for Stan Honey), Bruce Cook, Arthur O'Neill, Joanne Dorval and Katie Ouellette   © US Sailing
Bruce Cook of Bayville, NY received the Harman Hawkins Award for the major role he has played in the advancement of race administration.
An International Judge and Umpire, Cook has served as a judge or umpire at numerous Olympic trials, world and national championships and tour match racing events. As a volunteer and mentor at Oakcliff Sailing in Oyster Bay, NY, he's organized umpires for dozens of match racing events hosted by Oakcliff. He has presented nearly 30 race management, judge and umpire seminars and workshops, and serves as Staff Commodore of Seawanhaka Corinthian Yacht Club in Oyster Bay.
Arthur O'Neill of Swampscott, MA received the Gay S. Lynn Memorial Trophy for his outstanding contributions to sailors with disabilities. Working with the Carroll Center for the Blind in Newton, MA since the 1970s, O'Neill established the facility's SailBlind program. He is currently writing a manual for teaching the blind or visually impaired how to sail.
Katie Ouellette of Portsmouth, RI received the President's Award for her efforts as the event planner for several US Sailing special events, including the National Conference/Annual Meeting, National Sailing Program Symposium, Sailing Leadership Forum, and Yacht Club Summit.
Other honorees include Stan Honey of Palo Alto, CA, who received the prestigious Nathanael G. Herreshoff Trophy for his outstanding contributions to the sport of sailing; Joanne Dorval of Arlington, VA, who received the Timothea Larr Award for her outstanding contributions to the advancement of sailor education in the U.S.; Peter Frey of Keyser, WV, who received the W. Van Alan Clark, Jr. Trophy for his exemplary display and promotion of sportsmanship; and the
Severn Sailing Association in Annapolis, MD, awarded the St. Petersburg Yacht Club Trophy for excellence in race management.