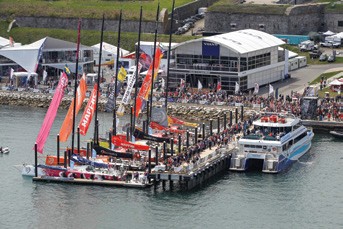 The Volvo Ocean Race has announced that the next stopover in Newport, RI will take place May 8 -20, 2018. It was also announced that the boats will leave Newport for a first-time stopover in Cardiff, Wales.
The Volvo Ocean Race Newport Village will feature attractions for sailors and sailing fans of all ages.   © Ainhoa Sanchez/Volvo Ocean Race 2017-18
The Newport, RI stopover in 2015 was a remarkable success as the race's only North American stop, and the City-by-the-Sea was quickly reselected as a host port for the next edition. The public Race Village at Fort Adams State Park opens on May 8. The boats are expected to arrive in Rhode Island between May 8 and 10. The In-Port racing will take place May 17-19 and the leg departure to Cardiff is scheduled for May 20.
"Newport hosted the most successful North American stopover in the race's history," said Sail Newport Executive Director Brad Read, "and Rhode Island will be ready again with an enthusiastic family-friendly public festival and celebration in May 2018."
The 2,900-nautical mile transatlantic crossing is traditionally one of the global race's biggest highlights and toughest tests for sailors in often challenging conditions. A sailor was lost overboard and a boat sunk in separate incidents during the Transatlantic crossing in 2006 on a leg from New York to Portsmouth, England.
"We are thrilled that the race will connect Newport with another historic seaside community in Cardiff," Read continued. "The North Atlantic leg between our cities could break the 24-hour speed record in the fierce North Atlantic conditions."
Cardiff has been chosen as the destination for the first Volvo Ocean Race transatlantic leg to the United Kingdom in 12 years, when the world's leading offshore race makes its debut visit to Wales. Other stopovers already announced for the 2017-18 edition include Alicante, Spain; Cape Town, South Africa; Auckland, New Zealand; Lisbon, Portugal; and Gothenburg, Sweden. For more information, visit volvooceanracenewport.com.