The Complete Illustrated Edition
By Joshua Slocum
Introduction by Geoffrey Wolff, Published by Zenith Press   242 pages   hardcover   $35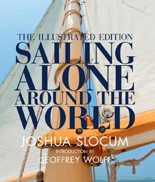 Most sailors have read Joshua Slocum's firsthand account of the world's first solo circumnavigation. You probably own a well-worn copy of Sailing Alone Around the World, but it's nothing like this beautifully produced illustrated edition from Zenith Press.
In the summer of 1898, Joshua Slocum, a naturalized American seaman and adventurer who was born in Nova Scotia, sailed into Fairhaven, Massachusetts, from which he'd departed more than four years earlier aboard his sloop Spray.
Slocum crossed the Atlantic twice (to Gibraltar and back to South America), negotiated the Strait of Magellan, and crossed the Pacific. He also visited Australia and South Africa before crossing the Atlantic (for the third time), returning home after sailing 46,000 miles. First published in 1900, Sailing Alone Around the World became an international bestseller and has inspired many sailors to follow in Slocum's wake.
Lavishly illustrated with 150 paintings, photographs and maps, the book also includes excerpts from other circumnavigators, as well as other well-known sailors and writers including Henry Dana, Geoffrey Wolff, William F. Buckley and Nathaniel Philbrick. The definitive edition of a classic sailing memoir, this exceptional book would be a fine gift for your favorite young sailor.
Geoffrey Wolff is an American novelist, essayist, biographer, and travel writer. His honors and recognitions include the Award in Literature of the American Academy of Arts and Letters, and fellowships of the National Endowment for the Arts, the American Academy in Berlin, and the Guggenheim Foundation. He's the author of Slocum's biography, The Hard Way Around: The Passages of Joshua Slocum.