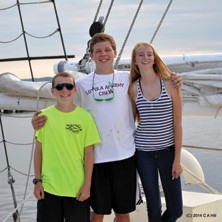 If you are looking for a truly "off the beaten path" teen camp opportunity, this one makes its course on the ocean and offers life at sea aboard a tall ship. And not just any tall ship; it's this country's brand new 200-foot full-rigged Sailing School Vessel Oliver Hazard Perry.
Teen students Garrod Clute (Bristol, CT, Ed Weschler (Chicago, IL) and Maggie Dunbar (Newport, RI)   © 2014 C A Hill
Two trips – one 11-night and one six-night – are open to teens ages 13-18 and will explore the New England coastline between Boston, MA, Portsmouth, NH, and Newport, RI, while participants witness the natural magic of the ocean and its inhabitants. They'll take responsibility for themselves and their fellow shipmates, learning to work as a team as they hoist and brace the yards on the ship's 13 ½ story rig and stand watch at the helm to guide the ship's course on a voyage of discovery.
Camp Dates
•    July 31 – August 11 (Boston, MA – Portsmouth, NH)
•    August 14 – 20        (Portsmouth, NH – Newport, RI)
Although above decks SSV Oliver Hazard Perry looks like a historical ship, she is in fact a fully modern and technologically sophisticated steel-hulled vessel. Below decks is a modern galley and Great Cabin (where captains, in days of yore, entertained); high-end navigation and communication systems; a state-of-the-art science lab, and classroom spaces outfitted with monitors displaying real-time navigation and meteorological data as well as laptop computers and an interactive SMART board.
Availability is on a first-come, first-serve basis, and registration is open at OHPRI.org. For more information, call 401-841-0080 or email info@ohpri.org. Follow OHPRI on Facebook and Twitter for current news and developments.
Barby MacGowan at Media Pro International contributed to this report.