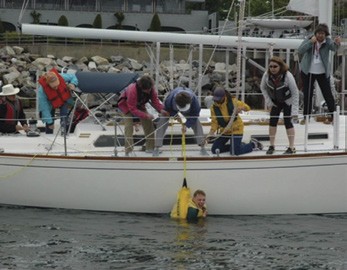 The 15th Annual Women's Sailing Conference, organized by the National Women's Sailing Association (NWSA), will take place Saturday, June 4, 2016 at the Corinthian Yacht Club in Marblehead, MA. Through hands-on workshops, seminars and on-the-water experiences, participants will learn or hone sailing skills, and network with other women sailors from all areas of the country. Contributing sponsors include Boat Owners Association of The United States (BoatUS) and New England-based Black Rock Sailing School.
© Eleanor Merrill
The gathering begins with a continental breakfast and winds down with cocktails, dinner, a speaker and final raffle distributions. Donna Lange, a sailor, author and musician from Bristol who is currently on her second solo circumnavigation, will be speaking. The day offers many opportunities for women to pick up a Wednesday night race berth or meet a new pal for an afternoon sail. "Women of all sailing abilities are encouraged to attend," said NWSA President Linda Newland. "There's always something of interest for everyone. By sharing experiences, women leave with skills and knowledge that contribute to better days on the water."
The workshops are numerous. Always popular are the hands-on Diesel Damsels, Suddenly Singlehanded, and Preparing for Heavy Weather at Sea.  There are 10 other workshops that run the gamut from Knots to Know to Demystifying NMEA Networks and how a boat's fresh water system really works. This year, one can hear how one team put together an all female crew for the Marion to Bermuda Race, and can learn on board a race committee boat just how the races are run as well as a running through a primer on race strategies.  Crew Overboard starts with a retrieval demonstration at the float and then participants take out boats and practice the drill on the water. Other workshops include Sail Care, Personalizing Your Boat, Rules of the Road, Culinary Food & Provisioning, Marine Electrical Wiring Basics, 10 Things I wish I knew Before I Went Cruising, Splicing, Batten Down the Hatches, and How to Throw a Line.
Workshop leaders are experienced in their field. Some own sailing schools for women, such as Captain Nancy Erley of Seattle, WA and Captain Sharon Renk-Greenlaw of Casco Bay, ME. Beth Burlingame, American Boat and Yacht Council Master Marine Tech, leads workshops on Marine Electronics and Marine Electrical Wiring Basics. Captain Bonnie Schaeffer will present a workshop on Clear Water!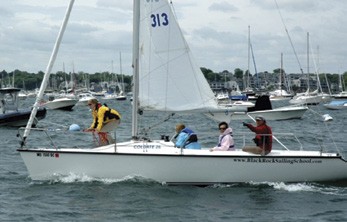 On the water, women can improve their sail trim skills or take the helm for their first time in a Colgate 26 or a Sonar. Black Rock Sailing School is providing two Colgate 26s, and the two Sonars are provided by the Boston and Corinthian Yacht Clubs. "We are fortunate to have the support of Black Rock and the two local yacht clubs. Women always sign up for on-the-water courses first, and we appreciate the second Colgate 26," commented Conference Committee Chair Joan Thayer.
© Eleanor Merrill
Raffles and a silent auction will benefit the Women's Sailing Foundation, a 501(c)3 organization which funds the AdventureSail program for  girls at-risk, ages 9 to 14 and provides scholarships for AdventureSail participants in  community learn-to-sail programs.
"Last summer, the Foundation established the Sue Corl Youth Sailing Scholarship for the older, post AdventureSail teenage girls," said president Newland. "The first recipient spent a week in an all girls program aboard the Adventuress, a tall ship, in the San Juan Islands.  This special scholarship was established in memory of our board member Sue Corl, who was constantly seeking our new and unique opportunities for girls."
Conference registration includes a continental breakfast, buffet lunch, dinner, workshops and a raffle ticket. Registration is on a first-come, first-served basis and will be available at womensailing.org. For more information, contact Joan Thayer at joan_thayer@comcast.net.
In addition, a presentation of the 2016 Leadership in Women's Sailing Award will be made during the event. The National Women's Sailing Association (NWSA) is a program of the Women's Sailing Foundation, an organization dedicated to enhancing the lives of women and girls through education and access to the sport of sailing. For more information, visit womensailing.org.