Patience is the key to planning your passage home from Bermuda
By Andrew Burton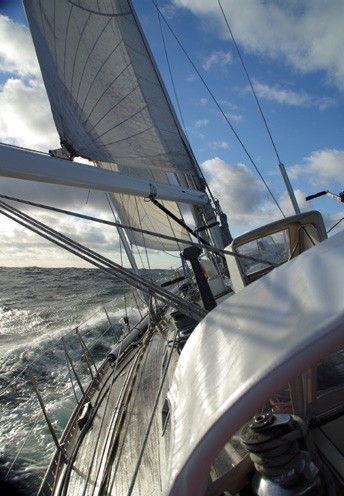 I enjoyed the interview with John Roumaniere in the April issue of WindCheck. John's words are always worth paying attention to, especially if you have the pleasure of doing so in person. I would like to add a little from my own experience to his comments about Safety at Sea and returning boats home after the Newport Bermuda Race.
Hunkered down under deep-reefed main and staysail the Swan 59 EMK heads north toward the Stream. We could have carried more sail, but sacrificing a knot of boatspeed gave us a much safer and comfortable ride.
As a delivery skipper for several decades, I have made the passage between the East Coast and Bermuda more than 100 times. That piece of ocean has dished out the worst conditions I've ever seen in the process of logging around 350,000 offshore miles. Due to the Gulf Stream and the frequent lows that form off Cape Hatteras and track northeast, experienced sailors know to treat the area with respect.
At the time of year boats are coming back from Bermuda to the East Coast after the race, it is usually easy to pick a good weather window, provided you practice a little patience. Conditions that time of year are generally benign, but sometimes you can encounter truly awful gales and several people have been lost or badly injured on boats making the return passage. Trouble mostly comes to crews for one reason alone; scheduling. They leave when they must, in order to get home and back to work on time. That's just asking to get clobbered by the wind gods.
Occasionally, you can't find a window that promises a nice sail all the way back. Usually that's because a cold front is approaching, and you know that at some point you are going to get hit with very strong winds on the nose. When this is the best I can get for a window, I do two things; I make sure I time my departure so I meet the front south of the Gulf Stream, and when I do meet the front – after conditions have gone downhill enough that the sailing is getting truly uncomfortable – I heave to.
Heaving to is a technique that many experienced offshore skippers find invaluable to have in their bag of tricks. Some skippers who lack a ton of offshore experience or are in a hurry to get home don't have the patience to lose time waiting for the wind to shift. And shift it will – if you're patient. At that time of year, it's rare for the breeze to stay strong and on the nose for more than a day. It's worth noting again: Sailing offshore and tight schedules are a dangerous mix!
One June trip heading home from Bermuda, we encountered a front that came through much stronger than forecast – which, thanks to the influence of the Gulf Stream, happens often in those waters – and we ended up hove to in 50 knots of wind and waves that resembled nothing so much as the Swiss Alps. A 42-foot race boat came smashing to weather close by, under greatly reduced canvas (thus satisfying one requirement for the crew to join my favorite club) and called us on the VHF to see if we were OK. We explained that we were simply hove to and relaxing with a cup of tea in the cockpit while we waited for the wind to shift from northwest to south. The shift was due in about 15 hours. We wished each other well and they crashed off over the horizon. The next morning at sunup, sure enough the wind had shifted and the seas were just long swells as we got underway. Just after breakfast we came upon our friends on the race boat, still hunkered down and hove to, obviously catching up on sleep.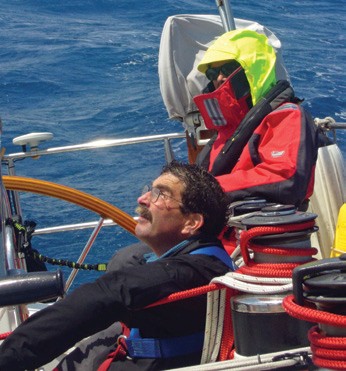 Another mistake sailors returning the boat after the Bermuda Race make is to overestimate the average speed the boat will make. They may forget that they won't be sailing with a full racing crew and probably won't be setting the boat's best sails. To take one boat I know well as an example, a Swan 46 is capable of making the passage back to Newport in a little more than three days; an average of 8 knots. However, under delivery conditions, the trip always takes me within an hour of four days, for an average of 6.6 knots. Having a good idea of the actual speed the boat allows the skipper to plan for weather conditions where the boat will be at a given time when studying grib files before departure.
Dave Aibel and the author aboard the Swan 651 White Knight just before heaving to in a Mediterranean Mistral.
A quick word about seasickness. Once a crewmember has decided on the best seasick medication for them, have them get it into their system thoroughly before you leave. Starting to take it a full three days before departure will almost always prevent "gulf stream gastritis." I figured this out years ago when I had an offshore sailing program. On what was to be the last voyage of the program, I had 54 sailors on nine boats heading south from Newport in November. Each of them took their meds the day before our planned departure; we ended up being delayed three days, though each day we thought we'd leave the next day. It didn't matter which medication the person chose, as long as they got it into their system. When we finally left, still with strong breeze and big leftover seas, the only person who got seasick was a "mighty-man-of-the-sea" who had never been seasick and didn't take any meds. My wife, who would feel nauseous on a dewy lawn, now enjoys our cruises from start to finish because she follows this practice.
Sailing back after the Bermuda Race can be the best part of the whole experience. Just leave your calendar at home, pick a good weather window, take your seasick meds in advance, and then enjoy the warm sunshine. ■
Andrew Burton has been a delivery captain for more than 30 years. He makes his home in Newport, RI, and with his wife, regularly cruises his C&C 40 between there and the maritime provinces of Canada.