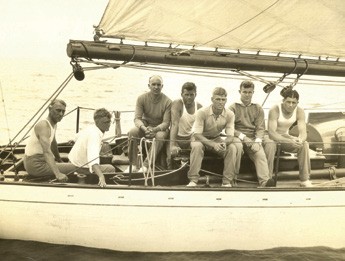 The Newport Bermuda Race Organizing Committee has announced two new efforts to recognize the younger members of the fleet, as has been done in the Marion Bermuda and other races.
Olin Stephens (second from left) and his brother Rod (third from right) and their crew relax before Dorade starts the 1931 Transatlantic Race. With the exception of their father (far left), the crew's average age was 22. They won the race by two days.   © Mystic Seaport, Rosenfeld Collection
All competitors between age 14 and 23 as of June 17, 2016 will be inducted into the Stephens Brothers Society. Olin and Rod Stephens famously raced their family's yacht, Dorade, which Olin designed, to Bermuda when they were 22 and 21 years old, and continued racing offshore in this race and others for many years. In their lives, the boats they designed and sailed, and their writings, Olin and Rod Stephens have inspired or helped countless sailors to realize the rewards of offshore sailing. Their legacy continues. Inductees will receive a small keepsake after the race, and organizers hope that they, like the Stephens brothers, will help encourage sailors of all ages to venture offshore.
A new Youth Trophy will be presented to the yacht with the best performance in the St. David's Lighthouse and Cruiser divisions (combined) that satisfies the following terms:
At least 50% of the yacht's crew + 1 person shall be between the ages of 14 and 23.
The average age of the Youth Crew shall be at least 17.
All yachts applying to enter this competition shall be subject to review by the Qualifications Committee and may be required to submit records of the crew's sailing experience.
Winner(s) will be determined in the manner used for other Cross-Divisional prizes, i.e., based on the yacht's corrected place rank within her division. For example, a yacht whose corrected time is ranked 10th place in a 50-yacht division will have a 0.2 score (10 / 50 = 0.2).
In addition to the standard safety training requirements established for all competing yachts, 100% of the Youth Crew (ages 14-23) must have completed either a safety at sea seminar satisfying NBRSR 5.2 or a Storm Trysail Foundation Junior Safety at Sea Seminar within five years of June 17, 2016. Yachts eligible for this competition will receive a 50% discount on the yacht's entry fee.
The young Naval Academy crew trims sheets aboard Constellation at the 2014 RBYC Anniversary Regatta as skipper Josh Forgacs advises the helmsman, Bermuda Governor George Fergusson.   © Talbot Wilson/PPL