Chris Museler reports from the finish of the 2014 Newport Bermuda Race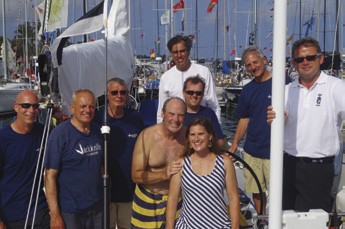 There's a first time for everything: first steps, first unassisted bike ride, first kiss. And if you're lucky enough, you will have a first Newport Bermuda Race.
Sarah Angell with her crewmates aboard Jackknife II in Bermuda. With the distinctive sail number GBR 8858, she sailed in Class 6, St. David's Lighthouse Division. © Chris Museler
Like all of the "good" firsts in our lives, the anticipation is easily 50 percent or more of the overall experience. For first-timers Sarah Angell and Sheehan Commette, both dinghy sailors, the anticipation of sailing to Bermuda was the only tenuous aspect of their experiences. How was the actual sailing? Pure enjoyment.
"I can't believe it took me so long to do this," Angell, a 34-year-old-Rhode Islander, said on Wednesday, fresh from her first shower. "I did some big boat stuff but teams were always looking for experience for long races." Angell, who sailed aboard the new C&C 41 Jackknife II, saw her opportunity this spring when her company, C&C Yachts (a division of Waterline Systems), was building the new 41 Redline Series. She convinced her boss that it was critical to her marketing strategies to gain intimate knowledge of the new boat and measure the customer experience. He bought it, and Sarah and a co-worker sailed in Jackknife II, skippered by Andrew Hall.
"Anxiety" would not be the word Angell and Commette would use to describe their pre-race feelings. Almost the contrary, the two had long been eager to sail offshore but were frustrated with the lack of opportunities.
Commette, a 24-year-old from Boulder, CO, arrived Thursday on Juan Corradi's Concordia yawl Westray, the last-place boat (meaning that she had the longest experience of the two). "I'd been trying to get into offshore sailing," she said. Then she met a member of Westray's crew. "We stayed in touch and here I am." Sheehan's father is former Olympian and Laser world champion Peter Commette.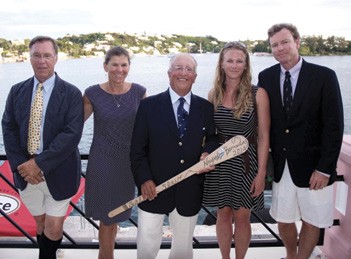 For Commette, a champion dinghy sailor herself, the slow pace but smooth motion of her ride in the traditional boat was surprisingly exciting. "The boat was so sweet," she said, drawing out her fingers to illustrate Westray's sweeping lines. "I never sailed a boat that handled so well. We sailed for 24 hours without having to touch the helm."
Sheehan Commette (second from right) and her Westray teammates with the Hamilton Galley Slave Trophy   © Barry Picktall/PPL
Like most new experiences, worry is often later unfounded. "I was a lot more nervous than I should have been," said Angell. "It turned out to be more like four days of sailing with regimented sleep at night." The first two days, she asked loads of questions and the experienced crew kept saying, "It will all fall into place." And it did.  Angell was starting to relax until they had to tuck in a reef at night. "I had a brief moment of, 'Shouldn't I be scared?'" she recalled. "It was 20-25 and turned out to be fast and really fun. But I was actually looking to experience more rough conditions."
A first-timer's perspective is enlightening to both seasoned sailors and those contemplating joining the Bermuda Race family. Angell has a brief list of recommendations after her trip. Don't over-pack. "I wore every item for more than two days."
Be hydrated before you start. "I did and it was good, otherwise I wouldn't have felt well."
Remember to eat something at the beginning of each watch. "I felt stabilized with something in my stomach."
Angell's final assessment was that, at sea, you are apart from the world on land, and this liberation changes you in a very good way. "On the first day, I thought it would be boring," she said. "Then I got into a routine and was forced to be disconnected."
All who race to Bermuda begin to anticipate the relief of leaving shore well in advance of the start. It may not be as exciting as a first kiss, but when asked about the other end of the Bermuda Race sensation, reconnecting, Angell laughed. "I'll check in briefly today," she said, "but I don't plan on checking my phone now until Monday."
Freelance journalist Chris Museler lives in Portsmouth, RI. Chris is the Newport Bermuda Race On-board reporter.