By Martin van Breems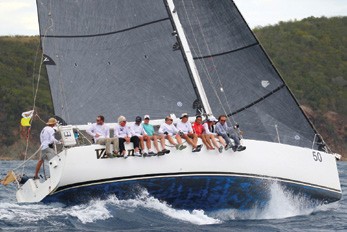 With a crew of 10, including six members or students and four instructors, Team Sound Sailing Center (SSC) managed a hard fought win in the 44th St. Thomas International Regatta on our VAr 37 VAruna.
Team Sound Sailing Center sailed VAruna to first place in the Non-Spinnaker class in the 44th St. Thomas International Regatta.  © STIR/www.ingridabery.com
Yours truly, founder of SSC and Dutchman, was the Captain (that's me with the pith helmet in the photo, as always!). Working forward on the rail is Sean Hussey of Norwalk, CT, Sound Sailing's Operations Manager and Instructor, followed by Bill McGowan of Greenwich, CT and the Old Greenwich Yacht Club, who served as our Head Relationship Coach and was at the Mast with Sean. Next to Bill is Dr. Jim Boyle, a UConn Professor of Meteorology and longtime SSC Instructor and Navigator. SSC member Thomas Murphy of Eastchester, NY is fourth in the row, and was a Genoa Trimmer. In the middle, longtime SSC student, member, and brokerage customer Dr. Richard DeBenedetto of New York was on Mainsheet. Rick has done numerous St. Thomas Regattas, which SSC started doing back in 1999! Next is Geoff McCuskey of Cincinnati, OH, a former SSC Instructor, who covered Tactics and is hard at work keeping an eye on things. Looking at you is Colette Pervais van Breems, my wife and an HR professional at Unilever. Colette and I doublehanded VAruna back to Norwalk from Bermuda, so she's pretty seaworthy! SSC Member and troop leader John Kupsch covered Foredeck with Sean and kept everyone on the ball, and is busy strategizing with John Roberts, also of the Old Greenwich YC and a SSC student.
Day 1 started with 3-5 knots for the downwind sail to St. Thomas Harbor, although 15 was forecast. I and several other crewmembers had spent hours wet sanding the bottom the afternoon before and that morning, inspired by our less than impressive performance in the Round the Rocks Race. Our bumper crop of small barnacles had to go! We were first over the line on the downwind start and no one really paid attention to us, the one advantage of doing poorly! VAruna has a full batten jib, which we found quite effective off the wind in the Newport Bermuda Race and we were able to stay ahead of the fleet for much of the race. When we pulled in, we discovered we had won! We had another good start for the race back, when this photo was taken. Obviously, the wind had filled in. Normally we trade off driving, but keeping the boat perfectly dialed in while changing drivers proved difficult, so I stayed on the helm. We convincingly won the second race also, proving to be fast both upwind and downwind.
After the race, a competitor said our rating was wrong, as the battens in our jib constituted a pole. I had investigated this for the Newport Bermuda Race, whose organizers did not consider full length battens to be a pole. The next morning I discussed the battens with the Caribbean Sailing Association measurer. We headed out again, and earned a solid win in the windward-leeward race. The second race was a longer reach to Reef Bay of St. John (one of my favorite harbors) and we came in third. First was Odyssey, a Beneteau 44.7 which had a crack crew including Chris Rosenberg, one of the best sailors in the area and two other Group 1 (pro) racers. Odyssey had won several times. Second was Lazy Dog, a beautiful new Grand Soleil 58, also sailed by a former Beneteau First owner who had won in the past. Hotel California, a cruising Santa Cruz 70, could also be wickedly fast. Not only did we place third, but in the first race the day before, we were now in second place! The pressure was on.
On Day 3, we knew Odyssey would be gunning for us, but we managed another excellent start and sailed away with good air in 16-20 knots, for a twice around windward-leeward. Since I knew Odyssey would cover us, I sailed all the way to the windward corner, then sailed a little past and tacked. Unfortunately, they eventually got free and over to our side of the course, and parked themselves above us. We cracked off a bit and passed them, buying some boat speed, but eventually they caught up and continued to cover us. Then we headed up and slowed a bit, they took off, and we followed. We were too far away to cover them, and they managed some additional distance while some of the large Danish boats decided to play with us!
In the end, we finished the first race in second place, with Odyssey in first. With no margin left, the last race would decide things. If we won, we'd nail first, otherwise they were the winners. The second race was another island cruise, like the one where we took third place.
The start was tight, and Odyssey was over early…our first break. We took off with good clear air, and stayed ahead of them until the windward mark. We were able to cover and hang with them on a long downwind down the Pillsbury Sound. Halfway back up, we were still only a few minutes behind them, and it was looking good that we would win. Then they sailed inside Stevens Cay, just off the harbor of Cruz Bay, which was a race mark. They passed it on the wrong side!  By going inside, they gained a big advantage of less current and no waves. The rules forbid outside assistance, but required us to protest as soon as possible, which we did, while they still had time to tack over. They ignored the calls. By sailing the wrong course, they were required to withdraw, giving us an easy first place in the end. Of course it would have been more satisfying to beat them, but clearly we were more than competitive against them, and earned our spot on the podium.
After a few hours of work shifting VAruna back into cruiser mode, we danced late into the night. We all were beat up and sore from four days of hard racing, but having been up on the podium was an unbelievable high, especially for me given that I had done the St. Thomas International Regatta at least 12 times. A good boat, a good crew and excellent sailing won the day for Team Sound Sailing Center.
Martin van Breems is the Founder and President of Sound Sailing Center in Norwalk, CT as well as Dutchmar, makers of the Dutchman Sail Flaking System, SailCase, Boom Brake, Zoom Jib Boom and other innovative sail handling hardware. To learn more, visit SoundSailingCenter.com and Dutchmar.com. Sound Sailing Center is the US Agent for VAr Yachts, builders of the VAr 37 and VAr 44. For more information, log onto VArYachts.com.
The 44th St. Thomas International Regatta (STIR) was held March 24 – 26 out of St. Thomas, U.S. Virgin Islands. Known as the 'Crown Jewel of Caribbean Yacht Racing,' the STIR is renowned for its serious racing reputation that attracts the latest yacht designs and hottest one-design classes as well as the greatest skippers and crews from around the globe. The 45th edition is set for March 23- 25, 2018. Visit stthomasinternationalregatta.com for details.