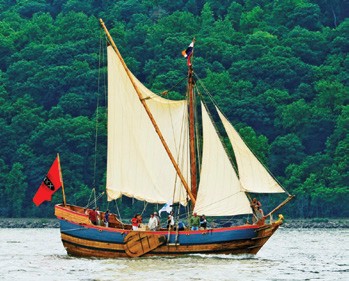 The Connecticut River Museum in Essex, CT has announced that the Onrust, a replica of the first European vessel to explore and chart the Connecticut River, will rediscover the river this summer. "We cannot be more thrilled to host this remarkable vessel that has such historic relevance to our region," said Connecticut River Museum Executive Director Christopher Dobbs.
© photosbyphil
Following Henry Hudson's 1609 expedition, Dutch captain Adriaen Block was hired to explore the northeastern coastline of America with the intent of establishing trade with Native Americans and claiming parts of the territory for the Dutch Republic. On his fourth and final voyage (1613-14), Block's ship Tiger was destroyed by fire in New York Bay. He and his crew built a new vessel, Onrust, launching her in April 1614.
The Onrust investigated coastal New York, Long Island, Connecticut, and Rhode Island. Block (after whom Block Island is named) was the first known European to travel up the Connecticut River to just north of Hartford (approximately 60 miles from Long Island Sound). He recorded the conditions, the places that he saw, and the native people he encountered.
The re-creation of the vessel was spearheaded by The Onrust Project (theonrust.com), a New York-based nonprofit. Following extensive research, the rediscovery of traditional Dutch shipbuilding techniques and the efforts of over 250 volunteers, the vessel was launched in 2009 at the Mabee Farm Historic Site in Rotterdam, NY.
The Connecticut River Museum, the only museum dedicated to the study, preservation and celebration of the cultural and natural heritage of the Connecticut River and its valley, will host the Onrust from June 1 through early October, offering cruises and dockside tours. The museum is open Tuesday to Sunday from 10 am to 5 pm. For more details, visit ctrivermuseum.org. Those interested in becoming a volunteer guide aboard the ship this summer can contact the museum's education department at jwhitedobbs@ctrivermuseum.org.