By Colin Rath
Editor's note: This is the penultimate installment in a series of dispatches from the Rath family (Colin & Pam and daughters Breana, Mariel and Nerina), who departed Stamford, CT in the fall of 2014 for a worldwide cruise aboard their Hanse 545 Persevere. You'll find previous articles linked below.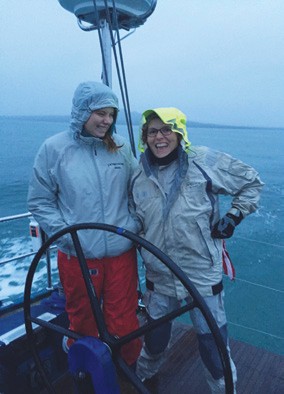 We had to do some house cleaning prior to our final voyage to New Zealand. First, we had to resettle a few of our new furry passengers to a friendly home on land (not to be confused with re-accommodate) before we left Neiafu, on the island of Vava'u in Tonga and headed to Nuku Alofa, Togatapu (also in Tonga). The kittens would not be allowed into New Zealand because they do not have the shots and they are not old enough to get the shots, so we decided to find a home for them in Tonga.
Despite a soaking rain, Breana and Pam smile as Persevere crosses the Hauraki Gulf.   © persevere60545.com
The local VHF network went on the air and found new homes for both of them within two days…a lot of lonely expatriates affectionate for small purring friends, I guess. We were already in contact with an animal immigration facilitator in Auckland and were working through our other cat's immigration into New Zealand. Our two family cats were all current with their shots, and there had not had an issue in the past two years of travel. We thought there would not be a problem, but we were in the process of getting pre-approval and we departed VaVa'u to make one last stop for provisions. We continued to communicate via email as we traveled.
Then we had to make the boat immigration-ready, clean the boat bottom, go through the galley and eat or remove a large laundry list of meats, fruit, honey, and spices. New Zealand has a complete list on their immigration website, and you have to notify them 24 hours in advance when entering the country. New Zealand is probably the strictest country we entered aboard Persevere, including the U.S. Maybe Cuba was as strict in 2014 – I don't know how it is now that it's open to U.S. citizens.
Make no mistake, New Zealand is dead serious about any animals, plants – anything – coming into their country. The whole country is agriculture-based and they don't want anything from the outside messing with that resource. New Zealand didn't have any natural predators or mammals until the 20th century. Amazing little fact: the Europeans brought them all in. They are still trying to eradicate any non-native plant and animal to this day.
We did our usual afternoon departure from Neiafu and arrived in Nuku Alofa at 9 am with the aim to get provisions and leave in the afternoon. We docked at the public dock, hired a kid to watch the boat and grabbed a taxi to hit the local stores. A few hours later, we had enough food and drink to make the last 1,300 miles to Auckland. We left the port at 4 pm on a sunny Monday, bound for our new home. Once we got out the harbor, we were visited a whale couple that amused and sang to each other as they swam with us. Tonga is definitely the place to see whales in the migrating season. That was a fitting end to our visit to the islands of the Pacific, for now.
The girls were getting anxious to get to their new country, go back to school and make new friends. Honestly, I was looking forward to starting a new life in New Zealand. We have been talking to realtors all over New Zealand about businesses for over a year and already have immigration lawyers, business advisors to help us take over a vineyard and get into the wine business. As one adventure closes, another one begins.
There was one spot we wanted to visit before New Zealand that we had heard about from other sailors that is a good place to ride out a storm if needed. The Minerva Reef is roughly 300 miles south of Tonga. It has a colorful history, being named after the whaling ship that hit the reef in 1829. It's two circular reefs about three miles in length, with a perfectly protected harbor in the middle only 15 feet deep. There is nothing else out there, just the reef…really cool on a calm day, like Biblical walking on water since the reef is only a foot below the surface with nothing around for hundreds of miles.
We saw whales, but no other humans on our last trip. Michael Oliver of the Phoenix Foundation tried to make Minerva Reef an independent country in 1972. He brought a barge of sand from Australia, planted a lighthouse and flag and declared independence. Nice try, but that didn't last. Tonga took it and that was it. We spent a night there for a break and had a barbecue…another one of those cloudless nights in the middle of the ocean. I guess they mean more as these nights at sea are coming to an end. Well, not quite an end, more of an intermission. My sailing days are not over.
With 800 miles to go, we set off for Auckland. The forecast looked good, but there was some bad weather coming up so we had to get in Auckland within five days. The Pacific shortwave radio band was talking about 60-knot winds hitting the coast of New Zealand the following weekend, so we had to make some speed. Then, in the middle of the night we lost our jib halyard (3 AM RULE AGAIN). So in the dark, I had to pull the jib back aboard and lash it down. A lot of fun, but all ended well. I went up the mast the next morning, messengered down a new jib halyard and jib was back up by 9 am. All good. We needed to keep a good speed to beat the storm. It was going to be close, so we pushed…not that we had much choice.
When we reached Hauraki Gulf, it was dark and a complete downpour at 1am on August 25, 2016. We could see on the weather update that it already was blowing 30 knots in the ocean, but the wind in the Gulf was still only 15 and luckily by the time we got behind Rangitoto Island it dropped to 5 knots. Then winds in the gulf went up to 30 knots and 50 in the ocean. We'd made it, by the skin of our teeth. Completely drenched, we motored for the next three hours into the harbor in a downpour, in the dark, navigating by our GPS and AIS. There wasn't much traffic until we got into Auckland Harbor at that time of the morning. We were going slowly to make it by 8 am when the immigration office opened…no reason to get there early.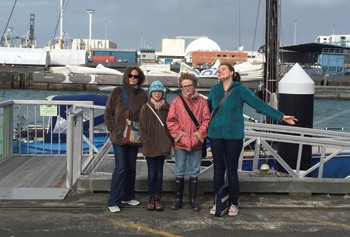 Once we arrived we were put in a control area to wait for the various immigration, plant & wildlife and animal inspections. That was the start of entering New Zealand.
The Raths spent a long weekend in this Auckland control area as they resolved their cats' immigration.   © persevere60545.com
The boat passed, we passed and were given a visa. The two cats slowly became a problem. They had all their current shots, but New Zealand wants all their shots to be within six months of entry. We were held in the control area until we could resolve the animals' immigration…and it was a holiday weekend. So, after 666 days at sea and visiting 33 countries on five continents, the adventure goes on.
Look for the final leg of Persevere's journey in the next issue of WindCheck. You can track the Raths' progress on their Facebook page. Colin's book, It Is What It Is, can be purchased on ColinRath.com or at Amazon.com or any major bookstore. Look for Colin's next book, coming out in spring 2018.
Previous articles from the Persevere Family Journey:
January 2015 Persevere Cruise: The Most Important Rule of Cruising: Let the Weather – Not Your Timetable – Determine the Schedule.
March 2015 Persevere Cruise: Cuba Libra!
April 2015 Persevere Cruise: Serious Fun at the St. Maarten Heineken Regatta
May 2015 Persevere Cruise: Kirk Kelly's 50th Birthday in Rincón
June 2015 Persevere Cruise: From the Persevere Log: Dominican Tree House Village
July 2015 Persevere Cruise: From the Log of Persevere: Havana – The Tale of Two Cities
August 2015 Persevere Cruise: Back to NYC
September 2015 Persevere Cruise: Transatlantic Race 2015
October 2015 Persevere Cruise: Sail On, Aspen
November/December 2015 Persevere Cruise: Europe 16: The Adventure Begins
January/February 2016 From the Log of Persevere: Bay of Biscay
March 2016 From the Log of Persevere: Into the Med
April 2016 From the Log of Persevere: One Word: Gaudi
May 2016 From the Log of Persevere: Atlantic Odyssey & Holidays in Tenerife
June 2016 From the Log of Persevere: Carnival in Martinique 
July 2016 From the Log of Persevere: Central America
August 2016 From the Log of Persevere: San Blas Islands and the Panama Canal
September 2016 From the Log of Persevere: The Lost Land of Galapagos
October 2016 From the Log of Persevere: 21 days at Sea to Marquesas
November/December 2016 From the Log of Persevere: That Pacific Paradise that is Marquesas
January/February 2017: From the Log of Persevere: Looking for Civilization in Tahiti
March 2017: From the Log of Persevere: Niue, The Rock
April 2017: From the Log of Persevere: Swimming with Whales in Tonga