By Clemmie Everett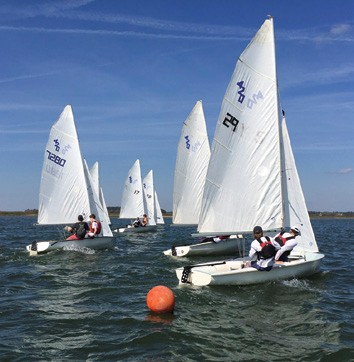 There are many factors that affect your performance in a race: boatspeed, strategy, tactics, and of course, a little bit of luck. But don't overlook the importance of preparation: making sure you have everything you need to help you perform at your best and sail with maximum speed. In high school sailing, the work done to prepare before you even get to the starting line is often the difference between the top of the fleet and the middle (or worse).
Well prepared, well rested racers always perform better than those that left an important piece of gear at home or stayed up late the night before a regatta.  © Clemmie Everett
Before you even get to the course, make sure that you're at your best. Begin hydrating the day before the event. A good night's sleep will do wonders for your decision making under pressure and your ability to deal with setbacks on the racecourse. Start your day with a solid breakfast and drink water throughout the day, even when the weather's cold (so pack a refillable water bottle). Be sure to pack a healthy lunch and snacks that will tide you through the day without causing a sugar rush or low.
Ideally, you have also pulled your gear together the day before your event. High school (and college) sailors are fortunate in that boats are provided at the venue, but there's still plenty that you'll need to ensure peak performance. Check the weather forecasts and pack appropriately – drysuit, wetsuit, spray gear, boots, lifejacket, gloves, hat, and sunglasses. Remember a digital watch to count down the starting sequence. Be sure that you have sufficient layers to wear underneath, as well as an extra layer and some dry clothes in case they're needed. If it's going to rain or you're sailing at a venue without shelter for off sets, bring a jacket to wear over everything else to stay warm when you're not sailing. It's easy to forget sunscreen on a cool, overcast day, but beware – those can be some of the worst burn days! And a plastic bag or spare garbage bag to store wet gear at the end of the day can also be essential.
You should also have a small tool bag so you can tweak anything in your boat. At the very least, you should have a multitool/knife with a blade, pliers, and screwdriver. Have some extra ring dings, a roll of electrical tape, yarn or magnetic tape for tell tales. Duct tape can be handy in a pinch – roll a few feet around an old credit card or old hotel room key to compactly bring some along. Bring a bailer, and even though it will be securely tied to a halyard, bring a spare just in case.
Postponements are part of the sport of sailing. You will need to learn to shift mental gears from race mode to relaxed mode, and of course to flip the switch back to race mode as the conditions change. Some sailors like to have a newspaper or book on hand. Others find that they don't want to sit and read, but can play cards or toss a Frisbee. Figure out what works for you and be prepared with the appropriate materials.
You never plan to be in a protest, but they're part of the sport. Even if you stay clear of The Room, it's helpful to be able to look up references in the Notice of Race and Sailing Instructions – have a rulebook on hand or the digital version on a smartphone.
Weather and current information for the venue will be essential for planning race strategy. There are plenty of good weather apps and websites – find a few that you like and check multiple forecasts to get a sense of what you might see. Similarly, the Internet or an Eldridge Tide and Pilot book can help you with high and low tide times. Try to supplement that information by asking a local how the forecasted conditions are likely to play out in your venue. Finally, bring a good joke to tell your skipper/crew in case you need lighten the mood after a bad race or during a weather delay!
When you step into your boat, drain and bail to make sure you're completely dry, check the rig tension, make sure your mainsail is all the way up, tape up any loose ring dings, and get excited! You're ready to win!
Clemmie Everett is the Head Varsity Sailing Coach at Rye Country Day School in Rye, NY. She and teammates Alix Hahn, Carolyn Russell and Erin Sprague won the 2016 International Women's Keelboat Championship, which was hosted by American Yacht Club in Rye.