By Joe Cooper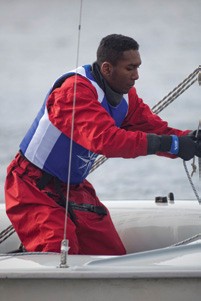 Last month, I attended a yacht design contest at the Paul Cuffee School in Providence, Rhode Island. The Cuffee School is named for one of the early successful black businessmen in the New Bedford whaling industry. As befits most inner city populations today, a vast swath, the bulk I'd guess, of the middle school population in Providence are not Anglo Saxon by ancestry.
Chase Mulvaney, a senior at Rocky Hill School in East Greenwich, RI, rigs up at a recent Friday Night Lights regatta at Sail Newport. © Matthew Cohen Photography
Several years ago, I was invited to be a judge in the school's fifth grade boat design competition (Don't yer love Rhode Island?). Me, kids, boats…what's not to like? So I went. I have been a semi-regular judge every couple of years since. The young men and women of the fifth grade are introduced to the sciences of boat design in a semester-long subject theme. They study hull shapes, drag, stability, speed (think gutter racing, with a big fan to help), do tests including their own boats (built with your basic collection of grade school project paper and Elmer's), observe, draw conclusions, report on their findings including graphs, then finally mount this information on presentation boards on tables in the lunch room. Teams of three students then present their creations for judging by characters like myself. Think of the Ocean State marine industry and there is someone – usually about 8 to 10 of us – from some part of it there as a judge. Judges are asked to review two teams each, and armed with clipboards, judging sheets and pens, off we go… and it is a hoot.
The students have a punch list of things they need to do in the presentation: explain the science (at fifth grade level), describe their findings, defend their findings under questioning and so on, with an emphasis on clarity of description. Each of the team members has a part to say. The range of boats is remarkable, resembling a cross section of boat design concepts from the last 150 years. Such Kapers are a wonderful part of the Rhode Island sailing community.
The next day was the second Friday Night Lights regatta of the season at Sail Newport. This was the brainchild of Kate Wilson (our March 2017 On Watch subject) and started about three or four years ago. Four high school teams sail out of Sail Newport: Prout, Rogers (Newport), Middletown and Portsmouth High School, the latter three all on Aquidneck Island. The collective 'we' invite other schools to come and play and the result is close to 80 high school sailors, coaches and assorted parents, and the occasional Fort Adams walker stopping to admire these kids sailing in the chilly early spring.
WindCheck contributing photographers Matt Cohen and Steve Cloutier come over to memorialize the afternoon's adventures. Matt set up a Facebook page – FNL at Newport Yacht Club & Sail Newport – and he goes out in one of the RIBs to shoot a stack of pictures, then puts the best on the FB page. Steve has a drone, but anything to do with drones is normally verboten at Fort Adams. However, Sail Newport's Regatta & Marketing Director Kim Cooper, who like all the Sail Newport staff seems to be everywhere at once, procured us a drone flight permit from the ever-supportive Rhode Island Department of Environmental Management – in less than 12 hours, I might add – so we are able to follow the racing from 100 feet up. In what Steve says is pretty leading edge stuff, we live stream it to the FNL page…and with yours truly doing the commentary, why it's almost like the America's Cup…sort of. A recent Friday, however, was a bit of an eye opener.
I have remarked before on the prevalence of young women in high school sailing – the Prout team is 80% girls – but young black sailors are seldom seen. That this is the case was brought home to me both by seeing the preponderance of young black kids in the Cuffee School, but even more dramatically by the lone black sailor hailing from Rocky Hill School, one of our guest teams that Friday night. The impact of this was dramatic; literally black and white. Well OK, Rhode Island has only about a five percent black population compared to 81 percent white, and Rocky Hill is not a public school, but still, the prevailing emotion for me, really, was sadness. The laundry list of why this is, or might be, would take up several columns, but it's possible for this to change, and in fact over the next perhaps 20 years it just might.
At the Providence Boat Show in February, I met a bloke who turned out to be a teacher at a North Providence (still inner city) high school and we got into a discussion about the boat building program at his school, of which he is the driving force. It is exciting stuff, for me, for him and for the students. At the Cuffee event, I spoke with a fellow from the Rhode Island Marine Trades Association and he told me there are now a couple high schools in the North Providence area where the entire curriculum is based on maritime themes.
From the practical, they build plywood Optis, and all of the regular subjects revolve around the maritime environment. For instance, they read Moby-Dick for English and for American History they study shipwrecks and the stories behind what these ships were doing and how they got wrecked. Other topics include slaving, trading, privateers, international commerce, wars, the physics and society of sailing ships, and the formation of the U.S. Lighthouse Service, the ancestor of the U.S. Coast Guard.
People ask me what I do, and after a few descriptive words: Coach, consultant, instructor, writer, speaker, expert witness, my next phrase is, "If you can make a sentence with 'sailing' in it, I can do something connected to it."
I ask the young sailors I work with if they like school and the range of answers is predictable. I tell them to keep the faith because I was hopeless at high school. Hated it. I spent a good part of my high school days gazing out the windows, which in one part of the school looked out over the Tasman Sea to the horizon, some 50 miles away, given the high cliffs my school was sited on. From the other side I could gaze across Sydney Harbor…the ferries, including the hydrofoils, the still-building Opera House, the bridge, boats out sailing, and off to the Blue Mountains, 50 miles the other way. With such a view, it was no wonder I could not pay attention. The good news, though, is that almost everything I know about anything I have learned since high school is all from sailing and related adventures. Pick a word, topic, or subject area of human endeavor and I can relate it back to what I have learned about said topic through sailing and boats.
Passion cannot be taught. But being taught things that engage and inspire, things that get you excited and wanting to know more, well that's a great way to develop passion. I was fortunate in the location of my elementary and high schools and how my passion for sailing and related Kapers was inspired. The kids in Providence do not, I'll wager, have anything so inspiring as my view from high school windows. On the other hand, I reckon if I was at their high school, studying all things maritime, I would be getting pretty passionate about sailing, too. And as the original Captain Cuffee is living (…well, deceased) proof of, passion for the sea is, as the phrase goes, color blind.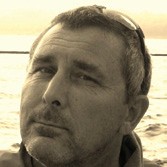 Australian born, Joe 'Coop' Cooper stayed in the US after the 1980 America's Cup where he was the boat captain and sailed as Grinder/Sewer-man on Australia. His whole career has focused on sailing, especially the short-handed aspects of it. He lives in Middletown, RI where he coaches, consults and writes on his blog, joecoopersailing.com, when not paying attention to his wife, teenage son, dog, two cats and several, mainly small, boats.