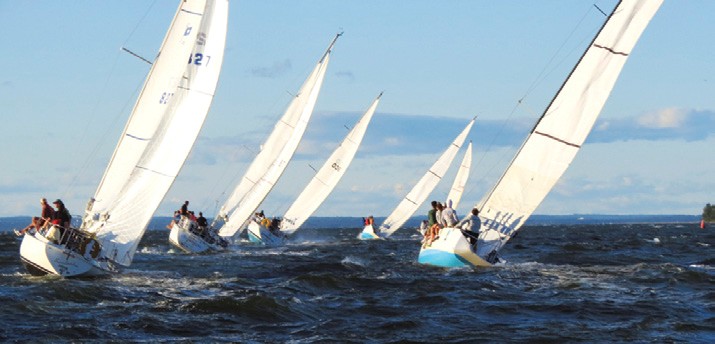 A record turnout is expected at Sagamore Yacht Club's 5th Annual Alzheimer's Regatta this summer. Cruisers and racers from Oyster Bay, NY and nearby ports are invited to sign up to participate in the race, which will be held on Saturday, June 17, 2017 in Oyster Bay. The Skippers Meeting is at noon at Sagamore YC, and the first gun is set for 1 pm.
Proceeds from the Alzheimer's Regatta (and concurrent events for rowers, kayakers and paddle boarders) support the programs and services of the Alzheimer's Disease Resource Center.   photo © Kirk Larsen 2013
There is no entry fee for this Yacht Racing Association of Long Island Sound recognized pursuit race, and all boats are welcome. You can go to ADRCinc.org/Regatta to register your boat and/or make a donation. You can be part of this worthwhile, fun event and after party celebration, which boaters have been flocking to for five years. Guest moorings are available.
Funds raised will enable the Alzheimer's Disease Resource Center (ADRC) of Long Island to continue helping over 50,000 Long Island residents and their families deal with managing this disease on a day to day basis through care and counseling.
After the race, Sagamore Yacht Club will host an After Party at 5 pm and a Caribbean-themed Dinner at 6 pm which will include a reggae band and an awards ceremony. The top fundraising skippers and crews will be recognized, and Caribbean delicacies will be featured. Dinner is complimentary for those who donate or raise $100 or more. Others may purchase a Dinner pass for $100 per person or $150 per couple.
To add to the festivities, numerous raffle prizes will be handed out, including a $1,000 gift certificate for New England Ropes running rigging donated by The Oyster Bay Marine Center. (The winner need not be present at the drawing.) Raffle tickets can be purchased online at ADRCinc.org/Regatta, or after the race at the awards dinner. Racers and non-racers are welcome.
Additional concurrent events include races for rowers, kayakers and paddle boarders in the well-protected, pristine waters of Oyster Bay. A Turn & Burn Relay Race for Junior Rowers, organized by the Sagamore Rowing Association, starts at 9 am on Beekman Beach. Participants in the Paddling For Poker event for paddle boarders, kayakers and Master rowers will pick up a card at five assigned boats in the bay, and the best hand wins. Registration for Paddling for poker is at 1 pm at The WaterFront Center, with launch scheduled for 2 pm at Beekman Beach. Go to ADRCinc.org/Regatta to register for these events.
Sagamore Yacht Club is located at 1 Bay Avenue in Oyster Bay, and online at Sagamoreyc.com. To learn more about ADRC, call 631-580-5100 or email info@ADRCinc.org. International Technical Industries, Inc. is the Event Sponsor of the Alzheimer's Regatta, and additional sponsors include the Sagamore Yacht Club, Oakcliff Sailing, the Sagamore Rowing Association, and the Alzheimer's Disease Resource Center.
No donation to the Alzheimer's Disease Resource Center on Long Island is too small, and sailors can help achieve the Center's vision of 'A Future Free from Alzheimer's'. Progress in the fight against this debilitating disease continues to be made, but so much more is needed. We hope to see you participate!