By Colin Rath
Editor's note: This is the twentieth – and final – installment in a series of dispatches from the Rath family (Colin & Pam and daughters Breana, Mariel and Nerina), who departed Stamford, CT in the fall of 2014 for a worldwide cruise aboard their Hanse 545 Persevere. You'll find previous articles linked below.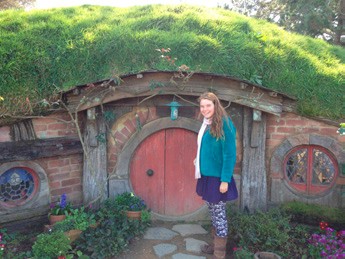 It seems like a lifetime. Or more precisely, a lifestyle ago when we started this adventure, casting off from the docks from Yacht Haven West in Stamford, CT that Wednesday afternoon in October, 2014. Somehow we made it to New Zealand without too many major difficulties, a little wiser and our girls definitely a lot more seaworthy with over 25,000 miles at sea. Now the whole family is eager to start our new chapter on land.
Breana checks out a Hobbit House.   © persevere60545.com
I already had meetings set up all over New Zealand with lenders, brokers, vineyard advisors and lawyers, and we had lined up several vineyards on the North and South Island (Martinborough, Hawks Bay, Marlborough and Waipara) to look at. We also had a laundry list of friends we'd made across the world from New Zealand who had invited us to visit and stay. Our immigration team was already in the process to get residency within two years. Years of planning were starting to be enacted. Unfortunately, our arrival didn't start out as smoothly as we'd hoped. We still had one more final toll to pay before we could get ashore to explore our new land.
The New Zealand Health & Welfare department held us in the controlled area for over a week. We spend that time in discussions and negotiations with the New Zealand government, trying to secure passage for our two cats. The agency we hired to facilitate this failed in every respect. If they had done their job, we wouldn't have been in this situation. Franny had been with us from the start (hell, she did the Transatlantic Race aboard Persevere) and Pousha came aboard in England over a year ago. They were family and crew. NZ wouldn't budge, and our final choices were to fly them back to the States and get their shots and wait six months before they could join us in New Zealand, or euthanize them. Not much of an option. We had to make the hard decision to get into the country.
Once we got out of the controlled area, we got a slip at West Haven Marina. Persevere was already set up with a broker and on the market for sale. (You'll find a classified advertisement in the back of this magazine.) We needed new landscape quick, so I rented a three-bedroom condo near the marina with a washing machine for two weeks while I emptied everything off the boat and put it in storage. We needed a new living arrangement before we started a month traveling in a caravan (camper). We quickly fell back into city living, using the Auckland subway and enjoying all the amenities that a modern city offers that we had missed at sea. We ate at the Sky Needle, checked out flea markets, and visited the volcanos surrounding Auckland. After a few weeks, we rented a caravan, packed it up with everything we didn't put in storage and headed south.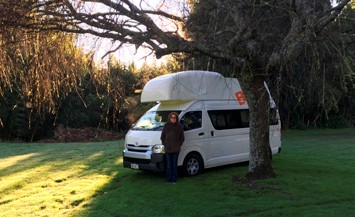 The first stop out of Auckland was Hobbiton, of course. Hobbiton is located on one of the largest sheep farms in the North Island, among lush green hills and the amazing beauty of this land. The girls loved the whole tour and stories of making all the Hobbit and Lord of the Rings movies. They actually have a pub at the end of the tour that is in Hobbit scale and serves spiked cider. It's really amazing to see the landscapes of the movies in real life as you drive south.
This caravan served as the Rath's temporary home while they visited vineyards around New Zealand.   © persevere60545.com
From there, we met our friend Brent and his wife, who own a fruit orchard outside Hamilton. We spent a week there while meeting with our architect to design our container home. He has his own helicopter and took us all up for rides and tours of the area. We got our firsthand look at farm life in New Zealand. They had sheep, cows, chickens and full vegetable gardens, all completely self-sustaining…a lot of what we wanted to incorporate in our new life. Then we went to Hamilton to shore up financing.
Once financing was secure, it was time to start the process of elimination in selecting our new home. We wanted to get it figured out before October 10 so the girls could get into school to finish the last quarter of classes before summer. We wanted the girls to make friends for summer break (remember seasons are reversed down here).
First stop on the Wine Trail down the North Island was Gladstone Vineyard. We had been talking to the owners for over a year, but in the end the business didn't work out to what we needed. There were two vineyards in Hawks Bay which turned to be out of our price range, then we looked at five vineyards in Martinborough. One had possibilities, but the other four were sold before we got there.
With one possibility and another island to visit we entered Wellington, just in time for the World of Wearable Art Awards Show. "WOW" is an annual show where all the clothing designers and design schools present their outlandish outfits in a Cirque du Soleil-style atmosphere. It's really quite an amazing show, and all the girls got dressed up and enjoyed it immensely.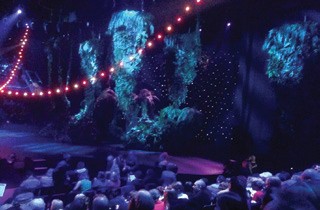 After four days, we put the caravan on the ferry and in a few hours we were in the South Island on our way to Marlborough. There were three vineyards on the market, but once again overpriced, so we headed to the one vineyard we had really liked from the beginning because it's on the water.
The girls loved the World of Wearable Art Awards Show. © persevere60545.com
It was on the shore in Kekerengu. We had been talking to the owner for six months already. It was 10 hectares and had a contract for their grapes. So it looked promising and we made an offer, they countered and we upped our offer. But the seller wouldn't budge, and our vineyard advisors suggested it didn't have enough upside potential and the history of the vineyard was shaky. We moved on, and thank God we did. New Zealand was hit with an earthquake two months later, and Highway One was completely destroyed. This shut off this area and killed the harvest. The result was the whole South Island actually moved nine meters closer to the North Island. Highway One fell into the ocean and cut off the whole area, and to this day the road is still not completely open.
That was our first earthquake. We had to wake up the girls when it happened so they didn't miss it. They were still used to being on the boat and didn't notice the earthquake. It was interesting, and now after several aftershocks, we've gotten used to it.
The next spot we liked was Waipara Valley. Waipara is known for their Pinot Noir and Riesling. There were four possibilities there, but one had a lot of potential. It was Fiddler's Green Vineyard. As all sailors, know Fiddler's Green is that happy land imagined by sailors where there is perpetual mirth and a fiddle that never stops playing for dancers who never tire. This felt like a fitting final destination from our voyage.
Fiddler's Green worked because we could lease it right away and move in. It was an established 28-hectare vineyard with a great track record up until 2013, it came with all the necessary equipment to manage it, and it had a tasting room and house. It had a 2-million liter reservoir (self-sustaining) and was undervalued with an eager seller. It was a great opportunity. We made a purchase agreement (with a lot of conditions) to buy the property and a lease to live and manage the vineyard while our immigration and Offshore Investment was approved by the government. With that set, the girls enrolled in local schools and got used to uniforms quickly. I quickly learned how to drive a tractor and we moved in October 16. We officially became farmers when our chickens started to produce eggs in early January.
We have been here for over six months now and are harvesting our first vintage. We have gotten resource consents to renovate the wine tasting room into a bistro & bar, plus change the home to a two-unit ensuite B&B, build our container home, and make an outdoor venue for concerts. Our immigration and OIO approval is expected in July and all the construction will begin immediately thereafter. We hope to be open the bistro in October. We have renamed the vineyard Waipara Winds Vineyard & Bistro. You can follow our progress on our Facebook page, Waipara Winds Vineyard Bistro…or perhaps stop by?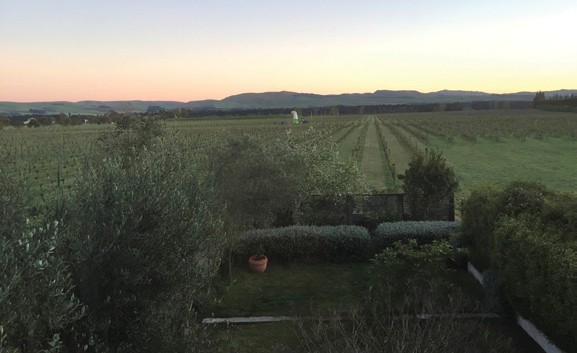 A view from the Rath's new home, Waipara Winds Vineyard & Bistro   © persevere60545.com
I wanted to thank you for letting me tell my story and I hope it might inspire some to take the adventure themselves. A lot of people talk about sailing away, but too few actually do it. The only advice I can give is: Do while you still can. Don't put it off, because tomorrow sometimes is too late.
All the Best, Colin
Editor's note: Thank you Colin for sharing your family's journey with the readers of WindCheck. We wish you, Pam, Breana, Mariel and Nerina a wonderful life in New Zealand!
Colin's book, It Is What It Is, can be purchased on ColinRath.com or at Amazon.com or any major bookstore. Look for his next book, coming out in spring 2018.
Previous articles from the Persevere Family Journey:
January 2015 Persevere Cruise: The Most Important Rule of Cruising: Let the Weather – Not Your Timetable – Determine the Schedule.
March 2015 Persevere Cruise: Cuba Libra!
April 2015 Persevere Cruise: Serious Fun at the St. Maarten Heineken Regatta
May 2015 Persevere Cruise: Kirk Kelly's 50th Birthday in Rincón
June 2015 Persevere Cruise: From the Persevere Log: Dominican Tree House Village
July 2015 Persevere Cruise: From the Log of Persevere: Havana – The Tale of Two Cities
August 2015 Persevere Cruise: Back to NYC
September 2015 Persevere Cruise: Transatlantic Race 2015
October 2015 Persevere Cruise: Sail On, Aspen
November/December 2015 Persevere Cruise: Europe 16: The Adventure Begins
January/February 2016 From the Log of Persevere: Bay of Biscay
March 2016 From the Log of Persevere: Into the Med
April 2016 From the Log of Persevere: One Word: Gaudi
May 2016 From the Log of Persevere: Atlantic Odyssey & Holidays in Tenerife
June 2016 From the Log of Persevere: Carnival in Martinique 
July 2016 From the Log of Persevere: Central America
August 2016 From the Log of Persevere: San Blas Islands and the Panama Canal
September 2016 From the Log of Persevere: The Lost Land of Galapagos
October 2016 From the Log of Persevere: 21 days at Sea to Marquesas
November/December 2016 From the Log of Persevere: That Pacific Paradise that is Marquesas
January/February 2017: From the Log of Persevere: Looking for Civilization in Tahiti
March 2017: From the Log of Persevere: Niue, The Rock
April 2017: From the Log of Persevere: Swimming with Whales in Tonga
May 2017: From the Log of Persevere: Land Ho and a New Home…not quite yet