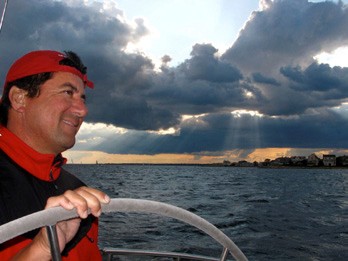 Michael Dean Cavanaugh (September 27, 1961 – April 26, 2017) touched many lives with his generosity, humor and courage. He was the kind of friend who was always excited to see you – whether he knew you from school, work, sailing, golf, cycling or his extensive involvement in the Mystic, CT community.
Mike's dignity was unparalleled as he fought valiantly for six years in his battle with ALS. During those years, he forged unforgettable memories- still going racing on Crystal Slipper, traveling extensively with his wonderful wife Linda and continuing to run his business, MDC Machine Design.
Mike's determination, in the face of illness, was an inspiration to all; and those who knew Mike are forever changed by his zest for living – and he lived well. He was an avid sailor, having been Commodore of the Mystic River Mudhead Sailing Association and Commodore and co-founder of Mystic River Yacht Club and heavily involved with the Mason's Island Yacht Club Shields fleet. He skippered with his crew, "the Slippahs," on his C&C 38 Crystal Slipper. Mike bought the boat with little sailing experience, but with his engineer's mind he quickly became a formidable competitor, with many successes including a class win in the 2012 Spring Off Soundings.
He truly lived life to the fullest and loved new experiences. He was a creative genius, problem solver, writer, great storyteller, artist, devoted husband, son, brother and uncle. Please consider a donation to The ALS Association of CT or the Center for Hospice Care at hospicesect.org. A celebration of Mike's life will be held on June 18, from 3-6pm at Mystic Shipyard, 100 Essex Street, Mystic, CT. Mike enhanced the lives of all who had the good fortune of knowing him. His positive spirit, laughter and love will forever be with his fellow sailors, family and friends. He will be sorely missed. Sail on, Mike.