By Helen A. Jankoski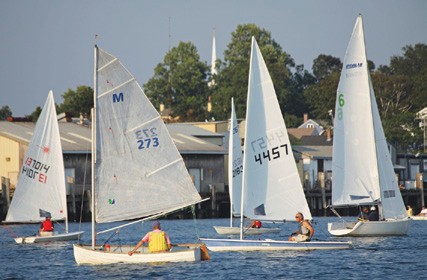 When Debby and Ed Dear were looking to relocate up the coast from Fairfield County, Connecticut in 1995, it was a community sailing poster in a Stonington Borough shop window that helped make their decision. "Here was an invitation for everyone to show up on the starting line in Stonington Harbor, with dinner afterward," said Ed. "I did small boat racing in Old Greenwich, but it was a little more complicated."
A Montgomery 10, Lasers and an Ideal 18 wait for the start of a Stonington Dinghy Club Wednesday night race.   © Helen Jankoski
The Stonington Dinghy Club (SDC), which turns 50 this year, has "always worked on the premise of doing whatever it takes to get the most people out sailing," said Tucker Bragdon, who along with Bill Boatwright founded the club in 1968. "When we started," noted Tucker's wife Sandy Bragdon, "the only way you could race was with a yacht club."
Boatwright and his brother Jack, and their employer, boat yard owner Rosalind McCagg, approached skippers and any little sailboat in the harbor that they thought might be interested. The Bragdons had just moved to Stonington and according to Tucker, "We didn't really know anybody to ask yet."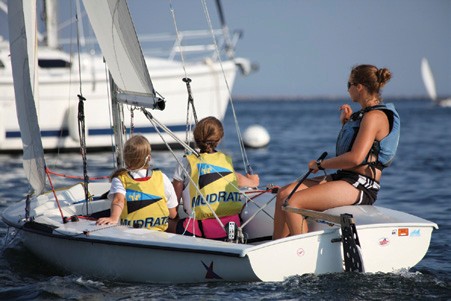 Today, with a boat 20 feet in length or under and a numbered sail, all a skipper needs to do is to show up in picturesque Stonington Harbor on Wednesday evening prior to the 6 pm start and check in with the race committee "There is no entry fee, we are for all ages and it's very friendly," said Tucker Bragdon.
Lindsay Gimple skippers a Club 420 with her sister Meagan (left) and Lisa Spalding as crew.   © Helen Jankoski
The SDC started with seven boats led by an 11 ½-foot wooden Penguin. "By the second year there were 12 boats and after that it just mushroomed," Tucker Bragdon explained. An average of 45 boats participates each week, but there have been as many 60 boats in several one-design and handicap classes crossing the line. It pleases Bragdon that in the last 10 years the number of children taking part has grown significantly.
The 10-race series begins when school is out and ends just before it starts again. Volunteers operate rescue boats to lend a hand when needed and they form a nurturing, all-woman race committee. "We have no such thing as protests. Sailors seem to be polite and work things out themselves," said RC chairperson Mary Motherway, who served as an alternate RC member in the mid-'70s until her predecessor, Sue Speed, moved away. Her committee now includes longtime member Nancy Bates as well as Marcy Porter, Wendy Davies and Cynthia Lichtenstein.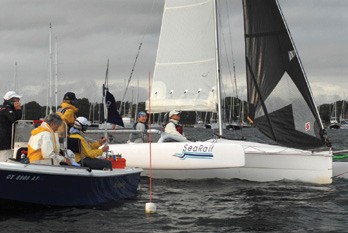 Bates recalled the first 25 years when Rosalind McCagg hosted the RC aboard her catboat, Pelican. "This program is very special and unique," said Bates. "It's wonderful that it's kept going and it's all Tucker's doing." Bob Scala, a regular participant along with his son Robbie and grandsons Rocco and Brodie, said, "What draws people in is that it's a family activity. The party afterwards is very important. It's a community event."
The SDC's all-woman race committee checks in Mlada & Dennis Neumann of Stonington on their SeaRail-19 trimaran.   © Joseph Zbyrowski
Other three-generation SDC participants include the Johnstone, Andrews, Freeman, Bates and Biddle families. Mary & Dave Motherway's grandson Devon Christian, now 11, was the youngest sailor in the group for four years, starting at age 6.
At the other end of the spectrum, the SDC is enjoyed by senior members such as Ed Dear, who at 85 now races an Ideal 18. His wife, Debby, eventually found their JY14 a bit cramped. "The small-boat community has been our main social network," Ed Dear commented.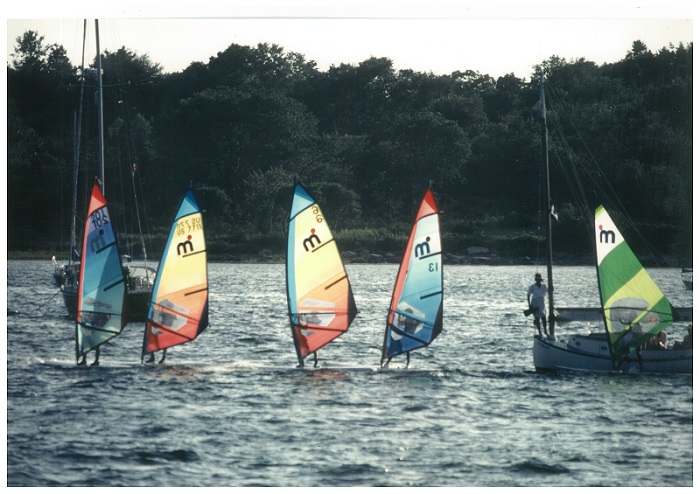 Penguins have gone the way of once-popular Blue Jays. Sunfish maintain a place, but it's rare to see windsurfers – which had a class of their own in the mid- to late-'80s – in an SDC race. "Initially, windsurfer sailors were kind of outsiders," said Todd Williams, who moved to Stonington with one in 1984. "But there would be eight or nine of us out there on the starting line back in the heyday." He's since raced a number of boats including a Laser, catamarans, a JY15 and is now back on a Laser.
Kate Johnstone snapped this late-'80s photo of windsurfers on a starting line marked by Rosalind McCagg's catboat/committee boat, Pelican.
The racing, said Williams, "is about as low-key and casual as you can get. If you want to try racing this is a good place to do it. Everyone is welcoming and helpful." Boats tack their way around a course on the protected and scenic harbor that borders Fishers Island Sound, slipping by gorgeous yachts at their moorings and steering clear of an occasional fishing or scallop boat headed back from the sea.
Liesbeth Slosberg, who's raced a Sunfish with the SDC for 20 years, loves the sunsets and the way they light up the borough. "It's a beautiful outlet for me," she said. "It's the only time I get out on the water. I always feel safe there."
Post-race, sailors now gather at the Wadawanuck Club and pay $15 or their age in dollars for dinner. Before stock trader Mac Ewing began tabulating scores on a computer, sailors had to wait – sometimes days – for results to be posted in a shop window. "Mac wasn't really a sailor but he'd wait on shore with his computer for Nancy to give him the results, which would be ready for announcement by the end of dinner," Bragdon explained.
In recent years, one midsummer race night has been dedicated to raising money for a local hospice organization. For the final race party of the season, Bragdon dons a fur-trimmed Knights of Columbus hat and hands out stemmed glasses (called wine glasses for the adults; juice glasses for kids) plus a succession of special awards, capped by the coveted McCagg Cup for outstanding seamanship and sportsmanship. The ornate three-handled sterling silver champagne cooler reportedly contains more silver than the America's Cup.
There's also a William Bell Trophy for the most improved sailor, a Paula Chapin Trophy for the best-performing skipper, a Mac Ewing Trophy for efforts on behalf of the summer racing series, a Top Sunfish Sailor award, and an Elise Owen Trophy for the youngest skipper. To qualify for awards sailors need to participate in seven out of 10 races, with adjustments for weather cancellations.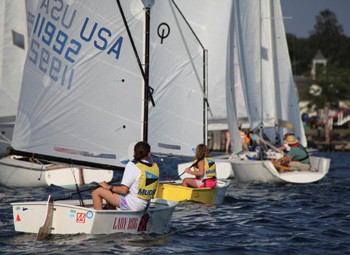 With a tried and true formula that produces happy kids and happy adults, the Stonington Dinghy Club is looking forward to the next 50 years.
With a varied fleet of boats under 20 feet, SDC racing is popular with sailors of all ages.   © Helen Jankoski
Helen Jankoski, whose first sailboat was a Penguin, lives in Pawcatuck, CT. She wrote a weekly sailing column for The Westerly Sun for five years.