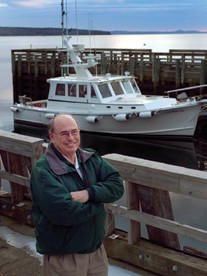 Wayne Hamilton started Hamilton Marine out of his Searsport, Maine garage in 1977.  As a commercial fisherman, he saw a need on the working waterfront of his harbor hometown for a real marine supply store. His instincts proved correct, and Hamilton Marine soon outgrew the garage. The store moved to a larger location in town, and continued to grow. It expanded beyond those walls, then moved to an even bigger building in Searsport. There, it became a Maine marine destination for local lobstermen and boaters of all kinds.
From a marine supply business that Wayne Hamilton started in his garage 40 years ago, Hamilton Marine now has five stores in Maine and satisfied customers all over the world.  © Jamie Bloomquist
Soon, Hamilton Marine grew beyond Searsport. Stores were added up and down the coast, from Portland to Jonesport. With five locations in Maine, the business established itself as a major presence in the boating world, serving the recreational, commercial and boatbuilding industries. Today, Hamilton Marine is the largest marine supply store north of Boston. There is an online store, a 376-page catalog mailed to people in every state, and daily shipments of product sent to hundreds of customers all over the world.
With that kind of growth, Hamilton Marine has added more than buildings. Employing over 150 people in various aspects of the business, from sales and marketing to shipping and receiving, the boaters' store has become something more. Many HM employees maintain their own boats, and they know and use the products they sell. Their experience is passed on to customers every day, and that service is what makes Hamilton Marine a place people want to visit, by calling in, coming in, or clicking in, again and again.
Today, the business serves the commercial, recreational and boatbuilding communities through mail order business, the website, and delivering directly to boatyards. It's not unusual to see the aisles of each store teeming with people who love the water, and their boats. Whether they make their living on the sea or enjoy spending an afternoon cruising the waves, customers know that if they need it for their boat, they can get it at Hamilton Marine. For more information, log onto hamiltonmarine.com.