By Colin Rath
Editor's note: This is the nineteenth installment in a series of dispatches from the Rath family (Colin & Pam and daughters Breana, Mariel and Nerina), who departed Stamford, CT in the fall of 2014 for a worldwide cruise aboard their Hanse 545 Persevere. You'll find previous articles linked below.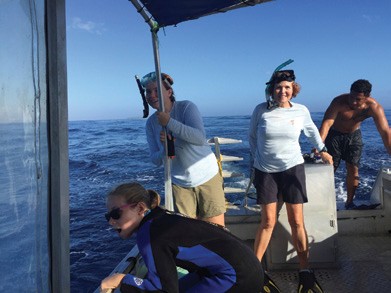 We enjoyed Niue for multiple reasons. It has some of the best diving in the Pacific, with caves and deep chasms to explore. The water is crystal clear except where the cold springs from the island spill into the ocean and make the water look icy. It's real cool underwater, like a frost spreading slowly within the water.
Swimming with whales was among the most memorable experiences of the Rath's two-year voyage.   © persevere60545.com
The island has its own laid back culture, more like a vacation spot for Kiwis than an isolated island in the middle of the Pacific. Most of the bars and restaurants are run by Kiwis, so we got to befriend a few New Zealanders. Real nice and open, no BS people. It was also nice to get back to a country that speaks our native tongue; made it a lot easier for the kids and Pam and myself. We have been living on our high school French and Spanish to make conversation for the past two years. It can get trying at times, especially when doing engine repairs. I think without Google Translate the engine parts would have taken a lot longer to describe, but we made it by.
On Niue, the dive spots are all around the island so it was easier to rent a car and drive to them. There is also only one semi-safe place to anchor on the island, so it was rent a car or put all of us and dive equipment in our dinghy, which was not a comfortable way to dive with 5 people.
The girls took a nature course with a knowledgeable local, learning about all the native species and plants on Niue. Their favorite was the flying fox, which is a form of a bat that jumps from tree to tree. We stayed there for a week to get ready for the next sail to Vava'u, Tonga. The whales were migrating and we wanted to swim with them before the migration was over, and I needed to repair my gooseneck before our final voyage to New Zealand. Once again we stocked up for a 600-mile sail and left in the afternoon.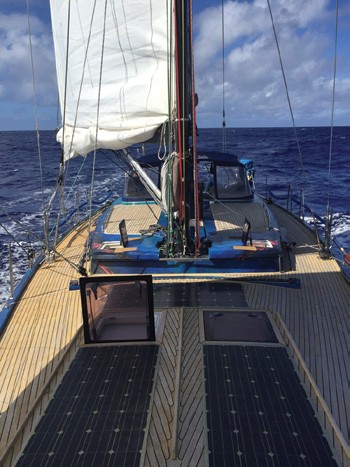 You see, Niue was the beginning of our end of our journey that will have taken us to 33 countries on five continents over 666 days at sea. This is the first time we landed in a territory of our future home country. We have been planning our immigration to New Zealand for more than a year now, learning what is needed, checking our properties for sale online, setting up advisors to immigrate and buy a business, deciding on schools for the kids, and much more. We were starting over in a new world and were making sure it was where we wanted to be. Now, after all the planning it was becoming a reality in the very near future.
Bound for New Zealand  ©persevere60545.com
But, we still have a few adventures to go on Persevere and close to 1,500 miles to New Zealand. Niue to Tonga was a three-day sail, with a few pods of whales swimming alongside. Kept me up at night, especially when I saw a big cloud of phosphorous moving by in the dark from a whale going under the boat. Cool, but unsettling at the same time. We arrived early in the morning.
Tonga is another one of those islands with a lot of hidden reefs and shoals around it, so it was a lot of double-checking the charts and looking overboard as we serpentined our way through a series of small islands into Neiafu on Saturday morning.
It being the weekend, customs would not be open until Monday (as on most of the Pacific islands), so we docked at the city dock and went out for lunch. We would check in Monday. No worries. We quickly got our bearings and signed up for the morning VHF expatriate morning update to find out what was what. The next day we had a private tour set up to go swimming with whales.
We motored around in a small boat, and soon spotted some whales. We dove in with snorkels and actually swam with them. The whales were only 15 to 30 feet away from us, and we caught up with a couple, a male and female, with the male singing. We floated along with them for 15 to 20 minutes until they got out of view, then got back into the boat and caught up with them again. The whales would turn around and look at us, playing with each other.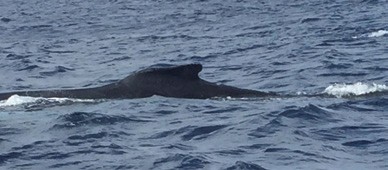 The male was showing off for the female, spinning and breaking the surface and crashing and diving. We were right there, and all we heard was whale song and splashes.
The whales were often just 15 feet away!   ©persevere60545.com
Breana, Mariel, Pam and I spent the whole day jumping in and out, swimming with three sets of whales. They are one of the most majestic creatures I have even seen up close. It was an experience we all will never forget. On the way back into Neiafu, we stopped at a couple of more caves to explore…surreal stuff because the openings were 20 feet below the surface, but opened up into a grotto inside the rock. Truly one of the best experiences we've had in the last two years of sailing.
We ran into some sailors that we'd met in Bora Bora, and got together for a banquet lunch of roasted pig and local seafood on a beach on the other side of the island. It was a lot of fun and got to hear a few horror stories of crossings. The local VHF web hooked me up with a machinist, and I fixed the gooseneck with a galvanized steel bracket customized to reinforce the carbon gooseneck. After a fuel delivery, we began preparing to head to the last island in the Tonga chain, Nuku Alofa, Tongatapu.
Look for updates on Persevere's journey in future issues of WindCheck. You can track the Raths' progress on their Facebook page. Colin's book, It Is What It Is, can be purchased on ColinRath.com or at Amazon.com or any major bookstore. Look for his next book this fall.
Previous articles from the Persevere Family Journey:
January 2015 Persevere Cruise: The Most Important Rule of Cruising: Let the Weather – Not Your Timetable – Determine the Schedule.
March 2015 Persevere Cruise: Cuba Libra!
April 2015 Persevere Cruise: Serious Fun at the St. Maarten Heineken Regatta
May 2015 Persevere Cruise: Kirk Kelly's 50th Birthday in Rincón
June 2015 Persevere Cruise: From the Persevere Log: Dominican Tree House Village
July 2015 Persevere Cruise: From the Log of Persevere: Havana – The Tale of Two Cities
August 2015 Persevere Cruise: Back to NYC
September 2015 Persevere Cruise: Transatlantic Race 2015
October 2015 Persevere Cruise: Sail On, Aspen
November/December 2015 Persevere Cruise: Europe 16: The Adventure Begins
January/February 2016 From the Log of Persevere: Bay of Biscay
March 2016 From the Log of Persevere: Into the Med
April 2016 From the Log of Persevere: One Word: Gaudi
May 2016 From the Log of Persevere: Atlantic Odyssey & Holidays in Tenerife
June 2016 From the Log of Persevere: Carnival in Martinique 
July 2016 From the Log of Persevere: Central America
August 2016 From the Log of Persevere: San Blas Islands and the Panama Canal
September 2016 From the Log of Persevere: The Lost Land of Galapagos
October 2016 From the Log of Persevere: 21 days at Sea to Marquesas
November/December 2016 From the Log of Persevere: That Pacific Paradise that is Marquesas
January/February 2017: From the Log of Persevere: Looking for Civilization in Tahiti
March 2017: From the Log of Persevere: Niue, The Rock