Good luck to the 50 boats starting Friday, June 9th in the Marion Bermuda Race. Track their progress and view updates from the crews at Marionbermuda.com.

By Ernie Messer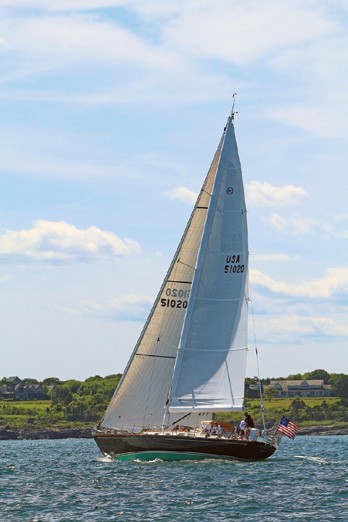 So, two sailors are talking in a bar (of course)…
One says, "I'm doing the Marion Bermuda Race in June."
Second sailor says, "Where does that go?"
First sailor: "It starts up in Marion, Mass, goes down Buzzards Bay, then offshore to Bermuda."
Second sailor: "Ah, no thanks, I've heard about that Buzzards Bay!"
Some years it's almost true!
Since its inception in 1977, the Marion Bermuda Cruising Yacht Race (MBCYR) has been billed as "an ocean race for cruising yachts." While that philosophy still prevails in the event's current "mission" saying "competitive spirit and good fellowship of Corinthian sailing," those who have done the race can tell you it is often very competitive, and battles for class trophies are hard-fought!
The writer will be navigating Paul Kanev's beautiful Hinckley Sou'wester 51 Momentum again this year.   © Spectrum Photo/Fran Grenon
That said, the friendly atmosphere among competitors in Marion, before the race, is enhanced by the fleet being on moorings in front of the sponsoring Beverly Yacht Club. Likewise, the post-race welcome at the Royal Hamilton Amateur Dinghy Club (RHADC) is very memorable, especially for those who haven't experienced the incredible friendliness and warm generosity of Bermudians! The RHADC Bar was just awarded fourth place worldwide in Wight Vodka's Favourite Yachting Bar Competition…the only disagreement is that maybe it should have been first!
The race requirements are quite easy to meet and are spelled out in the Notice of Race, Sailing Instructions, and Safety Requirements, which can be found at marionbermuda.com. The only biggies are insurance, which ranges greatly, and a life raft, which, if bought new, can remain certified for three years, making it possible to qualify for two Marions and a Newport Bermuda Race (in even years). Everything else in the requirements are things you would want on any modern well found cruiser.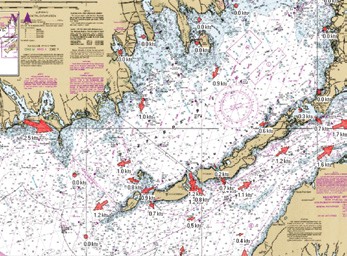 The Marion Bermuda Race has four distinctive sections, adding a lot of  "flavor" and often a lot of "spice" to the event! The first section is the aforementioned Buzzards Bay. And yes, it can be gnarly sometimes when a strong southwesterly meets a strong outbound current; you'll notice experienced racers don't seem to party too much the night before! Other rare years you'll be fighting to keep way on.
Buzzards Bay current should be studied carefully. © Ernie Messer
Leaving the moorings, the "check-in" boat is about three miles away and the starting line another mile, so it pays to get an early start if you want to take a last shoreside shower or trash run. Don't get trapped waiting for a launch when those on the boat are itching to leave! The first warning signal is at noon, so be on time.
Down the Bay
The starting line is usually generous in size, but like all starts this one can be a "tension convention." Because of the "cruising" nature of the race, some competitors may have a less than solid knowledge of the nuances of the Racing Rules of Sailing! A starboard tack start usually leaves you with a decision of when to tack back to the favored port. On a "good" year with the wind due west or further north you can fetch the course on one tack; otherwise you'll probably be tacking down the Bay. Be sure to pay close attention to your charts as there are many rocks to deal with quite far from shore, especially the north. Currents in the Bay are also a challenge, as they change directions radically on the north shore as they fill or drain the harbors and on the south shore as they pass through the "Holes." Otherwise it's pretty straightforward – there are only two "Marks of the course" in the United States; Penikese Island (to port) and the "Sow and Pigs" (S&P) Bell (also to port). West of Cuttyhunk Island, Sow and Pigs is about 19.5 NM from the start, so you'll usually be out of the Bay by 5 or 6 o'clock.
Sow and Pigs to the Gulf Stream
The second section of the race, Sow and Pigs Bell to the Gulf Stream, is usually welcome after beating out of the Bay, although depending on how much west is in the prevailing southwesterly, this section can be pretty close-hauled as well. Starboard tack will usually be the desired course here and the temptation is to "crack off," but beware! The rhumbline (RL) to Bermuda is about 162° M, but a course made good, with leeway and currents, of only about 157° M will put you on the shores of "No Mans Land," a small island about 10 miles down the road! So resist the inclination to "crack off" or you'll find yourself having to tack in the vicinity of No Man's Land…and by the way, it'll be dark by then. If you do tack, you'll be on port with the rest of the fleet coming at you on Starboard…not fun!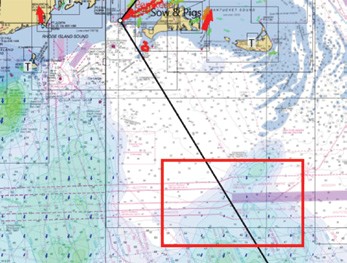 So you've been smart, kept a good course, in spite of feeding the crew and starting watches. What's next? Keep a very good lookout! For the 75 miles from the S&P down to the Ambrose-Nantucket Shipping Lanes (40-35 N down to 40-22 N), you will encounter traffic in the manner of fishing boats, or fleets, and in the shipping lanes many very large ships that may be making as much as 17-19 knots! So, have your best people keeping lookout and pay close attention to your AIS. Although it's not always easy, you must look under or around that sail!
Pay very special attention when crossing shipping lanes! © Ernie Messer
Sometime the next day, about 120 miles from S&P, you'll be close to the 1,000-fathom curve. Now you're really offshore; bigger waves, and maybe some warm eddies on the sea water thermometer, patches of yellow Sargasso weed, and different birds. Hopefully you've been able to keep your desired course and are progressing to your Point Alpha. Point Alpha is the virtual point at which the captain and navigator have decided to enter the Gulf Stream (GS). This strategy is usually the first to fall and maybe the most important to the success of your race!
If you don't enter the GS where you want, you may be forced to enter it where you really don't want to be. If you get into a northbound meander or a strong easterly component, your troubles will start to multiply quickly. So let's accept that everyone steered as directed, the navigator watched the COG carefully and no one had to take large evasive maneuvers to steer around a fishing boat that, as always, seemed to be doing his damnedest to stay right in front of you. You hit your Point Alpha right on the money, the sea water temperature pops up from the 60s and 70s to about 86 degrees, the navigator is taking all the credit and the off watch starts straggling up from below, a bit green, and complaining about "washing machines." Welcome to the Gulf Stream!
In the Stream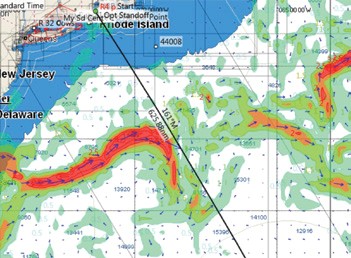 An Expedition screen shot of an 'easy' day for the navigator © Ernie Messer
Section three, the Gulf Stream; you've hit it perfectly, the speedo pops up two or more knots, and although the owner won't admit it, you can tell by the grin plastered on his face that he's never seen the old girl go this fast! There's so much written and on the web about the GS and a host of URL's for more GS info on the race website, that your whole crew are probably experts…if only they found sail trim so fascinating! The GS will be the topic of the day and if there's a bit more spray on deck, at least it's warm! The captain and navigator should decide what compass course will keep you in the warmer and faster moving water for the longest time. Once again, this is a very important part of the race.
The GS, depending on the angle it crosses the RL and the actual width will last for as little as half a day to as much as 30 hours. You may have big winds or light air, but it's always warm and usually confused and lumpy. Because variations in temperature are a large component of weather, many times the GS will seem to have its own weather compared to the general area. This may generate large clouds seen for miles or quick thunderstorms that seem to pop up unannounced. Hang in and make this section a success and likely your race will also be a success.
Happy Valley
Soon the wind may steady a bit, the seas get more uniform and the seawater temperature might drop a few degrees. Because the seas are smoother, you will notice the color is a deep and very beautiful shade of blue. Lots less spray than the GS and no falling off of waves; moods improve! I'm not sure where the name came from, but many call this section "Happy Valley." The sailing in this section from the GS to Bermuda is often so pleasant that the biggest challenge while racing is keeping everyone motivated and out of "cruising mode." Shorts and T-shirts are the rule, day and night, no spray means hatches are left open, and people are able to sleep soundly while off watch. Life is good!
Keep your watches involved with making the boat go fast and start thinking about your approach to Bermuda. There is a section in the Sailing Instructions called "The Finish" and another called "Marks of The Course" – have paper copies of these for each of your crew. Have each crewmember become familiar with the procedures and the marks as you approach the finish. It might be a little embarrassing to the Captain/Navigator if a crew pipes up with, "Aren't we supposed to radio in at Kitchen Shoals?" or "Don't we have to go outside that quick flash (3) over there?" but it might save the day! Once you see Bermuda, the time will go very fast. There will be lots to do including navigation, the finish radio procedure, and getting ready to tack. If you haven't tacked for awhile, checking all the rigging on the leeward side; making sure your class flags are showing; and all the other details.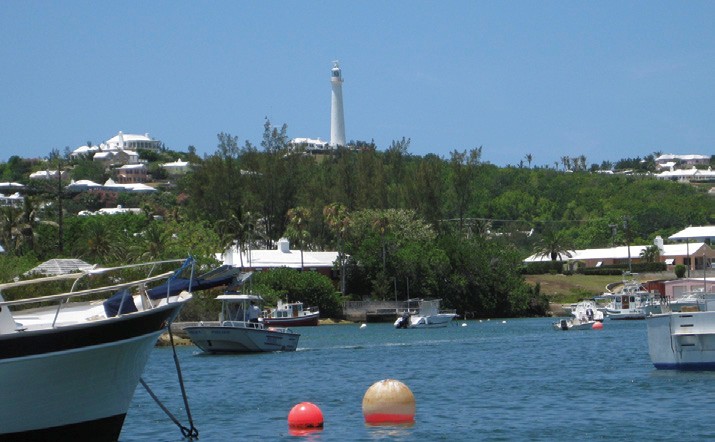 Even after finishing there are still some important items to remember. Don't recross the finish line, don't go between the finish line and Bermuda, and make the required calls to the R/C and Bermuda Radio. If you plan to "celebrate" while you drive the three or four hours from the finish to the RHADC, let the Captain and Navigator act as "designated drivers." This is no place to take anything but a very professional approach to navigating and conning the boat!
Gibbs Hill Lighthouse one of the first lights seen when approaching from sea. © Ernie Messer
These are the basic four sections of the Marion Bermuda Race, and if you focus on each and plan accordingly it will contribute to a successful and safe passage. Here are a few other things that will contribute greatly to your success.
Learn about weather.
As many in the last Newport Bermuda Race found, having the confidence to evaluate weather (WX) forecasts using NWS, NOAA, and other data is a great asset. Being able to evaluate the mountains of WX data, publicaly and privately available, is essential not only toward race success but in making the decision to even start or not.
The first place to begin is of course the Race website. Look at marionbermuda.com/resources in general, and then drill down to marionbermuda.com/gulf-stream-weather, where you'll find many links which will be helpful.
Find a book to your liking explaining weather and weather maps. One that I highly recommend is Modern Weather for Sailors by John Jourdane. It was recently published and is available from Amazon.com. It's not a huge textbook but was written for Mr. Jourdane's Weather for Sailors classes at Orange Coast College. It has lots of color illustrations and is easily understandable by, well…sailors.
Know your electronics.
If you are addicted to electronics, as many of us are, start early and study your owner's manuals for the features that you may not use locally, but may come in handy offshore. Included in this list are being not only "familiar" but "comfortable" using DSC, AIS, MFDs, SSBs; and even the lowly VHF, which is now stuffed with menus and features galore.
If you're using plotting software like Expedition (expeditionmarine.com), make sure you have a copy at home so you can study various scenarios and be comfortable with downloading the WX and GS info which is now pretty much "built in." For a long time Expedition was a tool used mostly by hardcore racers, but now many cruisers and cruiser/racers are embracing the advantages. If you have questions, Expedition has a terrific forum at expedition.boardhost.com. One nice thing I like about Expedition is the new feature under the "Weather" tab called "My Image." With a few clicks you can overlay a present or future surface analysis (weather map) with your existing "Route," wind gribs, and "Optimized Route." This allows you to get a better feel for both your gribs as they are changing in time, and the surface analysis and its forecast of things to come.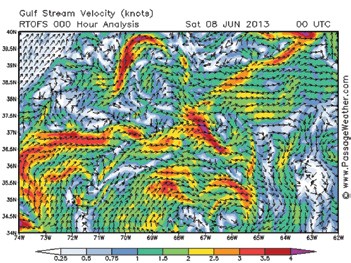 Other sources of WX which will help with planning include the excellent free site PassageWeather.com, where you can not only see WX for this and other races but also awesome GS graphics. PassageWeather is so good that many successful racers who used it kept it to themselves! Sorry guys! One race-specific feature allows you to zoom in on the GS section – very helpful.
PassageWeather allows you to zoom in and makes it easier to see the challenges of the Gulf Stream. Photo by Ernie Messer with permission PassageWeather.com
Another modern free graphic WX site is ventusky.com, which will blow you away with the interactive features available. With both free and subscription components, the French site squid-sailing.com/en/ has a great program for your laptop, and offers a glimpse of the EU WX models for comparison. On the subscription side, predictwind.com is very popular with sailors. Most of these WX sites also have mobile apps available for your smartphones, but be aware that as soon as you are out of cell phone range you will no longer be able to receive updates from them. The only exception is if you have satphone with built in WiFi or Bluetooth, but that will be very expensive to use.
If you are overwhelmed by all you have to do, and feel you need help with your WX and GS planning, for a fee, you will find several providers on the Race website at marionbermuda.com/gulf-stream-weather under "Weather Resources." Not listed but another source for those seeking training is offered by North U and can be found at northu.com under "Weather Webinar On-Demand."
So far, you may have noticed I haven't mentioned "celestial." In the early days the Marion was known as the "celestial" race. In 1979, a radio direction finder was about the only method besides celestial navigation allowed. They had a provision that by taking a whopping 8% penalty on the handicap rating, "any and all electronic aids designed to locate the yachts position may be used once each four-hour watch. Continuous monitoring is not allowed." I guess a few boats had old LORAN As and a few had the "new" LORAN Cs. Those devices were big, heavy, and typically had an oscilloscope where wave patterns were lined up by tweaking some dials…YIKES! Talk about job security for navigators!
Now, the "advantage" for using celestial is "a favorable 3% adjustment to their ORR rating." Not quite as advantageous as in years past, but still substantial when you figure a fairly quick 100-hour race would be allowed a 3-hour savings. The bottom line is this: If you have to ask if you're skilled enough to do something successfully, the answer is probably "no." If you are a skilled celestial navigator, fully confident in those skills, and fully confident that you can handle situations like solid cloud cover, rough water, and mal-de-mar, then you will know the answer to the question. If not, bring your sextant, practice on the trip home, and next time sign up for the celestial division.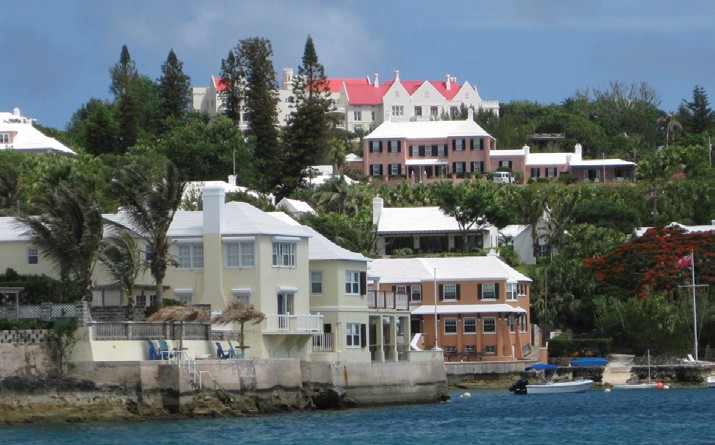 After considering all of these things, and if you're not afraid of Buzzards Bay, go to the website and sign up, you'll never be sorry! Blue water, extraordinary night skies (full moon this year), wildlife seen nowhere else, friendships and memories never to be forgotten, will all be things you'll cherish forever!
Second Sailor: "See you in Marion, I'm in!"
Everywhere you look the scenery is beautiful in Bermuda. © Ernie Messer
Ernie Messer has been sailing since the seventies. He is a member of the Cruising Club of America and Off Soundings Club. He and his wife have sailed New England for many years and have also raced to Bermuda frequently, including three times double-handed! They sailed for 15 years on their Tartan 41 and now sail on a restored Peterson One-Ton, Valour, out of Westbrook, CT. Last summer was spent doing the Newport Bermuda Race and return on Cecilie Viking taking second in class, then a Maine cruise on their Peterson 37. Ernie is part of a local team competing in the 2017 Marion Bermuda Race on Momentum, a Hinckley 51 that appeared on the cover of the March 2016 issue of WindCheck.