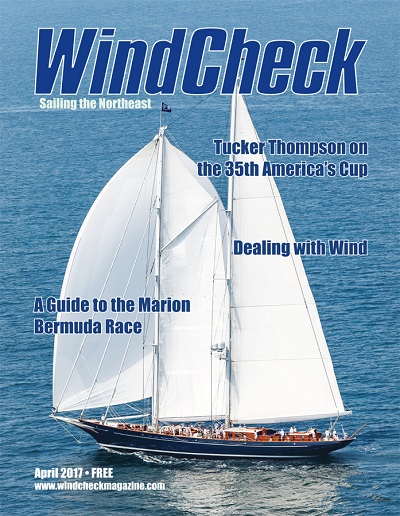 One of the articles many readers anticipate seeing in every issue of WindCheck is Sound Environment. Since our very first issue in 2002, WindCheck has featured – at least once monthly – articles about environmentally relevant and important topics such as beach cleanups, clean regatta practices, water quality issues, protecting marine wildlife, and many other rallying calls for an ecological cause.
My Editor's Log in our December 2014 issue noted that as sailors and de facto environmental stewards we were contributing to healthier oceans and preserving our sounds, bays and coastlines, but we still had a long way to go. Nearly three years on, I believe significant progress has been made, but I would say that the same still remains true; there is more to be accomplished, improvements to be made, processes to encourage, and (perhaps most importantly) habits to change.  
I am encouraged that we now see environmental progress highlighted more frequently in other parts of this magazine, most visibly in our racing section, which often highlights these efforts among competitors. Many regional marine businesses are taking action to mitigate the impact of their actions on the health of our environment. If not for the dedication, and let's face it, pressure from consumers, this would likely not be possible. Ever more stringent laws are being put in place to limit or eliminate discharge, so municipalities are beginning to see the light, too. For instance, the City Council in Newport, Rhode Island just joined the now more than 100 towns and cities in the U.S. to ban single use plastic bags.  
This positive trend is encouraging, and certainly a draw to our sport. Sailing is clearly a healthy way to spend one's time, and a wonderful activity to share with others. It's nice to see that this passionate community is imparting the knowledge that as a sport it is, at least compared to many other forms of recreation, sailing is also healthy from an ecological standpoint.
There are still many ways in which we can improve practices that help preserve the environment, and it needn't always be hard work. The story on page 10 about Sailors for the Sea's Skip a Straw – Save a Sea Turtle campaign exemplifies action that every one of us can – and should! – take. With nearly 34 million Facebook views, it's likely you've seen the painful footage of the straw being extracted from the sea turtle's nostril. That video alone is motivation enough!
Without a healthy coexistence with nature, sailing simply wouldn't hold the same wonder and beauty that we are fortunate to enjoy. Have another look at the beautiful image on our cover that photographer Rod Harris captured of the schooner Meteor off the coast of Newport. The twinkling blue of the water coupled with the majesty and might of a remarkable vessel is an awe-inspiring sight. Now, imagine that water a murky brown sludge. I doubt the owner of such a vessel would waste their time in the waters of New England were they not as beautiful and refreshing to behold as they are. 
If you're ready to make a personal change; to continue pushing forward, there are countless volunteer opportunities with grassroots groups like Clean Ocean Access, Save the Bay, and Save the Sound, to name a few, or consider donating to a global organization such as Mission Blue. In the words of Mission Blue's founder, the incomparable Dr. Sylvia Earle, "With knowing comes caring."
To those of you who have adopted responsible practices for cleaning, painting, storing and enjoying your boat, participated in a shoreline cleanup, or become eco-active in any way, keep up the good work. Things are improving, but we cannot become complacent. In fact, we should strive to exceed the norm. Now, perhaps more than ever, we must take it upon ourselves to be the guardians of our environment.
See you on the water.
Chris Gill