By Bill Wagner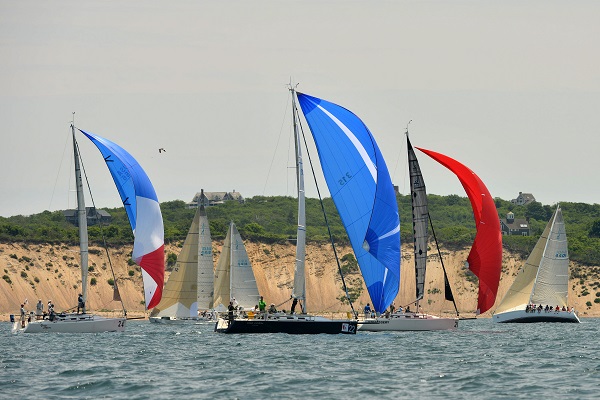 Tom Schubert of Annapolis, MD had no intention of competing in the 2015 edition of Block Island Race Week, but when he heard about the Performance Cruising division he decided to round up family and friends to race his Grand Soleil 46 in the 50th anniversary regatta. "It was an entirely family affair and we had an absolute blast," said Schubert, who has served on the race committee at Race Week many times. "I thought the format was excellent – very casual and enjoyable. What I really liked is that it was one race per day, like 20 years ago." ©PhotoBoat.com
Schubert sailed Azzurra to second place finishes in three of five races and might well have been runner-up in the overall standings if he had not elected to sit out the Around the Island Race that was held in heavy winds. "We didn't go with the intention of winning, but then we started doing well and the whole crew got into it," said Schubert, whose wife Sally and son Matt were aboard. "In retrospect, I wish we'd done the Around the Island Race because it didn't turn out to be as rough as everyone expected."
Matt Schubert brought his Catalina 36 to Block for the week and rafted up alongside Azzurra. "It was simple, fun and easy," said Schubert, who also had close friend Tarry Lomax and his wife aboard. "It was like a cruising vacation with some racing mixed in. It was perfect."
The Storm Trysail Club introduced the Performance Cruising division to Block Island Race Week in 2013 and it was an immediate hit. Two years ago, 20 boats participated in two classes, with Deborah & Brian Mulhall's Tartan 46 Testing Life (Ocean City, NJ) victorious in Spinnaker and Christopher Schneider's Ericson 39 Rascal (Centerport, NY) claiming top honors in Non-Spinnaker.
"We truly believe that Performance Cruising has added another wonderful layer to this great regatta," said AJ Evans, Chairman of Storm Trysail Club's 27th Block Island Race Week, being held June 18-23. "This more relaxed racing atmosphere has made Block Island more approachable for a segment of sailors who might otherwise not have participated. In many respects, Performance Cruising is a throwback to a bygone era. It's appealing to be able to go out there with the seat cushions, dodger and roller furling jib."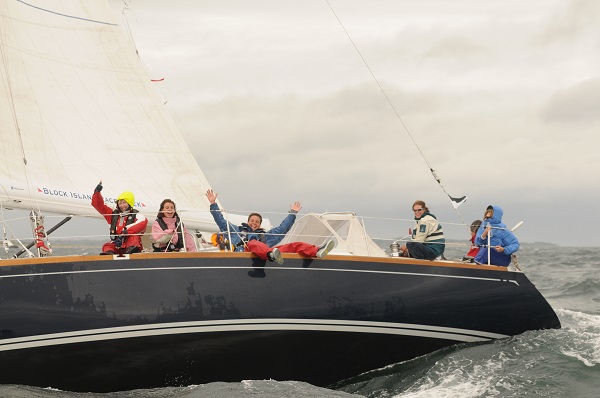 Recalling Block Island Race Weeks of yore, the Performance Cruising division has proven popular with family crews…and sailors of a certain age. Pictured here is John de Regt's Cambria 46 Starlight (Rowayton, CT). ©PhotoBoat.com

Bruce Bingman has served as Principal Race Officer for the Performance Cruising division since its inception at Block Island. He has created interesting, challenging courses, typically sending the fleet on 12- to 17-nautical mile jaunts around a combination of drop buoys and government marks. Courses are changed each day to provide variety, and distances are based on conditions with the intent of completing races within three hours or so.
Andy Burton entered his C&C 40 Peregrine (Newport, RI) in Cruising Non-Spinnaker in 2013 and came away impressed with the execution. "Bruce did an absolutely superb job of giving us five great days of racing," said Burton, who writes for Cruising World and other publications. Burton raced with a crew whose average age was in the mid 50s and was pleased the racing was not too strenuous, leaving his veteran team with enough energy for the daily tent party. "The Performance Cruising class allows older sailors to enjoy the social aspect of the regatta," he said.
Peregrine anchored in the harbor, rafted with a cruising sailboat owned by another crewmember. An entry fee that was half the standard amount and ability to have meals onboard the boat reduced the overall cost. "With everyone chipping in for food and booze, it didn't break the bank," Burton said. "We didn't take the racing too seriously and had a tremendous time. Competition was keen, but not cutthroat. Courses were fun and long enough, but not so long they got boring."
Brian Gillen's Mason 43 Latitude (Locust, NJ) is a 25,000-pound displacement boat with a full keel, and her relative lack of maneuverability makes windward-leeward racing not very enjoyable or practical. The New York Yacht Club and Atlantic Highlands Yacht Club member has many friends who have raved about Block Island Race Week and he's always wanted to attend. "When Storm Trysail Club added Performance Cruising, it enabled me to join the party," Gillen said. "Sailing longer courses with lots of reaching and running allows my boat to shake out her legs."
During the Around the Island Race, Latitude topped 11 knots while surfing six-foot waves downwind wing-a-wing. "It was very challenging, but also very rewarding," said Gillen of completing the 18-nautical mile circumnavigation of Block. "It's quite picturesque," he enthused. "You're out on the ocean communing with nature with Block Island providing a stunning backdrop…just gorgeous sailing!" To register, visit blockislandraceweek.com.