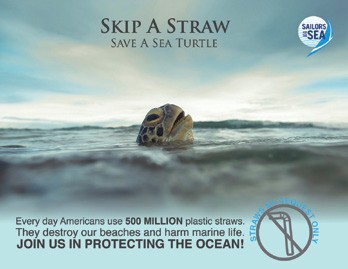 Did you know that Americans use 500 million plastic drinking straws every day? Think about that…500 million a day. That many straws end-to-end could circle the Earth 2.5 times. To reverse this trend, our friends at Sailors for the Sea in Newport, RI have launched a campaign called Skip a Straw – Save a Sea Turtle.
"Straws are consistently one of the top 10 items removed from beaches worldwide during the International Coastal Cleanup," said Hilary Kotoun, Sailors for the Sea's Social Impact Director. "Straws may be small, but they are wreaking havoc on our oceans and proving to be deadly to marine life. They have been found stuck in sea turtles' noses and in seabirds' stomachs. In total, 8 million metric tons of plastic waste enters the ocean from the land each year. That's equivalent to about 1.5 million cars. If plastic continues to infect our ocean, it's estimated that by 2050 every seabird will have plastic in its stomach and there will be more plastic in the ocean than fish."
"On the first-ever National Skip the Straw Day (February 24), Sailors for the Sea put out a challenge on Facebook to get yacht clubs and marinas around the country to switch to straws by request only," Kotoun continued. "The challenge was met with over 8,200 shares and reached more than 1,000,000 people on Facebook, but the work is just beginning and we need your help.
We are encouraging sailors to challenge their favorite watering holes to make a change and offer straws by request only. Stopping plastic pollution starts on land, and it starts with you!" For more straw facts and to download a printable sign that can be displayed in compliant establishments, visit sailorsforthesea.org/join-our-crew.
With nearly 34 million Facebook views, it's likely you've seen the painful footage of the straw being extracted from the sea turtle's nostril.
Skip the Straw – Go Straight for the Drink video (release December 2017)
In the U.S. alone, we use more than 500 million plastic straws every day, and most of them end up in our oceans, polluting the water and harming marine life. Boaters can stop this problem – #skipthestraw and go straight for the drink. Join the movement to stop single-use plastic straws: https://www.sailorsforthesea.org/join…