Racing to Save the Oceans
The Volvo Ocean Race Sustainability Programme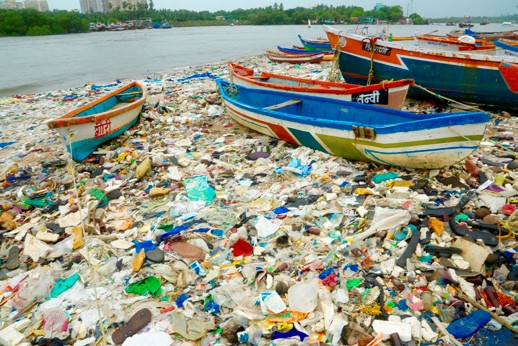 With a goal of creating awareness and discussion of the problem of ocean plastic pollution, the Volvo Ocean Race 2017-18 is sending out a call to action to businesses, governments and individuals to play their part in turning the tide on plastic.
To learn how this 'round-the world race is leading the charge for a cleaner future for our oceans, we spoke with Robin Clegg, Manager of Sustainability Communications.
Solving the worldwide problem of ocean plastic pollution is indeed a daunting task.   © UNEP
WindCheck: How big is the problem of plastic pollution in the world's oceans?
Robin Clegg: This is a global problem. More than one million single-use plastic bottles are sold every minute, and scientists have estimated that by 2050 there will be more plastic in the ocean than fish.
WC: How important was the inaugural Ocean Summit in Newport, Rhode Island during the 2014-15 edition of the race to help kickstart the initiative for this edition?
RC: Extremely important, as it set a blueprint for the future series of summits during the 2017-18 edition. The legacy it left was a series Ocean Summits aimed to convene a range of individuals, businesses, government and local communities to take action to turn the tide on plastic. The summits have already seen the release of groundbreaking data on the amount of microplastics in European and Antarctic waters, and produced a series of announcements to address the impacts of plastics on ocean health.
At the Ocean Summit in Alicante, the Spanish Government announced that it is joining the UN Clean Seas Campaign with the firm purpose of supporting this global initiative and contributing to its impact worldwide. The mayor of Alicante also announced an education campaign on plastic in all schools in the city.
Cape Town's V&A Waterfront Shopping Center, which welcomes 24 million shoppers each year, announced their pledge to be free of single-use plastic bags and bottles. Stopover partner WorldSport, a major events management company in Cape Town, pledged their commitment to sustainable event practices, with the Volvo Ocean Race event being a benchmark from which to move forward. These are just some examples of how the initiative has influenced our local stopovers.
WC: Please tell us about the Volvo Ocean Race's decision to launch the Sustainability Programme for the 2017-18 edition and beyond.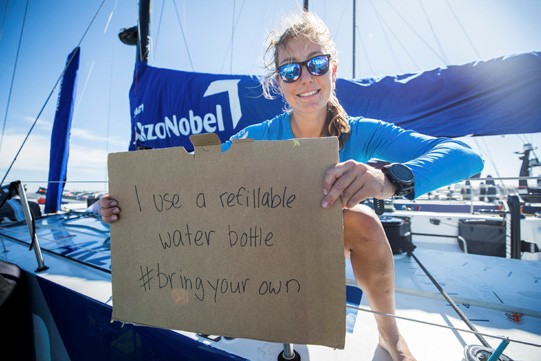 team AkzoNobel sail trimmer Emily Nagel urges all sailors to take a Sustainability Pledge.   © Jen Edney/Volvo Ocean Race
RC: The Volvo Ocean Race wanted to use its global sporting platform to raise awareness of the plastic problem, which is affecting our racetrack and playground – the oceans of the world. It is essential that the race builds upon the success of the Sustainability Programme and, therefore we are exploring ways in which the legacy of the Race is used as a template for future sailing events and there is the opportunity to continue to contribute to a better understanding of the impacts plastic pollution is having upon our oceans and potential human health.
WC: Please describe the race's partnerships on this initiative with other organization and companies.
RC: In collaboration with Race Partners 11th Hour Racing and the Mirpuri Foundation, and our other main partners – Volvo, AkzoNobel, Bluewater, Stena Recycling, Ocean Family Foundation, and United Nations Environment (UNE) – the Volvo Ocean Race has developed a Sustainability Programme, aligned to the Sustainable Development Goal number 14 Life Below Water and consisting of three strategic tiers which aim to educate, innovate and leave a lasting legacy to address this global crisis.
By working with UNE and their #CleanSeas campaign and their online pledge, we are able to promote the issues and the solutions people, businesses and Governments can take to reduce their plastic footprint. Most recently, during the Auckland Stopover, the New Zealand government used the Volvo Ocean Race Village to sign up to the campaign.
WC: Please outline the steps the race is taking to minimize its own footprint.
RC: By minimizing the footprint of our Race Villages but at the same time maximizing our educational impact at host cities and providing inspiration, we aim to leave this positive legacy for the future health of our oceans. We are leading by example through promoting sustainable events management that, for example, led to a 95 percent reduction in single-use plastics being used on site at our Hong Kong Stopover. We are also creating a legacy by promoting best practice in the countries we visit.
WC: How is the race utilizing its global communications platform to spread awareness and inspire action?
RC: It is essential that the Race use its global profile to communicate the issues around plastic pollution to a wide audience. We reach over three million people directly during our Stopovers and our Race Villages communicate and hope to inspire people to make a difference in their own lives by minimizing plastic use.
By creating a range of innovative content across our own and our partners' digital channels. we are making a large number of people aware of the problem, whilst also communicating an aspirational message that we all need to be part of the solution.
Beyond our digital platforms then there are of course those that we reach through broader news stories and event coverage. Even the team name Turn the Tide on Plastics and their partnership with Sky is about raising awareness.
WC: What kinds of data are the teams collecting while they're at sea?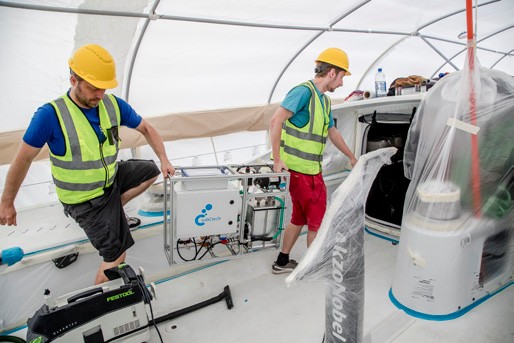 RC: We use our race around the world to gather critical data on ocean health to contribute to scientific research and ocean health monitoring as part of a landmark Science Programme. Made possible thanks to the support of Volvo Cars and a scientific consortium including NOAA (National Oceanic & Atmospheric Administration), JCOMMOPS (UNESCO-IOC), GEOMAR and SubCtech, the Science Programme consists the following three areas:
This equipment, which collects data on the concentration of microplastic in the world's oceans, was installed on team AkzoNobel prior to the start of the race.  © Jesus Renedo/Volvo Ocean Race
Meteorological data
All of the boats send 36 data points back to Race Control at Race HQ in Alicante every 10 seconds. This information covers temperature, barometric pressure, wind strength and direction. This data will be passed on to NOAA and the European Centre for Medium Range Weather Forecasts. This data will contribute to more accurate weather forecasts and climate models, in order to better understand the weather tomorrow and climate change in the coming decades.
Drifter buoys
During the most isolated legs in the race, all seven boats carry scientific-drifter buoys that are launched in the most scientifically interesting areas along the route. These floating sensors are equipped with satellite communications equipment to transmit information on ocean composition and currents.
Microplastic
The Turn the Tide on Plastic and team AkzoNobel boats are carrying groundbreaking instruments on board to test salinity, partial pressure of CO2, dissolved CO2 and Chlorophyll-a (algae) directly in the seawater around them. These key metrics for ocean health are logged, in addition to test trials for microplastics in order to create a complete snapshot of the world's oceans. It's believed that we only see 1% of the plastic in the ocean, so this is a key measurement, especially in the most remote oceans on the planet. Teams change filters at regular intervals, which are then sent back to the laboratory onshore to be tested. This experiment has already found high levels of microplastics in European waters and even low levels in remote Antarctic waters!
WC: Education is perhaps the most promising component of the Sustainability Programme. Please tell us about what young people can learn in the Ocean Exploration Zone at the Stopovers, and the course materials you've created to help school teachers and students become Volvo Ocean Race Champions for the Sea.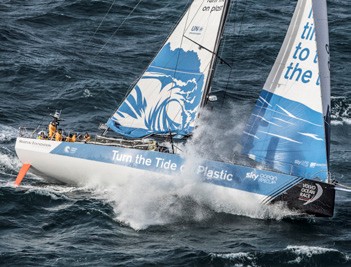 RC: Children can learn about how the use of single-use plastics is affecting the health of our oceans and the biodiversity that relies on them. It also offers a range of positive steps children can take in their own lives to reduce their impact so they feel empowered to be part of the solution to the plastic problem.
Led by legendary ocean racer Dee Caffari, Turn the Tide On Plastic is a coed, youth-focused team with a powerful message.   © Ainhoa Sanchez/Volvo Ocean Race
The education resources are available online in six languages, and are a downloadable teaching resources for classroom delivery. They give an insight into the issues and solutions whilst contributing to a range of national curricula. The programme consists of four topics: 'What is the Volvo Ocean Race?' 'What is Ocean Plastic Pollution?' 'How to reduce plastic pollution' and 'My Positive Plastic Footprint.'
Over 2,000 kids visited the Race Village during the Auckland Stopover as part of the schools programme. Over 7,400 students have taken part in workshops at our Stopovers so far. The online programme, downloaded in over 32 countries, now has an outreach of over 30,000 students.
WC: How can fans of the Volvo Ocean Race help reduce plastic pollution?
RC: We are asking Race Village visitors, viewers and followers, all of our partners, stakeholders and suppliers, cities we visit and of course our racing teams, to make commitments to reduce their plastic footprint, and refuse to use single-use plastics. We have partnered with UNE to promote the #CleanSeas campaign, and by signing the pledge at cleanseas.org you are offered a simple set of steps to reduce your own plastic footprint.
Thank you very much Robin!
Special thanks to Volvo Ocean Race Media Manager Rob Penner for facilitation this interview.