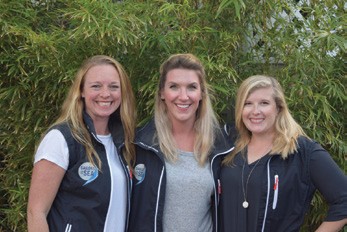 Sailors for the Sea, a Newport, RI-based ocean conservation organization that engages, educates, inspires and activates the sailing and boating community, and Oceana, the world's largest international conservation organization focused solely on protecting and restoring the world's oceans, are joining forces.
Sailors for the Sea team members (l – r) Education Director Shelley M. Brown, Ph.D; Development Manager Amber Stronk MAS; and Sustainability Director Robyn Albritton MNR   © sailorsforthesea.org
"Our board, staff and all of us are so pleased to be joining Oceana's team," said David Rockefeller, Jr., who co-founded Sailors for the Sea in 2004 in partnership with Dr. David Treadway. "This will strengthen our ability to help sailors and power boaters make a difference in saving the oceans they depend on."
Oceana, headquartered in Washington, DC, will continue the legacy of Sailors for the Sea through engaging the nearly 12 million strong recreational boating community on ocean conservation and will seek to unite a core constituency of sailors and boaters whose support will help win victories that will help to save the world's oceans. "Sailors and recreational boaters are highly credible ocean leaders," said Oceana CEO Andrew F. Sharpless. "Sailors for the Sea will now help us reach them in in ways that will prove truly beneficial for Oceana's conservation campaigns."
Rockefeller has joined Oceana's Board of Directors, and Sailors for the Sea board members have been invited to join Oceana's Ocean Council. Oceana plans to maintain the office of Sailors for the Sea in Newport, where staff will continue running the core Sailors for the Sea programs including Clean Regattas, KELP (Kids Environmental Lesson Plans) and the Green Boating Guide. For more information, visit sailorsforthesea.org and oceana.org.