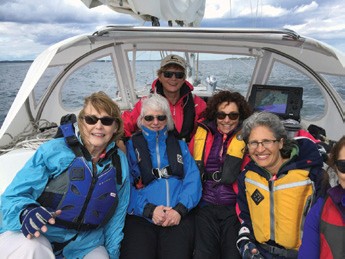 The 17th Annual Women's Sailing Conference, a program of the National Women's Sailing Association, will be held on Saturday, June 2, 2018 at Corinthian Yacht Club in Marblehead, MA. With a focus on fun, education and camaraderie, this all-day event is a fantastic opportunity for women of all skill levels to learn or enhance a variety of recreational sailing skills through land and water-based workshops led by some of the top women sailors in the sport. Sailors of all abilities are welcome, and prior experience is not required.
The Women's Sailing Conference is an opportunity for women from around the country to sharpen their sailing skills and gain confidence in their own abilities.  © BoatUS.com
A Continental breakfast, lunch and dinner will be served, and other activities include the Leadership in Women's Sailing Awards presentation and a guest speaker. Raffles and a silent auction will benefit the Women's Sailing Foundation, an organization dedicated to enhancing the lives of women and girls through education and access to the sport of sailing.
The Women's Sailing Conference is supported by BoatU.S. and Black Rock Sailing School. To register, log onto womensailing.org. For additional information, contact Joan Thayer at joan_thayer@comcast.net.