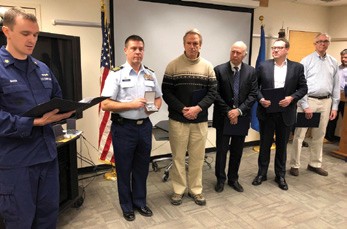 Four sailors from the yacht Disco Volante, Co-Captains Wim Jessup and Martin van Breems and crew members Mike McCormick and Brad Freeman, received Meritorious Public Service Awards from the Commandant of the United States Coast Guard for their courageous actions to save nine people from an overturned motor vessel in Buzzards Bay.
The Meritorious Public Service Awards were presented at Landfall Navigation in Stamford, CT. From left to right are LCDR Matt Baker, Chief, Incident Management Division, USCG Sector Southeastern New England; Captain Richard Schultz, USCG Sector Southeastern New England, S/V Disco Volante Co-Captain Martin van Breems; S/V Disco Volante Co-Captain Wim Jessup; Mike McCormick; and Brad Freeman.   © LandfallNavigation.com
On July 26, 2017, Jessup and van Breems were teaching an Advanced Coastal Cruising Class with four students on the Hanse 400 from Norwalk, CT to Portland, ME. Fortuitously, the group had just completed several man overboard drills when they spotted the vessel and 12 people in the water at the southwestern entrance to the Cape Cod Canal. Winds over 18 knots blowing against the current had created steep chop that caused the 24-foot powerboat to founder.
Capt. Jessup immediately called the Coast Guard while Capt. Van Breems had the crew lower their sails and come alongside the victims. They pulled nine people – eight children and one mother – out of the water before local authorities arrived to assist the others. Unfortunately, an 8-year-old boy was trapped under the boat. A professional diver retrieved him, but he did not survive. Disco Volante then transported the nine victims to shore. No additional serious injuries were reported.
A lifelong sailor and resident of Darien CT, Wim Jessup holds a USCG Captain's license and US Sailing Keelboat Certification, and is President of Rascal Sailing LLC, a sail training school out of Rowayton, CT. He's also the Executive Director of Training & Education at Landfall in Stamford, CT. Martin van Breems, another accomplished sailor and a resident of Redding, CT, is President and owner of Sound Sailing Center in Norwalk, CT.