By Buttons Padin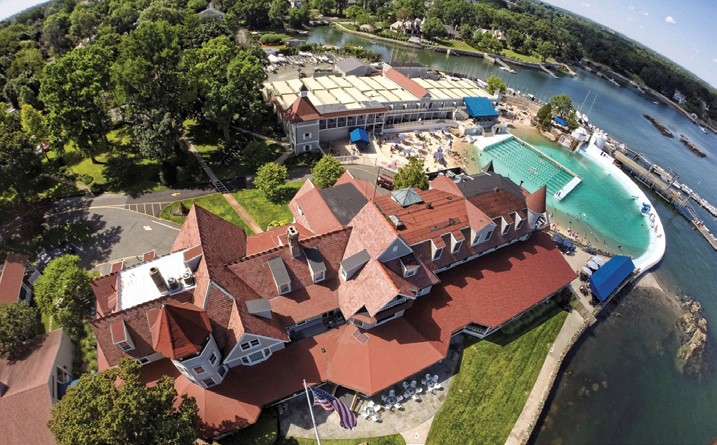 Larchmont Yacht Club in Larchmont, New York is the oldest yacht club on Long Island Sound, and one of the oldest in the country. Located in picturesque Larchmont Harbor towards the western end of the Sound, Larchmont's historic Victorian clubhouse has been the home of yachting history, legendary sailors, and world-class regattas since the Club was first organized 138 years ago in 1880.
Organized in 1880, Larchmont Yacht Club is the oldest yacht club on Long Island Sound.
Over the century-plus of its operation, much has changed at LYC, yet as much has purposefully stayed the same.
In the beginning
From its humble beginnings, operating out of a waterside chapel in Larchmont's Horseshoe Harbor, LYC's mission has always been to provide excellent yacht racing accompanied by gracious and welcoming camaraderie between sailors. Initially, the Club's major annual event was its July Fourth Regatta, which drew huge fleets of giant yachts of all description. Then in 1896, to replicate the success of the UK's Cowes Week, Larchmont Race Week was introduced to offer an extended regatta for sailors from the East Coast and Europe. Having missed only two years during World War II, Larchmont Race Week continues to be the major Long Island Sound regatta each year. To remain vital, Race Week has evolved to reflect the ever-changing yachting community to include one-design and racer/cruisers on the weekends, with Larchmont Junior Race Week on the weekdays, attracting over 500 young sailors from all around the East Coast.
Taking it all in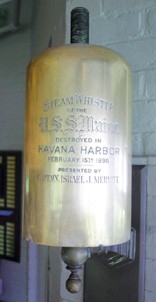 To fully appreciate Larchmont Yacht Club, one needs to stroll through its wood-paneled clubhouse, taking time to absorb the broad array of artwork and yachting memorabilia on display. Major oil paintings by Pansing, Chapman, and Halsall; fully rigged models of sail and steam yachts; and maritime artifacts ranging from brass signal cannons to the steam whistle from the USS Maine that sank in Havana Harbor.
Remember the Maine! The steam whistle of the U.S. Naval ship that exploded and sank in Havana Harbor on February 15, 1898 is one of many historical artifacts displayed at the Club.
As you walk through the Clubhouse, you'll be accompanied by the spirits of some of the world's finest yachtsmen, each whom called LYC their home. In the Commodore's Room, the portrait of Wilson Marshall takes center stage, reflecting his many accomplishments including his Atlantic crossing in 1908, setting a transatlantic record that stood for over a century. Commodore James B. Ford has his own room named after him in honor of his dozen years at the Club's helm, keeping LYC on course during the Great Depression.
Fast forward to the 1930s and sit on the Veranda with Olin and Rod Stephens as their Dorade swings on a mooring in the harbor. Then there's the legendary sailor Arthur Knapp, Jr., whose accomplishments ranged from serving as tactician aboard Ranger in the 1938 America's Cup to winning virtually every major one-design championship of the era. And don't forget Knapp's IOD rivals, Cornelius Shields, Sr. and Jr. Not only was this rivalry carried out in IODs, but also in Interclub Dinghies during the winter and in 12 Metres as the Shields raced Columbia against Knapp in Weatherly. The list goes on to include names such as Rudolph J. Schaefer and Vincent J. Monte-Sano to more contemporary sailors including Mary Savage, Charles "Butch" Ulmer, Senet and Clay Bischoff, Danny Pletsch, Cardwell Potts, Jason Carroll, Andrew Weiss, Chris Sheehan, and Chad Corning. An inspiring group to sail amongst, to say the least.
Contributions to Yachting – local, regional and national
Along the way, Larchmont Yacht Club has earned a reputation for hosting world-class regattas. LYC runs dozens of regattas/weekend races every season and has also hosted many International/National/North American Championships ranging from many Adams and Mallory Cups, the U.S. Team Racing Championship twice, the U.S. Disabled Championship twice (with American Yacht Club), the Etchells Worlds, Viper 640 NAs, J/105 NAs, and this October the J/109 NAs.
In addition to these championships, LYC's regular year-round sailing schedule remains robust during a period when other clubs' participation levels are dwindling. The Larchmont Winter Sailing Program, initially started by Corny Shields, Sr., continues to be a draw for dozens of world-class sailors year after year. Each October, Larchmont co-hosts the Intercollegiate Offshore Regatta, the largest collegiate big boat regatta in the country, with the Storm Trysail Foundation. And, during the summer, LYC's junior program is one of the best and largest in the country, producing outstanding junior sailors such as current Girls I-420 World Champions Carmen and Emma Cowles.
Taking a different tack, this summer marks the tenth Robie Pierce One-Design Regatta for sailors with disabilities, run in conjunction with American Yacht Club. The Robie was created to bring an adaptive regatta to the Sound, and today's Robie also includes the Robie Pierce Women's Invitational, the world's only all-women adaptive regatta.
Continuing the legacy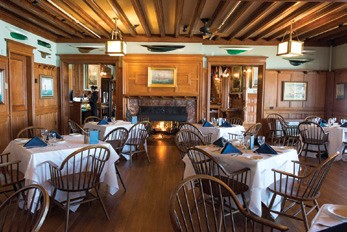 To many, the efficient running of major regattas and maintaining an historic clubhouse may seem mundane, not unique operating functions for a major yacht club. What those people may not see, however, is what LYC has done to grow its membership, particularly post-college sailors, a feat many clubs envy.
Countless sailing legends have broken bread in the Club's elegant dining room.   © Maureen Koeppel
Larchmont Yacht Club is in a unique position, both geographically and resource-wise. Being the closest major yacht club to New York City, and only a 12-minute walk from the train station, LYC offers a the convenience and access post-college sailors living in the City require. Add to that LYC's ongoing team racing program and these 20-somethings love the Club. Enabling them to fully appreciate what a LYC membership has to offer (sailing, dining, tennis, pool, paddle, etc.), these young sailors can join LYC as Summer Sailing Members at an extremely attractive price. The result has been a steady flow of young, highly skilled sailors becoming part of the LYC family and carrying on the Club's traditions.
This summer's highlights
Looking ahead to this summer, Larchmont Yacht Club has its two major annual events teed-up to be successes. The Edlu Race, the Club's annual distance race (now set at 32 NM for spinnaker boats with shorter courses for non-spinnaker boats) will be sailed on Saturday, May 12. As the Club's Edlu promotions say, "Come for the great race, stay for the great party." LYC has taken heed of the fact that successful on-the-water events need to be matched with equally impressive activities ashore. Last year's Edlu saw more boats crossing the line than in over a decade, and the party ashore was all you could ask for. You can even race if you don't have a formal rating by entering the "Club Division" and sailing with a LYC-assigned rating. You can register for the Edlu at YachtScoring.com.
Then, July 15-22, it's the 120th Larchmont Race Week with separate circles for one-designs, racer/cruisers, Vanguard 15s and Ideal 18s. There will also be classic yachts racing the first weekend and the final Sunday will be the fourth annual Around Execution Rocks Race, a multi-class, single starting line race around the venerable Execution Lighthouse and back. Set a new ExRx record, as Linda & Andrew Weiss' Sydney 43 Christopher Dragon did last year, and win a case of rum.
This year marks the 92nd Larchmont Junior Race Week. © Howie McMichael
Admittedly, Larchmont Race Week, like many long standing regattas, went through some lean years, but thanks to efforts by the LYC Yachting Committee, new life and vitality has been breathed into this iconic event, causing many "old timers" to remark, "Now this is the Larchmont Race Week I remember!" Yes, the competition, fun, and legendary camaraderie of Larchmont Race Week have returned. You can register at YachtScoring.com.
Maintaining its legacy
Larchmont Yacht Club continues to be one of the leading yacht clubs in the world, with the right location, great sailors, gracious hospitality, and a willingness to give back to the sport of yacht racing through regattas, volunteerism, and providing competitors. Today, the legacy of competition and camaraderie first envisioned 138 years ago lives on and, perhaps, has become stronger with every passing year. The Flag Officers of Larchmont Yacht Club invite all sailors to participate in the Edlu Race and Larchmont Race Week and, when at the Club, feel free to explore the art, history, and artifacts that so boldly express where the Club has come from…and where it's going.
Buttons Padin is Larchmont Yacht Club's Fleet Captain.