Preparation, Passages and Cruising Grounds
By Jane Russell & RCC Pilotage Foundation
Published by Adlard Coles Nautical, an imprint of Bloomsbury Publishing Plc, 292 pages, hardcover   $75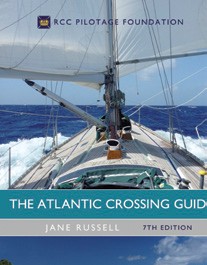 Now in its 7th edition, The Atlantic Crossing Guide is well established as the standard reference for sailors planning an Atlantic voyage, whether from the USA to Europe or via the trade wind route to the Caribbean. Packed with the collective wisdom of cruising sailors from more than four decades, this new edition includes updated advice on a variety of topics.
Part 1(Preparations) covers how to select a suitable boat, equipment and maintenance, electronic navigation and communication systems, weather and routing information, balancing power generation and usage, crew harmony and health, provisioning, risk management and planning for hurricane season.
In Part 2 (Passage Planning), you'll find vital info about weather systems in the Atlantic Ocean (a body of water that covers one fifth of the Earth's surface), common routes and the optimal times to make a crossing, coping with fog and ice in the higher latitudes, key landfall, and seasonal cruising along bordering coastlines.
Jane Russell has circumnavigated the world via the Panama and Suez Canals and sailed the Atlantic extensively. She is the Editor-in-Chief of the Royal Cruising Club (RCC) Pilotage Foundation. Founded in 1976, the RCC Pilotage Foundation has a mission of advancing "the education of the public in the science and practice of navigation." Also available as an eBook, The Atlantic Crossing Guide is essential reading for anyone thinking about sailing across 'The Pond.'