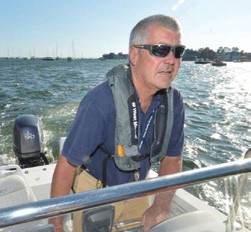 "I like to refer to Sam Jones as our 'volunteer force multiplier,'" says Ed Cesare, Commodore of Norwalk Yacht Club in Norwalk, CT. "Sam is only in his second season as our Sailing Director, and he's already had a major impact on our Junior, Ideal 18 and PHRF racing programs. We are very fortunate to have Sam working with us, and our membership loves working with him."
© Alex Von Kleydorff/Hearst Connecticut Media
"I grew up in suburban Chicago," says Sam, who lives in Darien. "As a little kid I was a fish, swimming all summer in a local pool. I learned to sail when I was about 20 at the University of Wisconsin-Madison. I used the school's Tech dinghies as swimming platforms because there was an overgrowth of algae along the shore of Lake Mendota. Swimming from shore was pretty disgusting, but out in the middle the water was fine. Of course, swimming from the boats was prohibited but nobody ever said anything about capsizing, even on the calmest of days! As the summer passed and it got colder and windier, the focus went from swimming to actually sailing. That first year, I sailed up to Thanksgiving break. I was hooked!"
 "After graduating from UW, I lived in the Lincoln Park neighborhood of Chicago. I quickly learned that with minimum experience it was pretty easy to get a ride on a Wednesday evening or weekend afternoon out of Belmont Harbor. At that time, and later when I came to New York, I was able to crew on boats that were not necessarily very competitive, but it was just fun to be on the water."
 "My first career was in international shipping, and that's how I met a very accomplished sailor named Don Bresnan. Aboard his Peterson 43 Impulse, I learned a tremendous amount from Don and his crew, especially that nothing is more important than safety. I'd always loved being on the water, and I found out it's even more fun to actually win races!"
"We have an active, year-round sailing program at Norwalk Yacht Club," says Sam. "The Frostbite season is just finishing up. On any given Sunday, there are typically 20 Dyers on the starting line. We also have a very active Adult and Women's program with our fleet of eight Ideal 18s. Shortly after commissioning in May, we have clinics for novices and more experienced sailors on weekends and some weeknights. We also actively race the Ideals; non-spinnaker on Thursday evenings and spinnaker on Sunday afternoons.
The Club also runs PHRF races on Wednesday evenings and Saturday afternoons."
"I am also involved with many aspects of the Club's Junior Sailing program.
We have a great group of instructors who provide a fun and safe environment.
Along with Noroton Yacht Club, we host the Eastern District regattas for 420s, Lasers, Radials, Fevas and Pixels. With the generosity of our membership, we also have a Junior Big Boat program. Some members lend their boats for the juniors to race, while others donate their time as owners' representatives on the boats, and teach navigation and safety at sea."
Sam is the Head Coach of the first-ever high school sailing team in Norwalk, comprising student athletes from Norwalk High School and Brien McMahon High School. "Soon after switching careers from shipping to teaching high school math, I started teaching sailing at Longshore Sailing School in Westport," he explains. "Four years ago, Longshore's owner, John Kantor, told me about an opening for a sailing coach at Greenwich High School. With my experience, it seemed a natural fit. I did that for three years and had a blast. When I started as Sailing Director at Norwalk YC, I realized it was the only area yacht club not hosting a high school team. My son Sam Jr. attends Norwalk High School, and has several friends sailing with Sea Scout Ship 6."
"When I approached the Flag at NYC about hosting local teams, they were very supportive. Our first foray into high school sailing was hosting the Healy Trophy in 2016, which is the New England Schools Sailing Association (NESSA) single-handed championship for Lasers and Radials and the regional qualifier for Nationals. We hosted the event again last fall, and were honored to have Bruce Kirby come and speak to the sailors. We had ten kids on the roster last fall, and we hope to grow the numbers."
Sam enjoys sailing in Pequot Yacht Club's Falkner Island Race on his friend Jonathan Thompson's C&C 35 Indigo. "I've done it with him many times," he says, "but the 2009 race stands out in my memory. The wind was out of the east at a sustained 35 knots. It was a long, hard slog from Southport out to Falkner and I repeatedly asked myself, 'Why am I doing this? I could be home watching TV!' Of course, once we got around Falkner and started the sleigh ride home we all knew why we were doing it."
Sam also relishes non-competitive sailing. "Soul sailing is a favorite pastime," he says. "Cruising mid-Sound and over to New York is a terrific way to spend a weekend. I have cruised on friends' boats between Cape May and Nantucket, and the Elizabeth Islands are always a favorite destination. A year and a half ago, I stumbled across a Morgan 27 that I couldn't pass up. I figured if I got a season or two out of her and then the keel fell off, it would've been worth it. Last summer, I short hauled her and found she's in great shape. The boat is very well balanced, and sails great. The decks are very solid, and it looks like she's a keeper."
The subject of each 'On Watch' article is asked, 'What's the best thing about sailing?' and Sam's reply is both concise and comprehensive. In a word, he enthuses, "Everything!"