Niantic Bay YC Early Bird & Thames YC Commodore's Trophy Race
By Judy Gibbs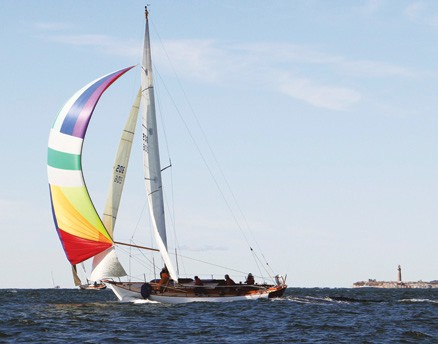 The Pre Off Soundings Cup is the newest premiere trophy you'll want to win on the Eastern Connecticut Sailing Association Offshore Circuit. This new adventure is a collaborative effort of Niantic Bay Yacht Club in Niantic, CT and Thames Yacht Club in New London, CT, who will each host a race the weekend before the Off Soundings Club's Spring and Fall Series, respectively.
Seville Simonds' Herreshoff Newport 29 Rogue (Guilford, CT) is an Off Soundings class winner.   © David Fasulo
A draw to both races, other than good racing and this new trophy, is an opportunity to move your boat closer to the Off Soundings starting area. Each club offers moorings to those who participate in their race for the week between the race and the start of Off Soundings. Check with each yacht club for further details.
The first race to qualify for the Cup is the Niantic Bay Early Bird on Sunday, June 3. The club has a fun race planned called 'Your Off Soundings Odyssey Tune-Up' featuring a Youth Crew trophy, a Best-Dressed Crew trophy (wear your togas), Trojan Horse Cocktails, a live band, and more. More info will follow in May, or check your ECSA yearbook.
The second leg of the Cup is the Thames YC Commodore's Trophy on Sunday, September 9. Since this family boating club has all summer to come up with a theme, it's a secret. But you can be sure there will be lots of good Goslings Rum drinks, fun on the beach and you never know what else. As always, Thames YC has plentiful food and good racing. For more information, log onto nbyc.org, thamesyc.org, and ecsa.net.
Judy Gibbs is Vice Commodore of the Eastern Connecticut Sailing Association.