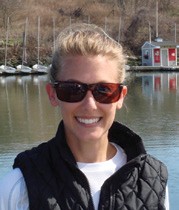 As a coach at Sail Black Rock in Black Rock, Connecticut and the Head Instructor at Pequot Yacht Club in nearby Southport, Jill Fattibene truly loves her work.
After somewhat inauspicious beginnings in Pequot YC's junior sailing program, a talented coach showed Jill how to enjoy the sport. "At first I didn't like sailing, nor did I even understand the Optimist. Matt Conover, my Opti coach at Pequot, worked with me when I was little, moving up from Opti 1 up through Opti 3. One day, my friend Kate Zylstra and I were goofing off and luffing our sails, and we didn't want to sail in. Matt said, 'OK, you guys can stay out here. I'm going in with the class'…and he did! I look back on that with fondness because we were content, but I was like, 'Wow, he actually left us!'"
Jill's enthusiasm grew when she started crewing for her friend Laura Cuccio in the 420. "We got competitive and I loved that," recalls Jill, who lives in Southport. "I'd never been competitive in Optis or Blue Jays, but Laura comes from a big racing family and we both wanted to get better and better and to go to bigger events."
Having been a member of the sailing team at Fairfield Ludlowe High School, Jill wanted a college with a Top 25 Varsity sailing program. She chose Old Dominion University in Virginia, earning a degree in Exercise Science. After graduation, she was hired as a coach at Sail Black Rock, home of the Fairfield University and Sacred Heart University sailing teams.
"I had always crewed throughout my sailing career, but senior year at ODU I wanted to try skippering and even sailed a few events as a skipper. A memory that has stuck with me as a coach is when ODU Assistant Coach Charles Higgins sailed as my crew. One particular day it was extremely windy, and I was nervous because I didn't want to capsize with my coach in the boat! The fact that Charles chose to help me become a better skipper gave me a great deal of confidence, and this is something I try to pass along to the sailors at Sail Black Rock. I frequently hop in boats with new sailors, and hopefully give them the confidence my coaches gave me."
"I also worked alongside ODU Head Coach Mitch Brindley during a few summers, teaching Naval ROTC students to sail. There were more than 100 students each weekend for four weeks, and about 10 instructors. When groups rotated boats, instructors had to stand in jellyfish-filled water helping midshipmen get in and out of the boats. Mitch was always the first in the water and the last out. He led by example and nothing was above him. This is something I have taken to other jobs, especially coaching. Mitch taught me to lead by example and not be afraid of getting my hands dirty, so I always lend a hand to my sailors when there is work to do."
"Through my education in Exercise Science I'm able to pass along what I learned about how your muscles work with your bones, sports-related injuries, nutrition, health and wellness," Jill explains. "I provide specific workouts to help the sailors I coach get better at roll tacking, hiking and trimming, and to be agile in the boat. I also encourage them to eat properly and do their own team workouts, but since SHU and Fairfield are club teams I really can't tell them what to do…although I would love to!"
"Sacred Heart and Fairfield didn't have sailing teams until Dave White started Sail Black Rock," says Jill. "Dave has not only been a huge asset to the program, but to me and the coaching staff as well. He's helped the coaches grow just as much as the team. Some people dread when their boss calls them, but I've learned to embrace these hour-long conversations. Whatever the call is about, I know Dave will slip a valuable life lesson in there somewhere."
"The atmosphere at Sail Black Rock and its base of operations, Captain's Cove is fun. I don't think there's another venue like it in all of college sailing. There are always people walking around, music, and the restaurant is great. People always ask what's going on with the teams, and the staff is awesome and very helpful. Bruce Williams [Captain's Cove Vice President] comes to all of our events, and makes us feel like part of the Captain's Cove family. I love it. Additionally, we have a huge competitive sailing community here with clubs like Pequot, Cedar Point, Noroton, and Fayerweather whose members help us out."
"Sail Black Rock hosts the Priddy Trophy for the Freshman Spring New England Championships, and we also host a lot of high school events, which is great for college recruiting. I've talked to 15 or 20 recruits who are interested in coming to the schools with sailing in mind. They not only want an excellent degree, they want to be on the sailing team and they want to be competitive. It's a huge step in the right direction."
Jill looks forward to more events being hosted by Sail Black Rock. "Our events are different than any other college events that I've been to," she says. "We have pizza parties after sailing to make it more social. We want everyone to stay to socialize and have fun because these are the people you are going to see at other events after college."
Sail Black Rock hopes to replace its aging fleet of FJs. "We are looking for 420s and we'd love to have 18 boats," she says. "Fairfield U just got us an amazing new coach boat, which has definitely helped with capsizes, transporting sailors to our island dock, and rotating in and out of boats. If Fairfield and Sacred Heart continue to work together, they could become sailing powerhouses."
"Teaching and coaching sailors is ideal for me, and it doesn't feel like a job," says Jill, "I don't complain about coming to work, I don't rush out of work, and I'm not wishing it was Friday. I don't want any other job."