By Tom Pilkington, CPYB, Prestige Yacht Sales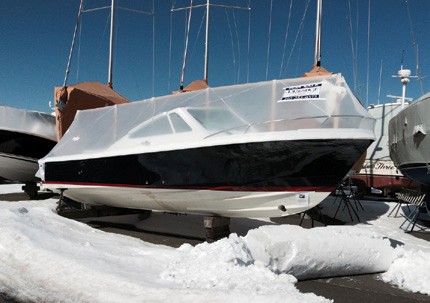 Right now in the yacht brokerage business, we are fully engaged in the spring season. So don't pay any attention to that icy view outside your window, or how chilly you feel, even with thoughts of St. Patrick's Day "spirits" to keep you warm. As a matter of fact, brokers have their own "Brokers' Calendar" which is quite different from the traditional seasonal calendar. Fall officially starts for brokers in August, once we decide which boats will be at the Newport International Boat Show. Winter kicks in as soon as we have exhausted all of our fall boat show leads. And, the all-important spring season begins the day our customers return from President's Day holiday.
During spring, we all hear brokers urging our customers to just "make the seller an offer," or "give me a number that I can give to my seller." Or, my favorite, "Just make an offer, you have nothing to lose!" The fact is making an offer on a yacht through a Certified Professional Yacht Broker (CPYB) is no different than making an offer on a favorite vacation property or condo that you have been dreaming about and are now in a position to buy.
After working with your broker, and finding the boat that matches your lifestyle, you decide to "make an offer" to the seller, with the help of your broker. We have all had a buyer who, while driving home after a showing, calls on his cell phone from the car and instructs his broker to call the owner and tell him he will pay a certain dollar amount for the boat he just viewed. At this point, his broker informs him that in order to make an offer, he, the broker, will fill out the Yacht Purchase and Sale Agreement (YBAA), send it to the buyer for signature (fax or scan copies are accepted), and when signed, the buyer will send all back to the broker, with a deposit, and the offer will be presented to the seller.
This offer is the contract between the buyer and seller. It serves as the foundation of all future negotiations of this deal between the buyer and seller. 
We have all had buyers who, when handed the four-page Purchase and Sale Agreement, all of a sudden have second thoughts about moving forward with their offer. It is important that we, as CPYB brokers, explain to the buyer the functionality of the P&S (Purchase and Sale Agreement), and don't merely dismiss it as "boiler plate," or "legalese," which does not have to be read.
It should be explained that the P&S has been the foundation of boating transactions for decades, and it is meant to protect both buyer and seller. There is language in the Purchase and Sale Contract that outlines deposit refunds for deals that are not consummated, Closing Dates, Survey Protocol, Buyer/Seller Representations, Default by the buyer or seller, and even defines what is done, if the vessel is damaged while under agreement. There is also a special section for Additional Provisions that the buyer may request as part of the offer. This P&S agreement is an important document and must be drawn up with attention to detail. Technically, any information missing can invalidate the document.
It should be explained to anyone buying or selling a yacht that the P&S, if executed properly, is an invaluable document for all parties involved. It is so thorough it serves as the roadmap for the entire boat buying process. In fact, buyers should consider reviewing a blank P&S well before they have found the boat of their dreams. Once buyers are comfortable with the P&S, I am sure they will be more willing to "make an offer" and know they have a concise and "proven" method to follow.
When the closing date finally arrives, and the P&S agreement has done its job, it is time to "add water," fuel, and start enjoying the boat! Just like life jackets, flares, horn and the rest of the United States Coast Guard Package, some may feel the Purchase and Sale agreement is not necessary, but I would not take the chance of not having it just in case!
Enjoy the boating season and I hope to see you on the water!

Tom Pilkington is a principal at Prestige Yacht Sales with offices in Norwalk, Essex, and Mystic, CT. Tom started his boating career as  VP of Yacht Haven Marine Center in Stamford, CT. On weekends Tom and his wife Jennifer can often be seen boating with their two Springer Spaniels on Long Island Sound.