By Joe Sullivan, Director of Sailing, Fordham University Sailing Team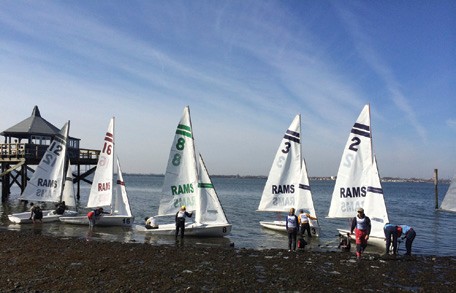 It was September 1998 and the notice in Fordham Magazine invited former varsity athletes, who had not received an invitation to the Arthur Daley Memorial Dinner at the New York Athletic Club, to contact the Alumni Office. The young man who answered my call was very polite and contrite that I had not received an invitation. "Which sport did you play?" he asked. "Sailing," I said. The pause lasted three or four seconds but seemed longer. "I don't think we have a Sailing team," he
Fordham Sailing's homeport is the Morris Yacht & Beach Club in City Island, NY.  © Elizabeth Foulston
responded. "I suspect not, but we did," I replied. He took my name and number and asked if he might call me back.
Within 15 minutes, my new friend from Fordham called, and very excitedly exclaimed, "Mr. Sullivan, we did have a Sailing team!" The Alumni Office maintained lists of former varsity athletes and he had retrieved the Sailing list, which contained the names of nearly 80 sailors from the Class of 1956 through the Class of 1975. I was surprised and pleased because I had not read or heard about the team of which I had been a member, and had assumed that it had disbanded at some time in the early sixties. I subsequently learned that Sailing had continued as a varsity program through the 1971 season and remained active for two more years as a club sport before disbanding after the experienced sailors graduated.
Alumni were located all over the country but about half lived in the Greater New York City area. Twenty from the Class of 1958 through '75 attended a reunion on campus in February 1999. While most had not met before, within minutes it was old home week as their experiences on the Fordham Sailing team decades earlier brought them together like long lost friends. Naturally, the question arose, "Why doesn't Fordham have a Sailing team?"
Four alumni, Charles "Bud" McEntee '72, Sean Walsh '70, and Dick Scallon and I, members of the Class of '58, volunteered to serve as a committee to ascertain possible undergraduate interest in relaunching the Sailing program. After consultation with Athletic Director Frank McLaughlin, in September 1999 we displayed a Sunfish at the annual Club Fair and signed up 102 students, of whom 29 had had sailing experience and nine subsequently indicated interest in investing their time and energy into creating a new program. They asked many questions re: club vis-à-vis varsity, and competitive vis-à-vis recreational teams. After much discussion, they opted for a program in which all team members would have a chance to sail and improve their skills. They wanted to be the best they could be.
Wisely, the administration had a protocol for new club sports, which included among other requirements a projected budget and a five-year plan. That fall, the students fulfilled all that was required and applied for Associate Member status in the Middle Atlantic Inter-Collegiate Sailing Association (MAISA), one of seven geographical conferences of the ICSA, the Inter-Collegiate Sailing Association of North America. In January, their application was accepted and Fordham was added to a handful of regattas on the 2000 MAISA schedule. The nascent team had minimal to moderate sailing experience, no boats, no sailing site and no money, but were full of enthusiasm. They had goals and were motivated to achieve them.
The five-year plan became an evolving document that was revised every few years as the team improved, but initially its goals were basic, i.e., establishing a team website; obtaining funding from the University; recruiting experienced sailors; initiating a fundraising campaign to buy boats; upgrading to provisional and then regular MAISA member status; finding a homeport; and qualifying for the fall and spring MAISA championships.
In the spring of 2000, the sailors and the alumni committee were surprised to learn that the team had to have a coach in order to compete. I volunteered to fill that role for the spring season, giving them time to seek a "real" coach. Little did I know that I'd still be involved with the program 16 years later. At our first regatta in 26 years, at Cornell, we finished last among seven schools and followed that up with a third place finish among six teams at Webb Institute. The feeling of accomplishment driving back to campus from Cornell was enormous, but the excitement returning from Webb was contagious. One would have thought we had won a national championship.
In the fall, the sailors approached the Afterguard, which consisted of former members of the Sailing team, and asked if we would help fund the purchase of boats. Our four-person committee hesitantly responded, "Maybe." Before doing so, we wanted to be certain that the students were truly committed to building a program. We were justifiably skeptical because in the spring, our two most experienced skippers announced that they would be unavailable to participate in one of our initial regattas because they were going to a party. They were given the choice of sailing or partying but not both, and they opted to party. Our roster was reduced from nine to seven.
Thus, before asking the Afterguard for financial support, we wanted to be certain that the remaining seven sailors understood that to achieve their ambitious goal of being the best that they can be, the club team would have to be run like a varsity program. To their credit, over the next several months, they demonstrated their commitment by raising nearly $5,000 – enough money to buy one 420. Realizing the kids were serious, the alumni said, "OK, let's see what we can do."
Within 60 days, an additional $48,000 was generated. Concurrently, a member of Morris Yacht & Beach Club on City Island saw an article in Catholic New York about the newly resurrected Fordham Sailing Team. MYBC Commodore Steve Breines contacted Athletic Director McLaughlin and shortly thereafter the team leaders and I met with Commodore Breines, who offered Morris Yacht & Beach Club as a homeport for the team. On Friday, September 7, 2001, we accepted delivery of six brand-new 420 sailboats and a $10,000 safety boat. Our first practice, scheduled for Tuesday, September 11, was obviously canceled.
From January 2000 to September 2001, the following goals in the initial five-year plan had been accomplished: a website (fordham.edu/sailing) had been created; a fleet of 420s and a coach/safety boat had been purchased; a homeport at Morris Yacht & Beach Club was established; the University agreed to provide modest financial support on an annual basis; our first ever sailor, from Little Rock, Arkansas of all places, was proactively recruited to attend Fordham as a member of the Class of 2005, and Fordham was upgraded from Associate to Provisional membership in MAISA. The Rams were upgraded to Regular membership in January 2002.
In 2000, MAISA had 32 coed dinghy teams, of which 10 were varsity programs. Initially, our on-the-water goal was to become a top-five club program and qualify for the MAISA fall and spring championships. Once the boats had arrived, mandatory practices were scheduled twice weekly; special guest coaches were invited to assist as available; multiple regattas were scheduled on weekends so that as the team grew, all student-athletes would have the opportunity to compete; and serious recruiting was conducted by everyone on the team. Our sailors became our best ambassadors.
In 2002-'03, our Rams qualified for the MAISA fall and spring championships.
In 2003, Fordham won the MAISA Club Teams' Championship for the first of five times between then and 2013. In its College Sailing issue in 2003, Sailing World featured Fordham as its  #1 "Up & Coming Sailing Team." Also that year, WindCheck described Fordham Sailing as "a wonderful success story."
Meanwhile, college sailing was growing like Topsy. In 2006, when Fordham won the MAISA Club Teams Championship for the second time, the conference had grown from 32 to 42 teams, of which 32 were club teams. That same year, our women's team was nationally ranked for the first time.
Our year-end conference ranking continued on an upward trajectory. By 2007, we cracked the top 10 in the conference for the first time. This was followed by three consecutive years when we were ranked ninth in the conference. In 2009, with 45 teams in MAISA, Fordham placed tenth at the spring conference championship and ninth at the fall conference championship; were ranked ninth in MAISA and our coed team was ranked nationally for the first time.
In 2010, the team's success created quite a buzz on campus. In May, the team celebrated the 60th anniversary of its founding in 1950 and the 10th anniversary of its rebirth with a gala dinner for 174 people at the New York Yacht Club. University President Joseph M. McShane, S. J. welcomed the guests and keynote speaker Gary Jobson gave an exhilarating presentation.
Fordham's fleet had expanded to 10 boats a few years earlier and the proceeds from the dinner and a fundraising campaign that preceded it enabled the Rams to enter into a joint venture with the Columbia University Sailing Team, a neighbor on City Island. The two schools purchased a brand new fleet of 20 420s, plus Fordham generated enough money to hire a professional coach.
The timing was right, as I had coached the team for nearly 11 years and took them as far as I was able. Our goal was to consistently crack the top 20 in the national rankings and a professional coach was needed to take that next step. My swan song before kicking myself upstairs to focus upon managing the program was to take our women's team to the Women's Nationals in the spring of 2011 and share their satisfaction in finishing 14th at the Women's National Semifinals.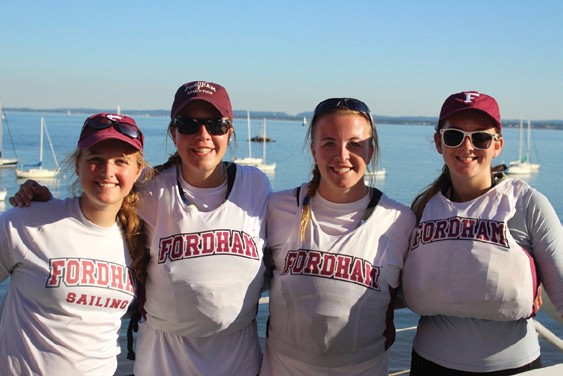 The following fall we hired Reed Johnson, a former All-American sailor, as our Head Coach. Practices were increased to three days weekly, an annual spring training trip was scheduled, and recruitment picked up. Reed led the team to national rankings of #17 in 2012 and #12 in 2013. In 2014, our coed and women's teams each qualified for Nationals for the second time and nearly accomplished a trifecta by qualifying for the Team Race Nationals. The top four at the Prosser Team Race
Fordham Rams (l – r) Bailey Fryer, Samantha Foulston, Elizabeth Foulston and Amanda Stapp at the Princeton Women's Open   © Samuel Cabot
Regatta advanced to Nationals, and unfortunately Fordham lost a fourth place tiebreaker.
After three years, Reed retired from college sailing and Johnny Norfleet, another former All-American, was hired as Head Coach. Under his leadership, Fordham finished fourth at the extremely competitive 20-team, four-division Navy Fall Regatta, won the Hoyt Trophy Regatta hosted by Brown, placed second at the War Memorial Regatta and fifth at the Atlantic Coast Dinghy Championship. The Rams ended the 2014 fall season ranked 6th in the country among 230 varsity and club teams, and #1 among 194 club teams. Fordham launched its 2015 season by taking home the third place award at the 30-team Rose Bowl Regatta in January.
When asked the secret of the team's upward trajectory over a 15-year period, I must first give credit to the Athletic Department guideline that all new club teams must have a five-year plan. That one criterion got the student-athletes to focus upon what kind of team they wanted, and with the plan updated every few years, they were able to focus upon near and long-term goals and take the steps necessary to accomplish them. Building upon that, the program could not have had a more dedicated group of student-athletes. It is a pleasure to be associated with them. Moreover, the alumni and parents have been supportive in both financial and non-financial ways. Without that support, we would not be where we are today. As a volunteer, the psychic income in my retirement years has been enormous, and for this I am immensely grateful.
Joe Sullivan is the volunteer Director of Sailing at Fordham University in New York City. A Past Commodore of Southold Yacht Club in Southold, NY, he enjoys competing on the national Sunfish circuit and is the Co-Founder of the "Annual World's Longest Sunfish Race, Around Shelter Island, NY" and the "Peconic Bay Midget & Junior Sunfish Championships," which celebrate their 45th and 40thanniversaries respectively in 2015.