By Dan Rennie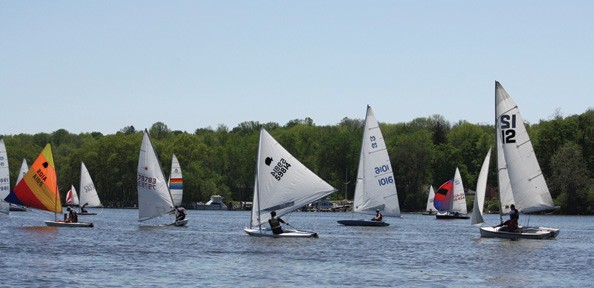 A dozen different types of boats sailing through the waters off Chester, CT in last year's race.  © Jane Reilly
While surfing a popular sailing website a few years back, I came across a forum posting asking about a distance race on the Connecticut River that the local Sunfish association used to organize years ago. I was actively sailing my Laser during the summers at Duck Island Yacht Club and at Frostbite in Essex. Thinking it would be a great idea to invite a group of my fellow dinghy sailors to step away from the usual windward-leeward courses and get out on the river for a 10+ mile course in early May, in 2011 the Connecticut River Dinghy Distance Race was born.
Open to any boat with a Portsmouth Yardstick rating, the race has been contested by as many as 25 different models of boats since its inception. Affectionately nicknamed "the island of misfit toys regatta," the event has attracted everything from the usual suspects such as the Laser, JY15, Club 420, Force 5 and Sunfish to higher performance boats such as the MC Scow, 5O5 and Melges 17 and truly old school models such as the Nutshell Pram, Buccaneer, Lark, Cape Cod Gemini, Flying Scot, Scorpion, and even multihulls such as Hobie 16 and 17 and Nacra.
This year's 5th Annual Connecticut River Dinghy Distance Race will take place on Saturday May 9, starting from Eagle Landing State Park in Haddam, CT down to Calves Island just north of the Baldwin Bridge in Old Saybrook, and back upstream to a finish line south of Brockway Island outside of Hamburg Cove. The party and awards ceremony will follow at Pettipaug Yacht Club in Essex. Competitors meet and launch their boats at Eagle Landing in the morning, bring their trailers and cars to Pettipaug Yacht Club and get shuttled back up to their boats. Start time is 12pm just south of the Goodspeed Bridge.
It's a winner-take-all race with the top three overall boats winning the trophies in single-handed, crewed, and multihull divisions. If more than five boats in a class register, they get their own one-design class and individual trophies as well. Past years have seen a vast array of competitors, both new to sailing and experienced including families enjoying a day sail to collegiate sailors (the UConn Avery Point team did very well last year) to Olympians, America's Cup alumni, and everything in between.
Whether you actively race a dinghy or just have one in your garage or backyard that hasn't seen the water in years, get it out, clean it up and join the fun. The official Notice of Race, as well as previous years' results and photos can all be found on the regatta Facebook page or by contacting me at danrenniect@gmail.com.
Dan Rennie lives in Hamburg Cove, CT. He is a design engineer at Navtec Rigging Solutions in Guilford, CT and a longtime local racing sailor and race committee volunteer.