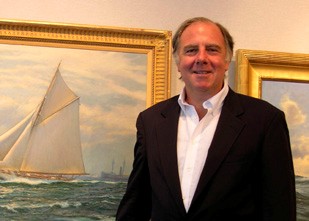 With a very large number of paintings, drawings, ship models, sculpture and scrimshaw on display, the J. Russell Jinishian Gallery, located at 1899 Bronson Road in Fairfield, CT, is the nation's foremost gallery of fine marine and sporting art. While the inventory is indeed spectacular, it's the knowledge and enthusiasm of the affable owner, America's leading authority on contemporary marine art, that makes this gallery a truly amazing place.
"I grew up in Old Greenwich, when it was a small beach community, says Russell. "I spent a lot of time on Long Island Sound, fishing, clamming and sailing. We'd ride our bikes down to the beach and go sailing every day. My first boat was a Sunfish, and later I sailed Penguins, Lightnings and Rhodes 19s. My family had a Flying Scot and then a Marshall 22 catboat and a Freedom 32, and some little power skiffs."
"I became interested in art when I was about eight. I studied Studio Art at the Cornell University School of Art & Architecture, and went to work at the Silvermine Guild Arts Center in New Canaan. I was there for four or five years, and was the art critic for the Connecticut Post and other publications. Mystic Seaport opened a marine art gallery around that time and I started working there in 1982. We had a great time, and I stayed as Director of the Maritime Gallery until 1994 when I had an opportunity to join the Greenwich Workshop Gallery, a business in Fairfield started by Dave Usher, who was the county's premier maker of limited edition prints. Dave really pioneered that whole industry."
"In the mid-nineties, I was recruited by a company called Big Horn Galleries, who had decided to open original art galleries around the country. They had one in Aspen, Colorado, one in Cody, Wyoming and one in Carmel, California. We renovated an old appliance store in Fairfield and turned it into a state-of-the art gallery. We did it for two or three years but found that, unlike prints, it was difficult to sell one-of-a-kind things in four locations. When our leases came up, the gallery in Aspen closed and the guys in Cody and Carmel took those galleries over. I realized that I'm really a marine art expert, so in 1997 I decided to open a high-end marine art gallery upstairs from the Greenwich Workshop. I was there for several years, and moved to my new location, a renovated bank building, two years ago."
The J. Russell Jinishian Gallery proudly represents the world's finest marine artists. "We've become a unique little place, and we've gotten to know each other over these 30 years – artists, customers and customers' kids," says Russell. "You can't go anywhere else in the country and see work by all the top marine artists from around the world. I really enjoy the relationships with them and my customers. People buy these pictures because they like to look at them. The artists paint them because they're interested in and extremely knowledgeable about their subject matter, and that creates a nice equation.
If somebody buys a work of art – whether it's a painting, scrimshaw or a ship model – they get something that they can enjoy. In turn, they're helping support an artist in their creative endeavor, which is a pretty rough, uncertain lifestyle. That exchange is a very positive thing. And because I have very close relationships with the artists, I get things that other galleries may not get. Sometimes you'll see a painting here that no one else has seen except the artist and his wife." The gallery also represents sporting artists who specialize in fishing and hunting art. "Fred Polhemus, who worked with me at Mystic Seaport, runs that part of the business," Russell explains.
"A big part of my job is to give people information about artists and their work so they can make a decision about a purchase. Everything in the gallery is on consignment to me, which means I can keep a really large inventory. Between paintings, drawings, ship models and scrimshaw I probably have a thousand works of art. For every painting here I've probably looked at 500 others, so when you come here you know you're looking at work of a certain quality. With marine paintings in particular, things have to be correct – a boat must be rigged correctly, it's got to sit in the water correctly, and the wind and water have to be correct. Beyond that, the top artists have a certain level of 'poetry' that sets them apart. Their research often includes reading logbook accounts of an event, and their own experience on the water enables them to bring a piece of history alive visually."
"Marine art is now a worldwide artform, and there are marine art societies all over the world," says Russell, who is an honorary member of the American Society of Marine Artists who sits on the Advisory Board of the National Maritime Historical Society. He lectures nationally on marine art and collecting, and is a frequent contributor to WindCheck on those subjects. He's the author of Bound for Blue Water, the definitive guide to contemporary marine art, and he publishes Marine Art News, a beautifully produced magazine with information about artists' techniques and what they're currently working on, upcoming exhibitions and auctions, book reviews, and recent sale prices for all types of art and collectibles including classic automobiles, antique firearms, jewelry, Hollywood and sports memorabilia, and more.
Russell, who lives in Black Rock and has a house in South Bristol, ME, owns a lobster boat that was built in Maine in 1976. "I don't have a lot of free time," he says, "but I try to get out on the water once a week in the summer and every other week in the winter…I saw seals on Penfield Reef last month. The water is a place where good things happen to body, mind and spirit."