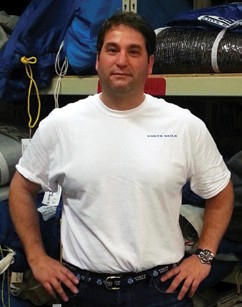 Christopher (CJ) Salustro has joined North Sails as the sail care manager at the company's flagship loft in Milford, CT. An experienced sailmaker and marine industry professional, Salustro will manage the sailmaking team in Milford.
"North Sails is proud to have CJ back after a six-year hiatus where he worked in other areas of the marine world," said Pete Colby, North Sails' North American Sail Care Manager. "He has over 20 years of sailmaking experience and has participated in a number of notable events including the Annapolis to Newport Race, Marblehead to Halifax Race and Block Island Race Week, just to name a few. He has logged thousands of offshore miles, so he understands the importance of making sails that are durable and appropriate for their application. CJ has also worked as a sailing instructor so he knows how to translate his knowledge and experience to younger sailmakers, which will make our Milford loft a great environment for up-and-coming sailmakers to learn the trade."
Salustro grew up near the Connecticut shoreline and has enjoyed both racing and cruising in the waters from New York to Newport, RI and beyond. He has done everything from frostbiting on Lasers to racing offshore, and he spent three years as an instructor at J/World in Eastport, MD.
"Returning to North Sails is great and I am proud to be back with the industry leader," said Salustro. "I still enjoy competitive sailing whenever time allows, but right now I am focused on working with North clients to be sure their sails are ready for the upcoming season. North Sails is known for innovation and technology and I look forward to delivering top quality sail care to match our reputation and the expectations of our clients."
Salustro can be contacted at cj.salustro@northsails.com or 203-783-4270.