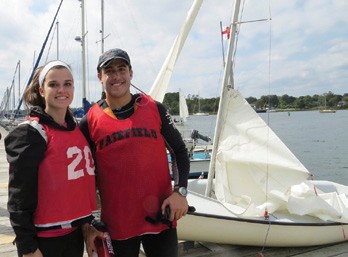 Stag Sailing, Fairfield University's Sailing Team, is co-hosting the first major regatta with SAIL BLACK ROCK at Captain's Cove Seaport in Black Rock, CT, which sponsors the competitive intercollegiate teams of Fairfield and Sacred Heart Universities. The Priddy Trophy will be raced Saturday, April 25 off St. Mary's Point at the western side of the mouth of Black Rock Harbor on Long Island Sound. Fourteen four-person teams will be fleet racing in FJs.
Stag Sailing crew Hannah Lovejoy of Norwalk, CT and skipper Mateus Carvalho of Brazil –the Brazilian National Laser Champion ! – welcome collegiate racers from around New England to the inaugural Priddy Trophy regatta.   © SAIL BLACK ROCK
Black Rock Yacht Club, located closer to the racecourse than Captain's Cove, will welcome competitors to their clubhouse and docks. The Priddy Trophy has over a four-decade legacy in the New England Intercollegiate Sailing Association. Allen L. Priddy, Dartmouth '43, was an avid sailor who distinguished himself by many years of giving back to collegiate sailing as graduate secretary of the Inter-Collegiate Sailing Association, the national controlling body for college sailing. This is the first trophy level race being conducted at SAIL BLACK ROCK.  Fairfield University's Eric Sowell (Class of '16) will be running the races along with SAIL BLACK ROCK Technical Racing Coach Jamie Fales (UCONN '10), with support from Head Race Coach Ginny Perry Worcester and Program Director Dave White.
"The team is growing so rapidly it may be time to engage Fairfield alumni who would like to provide guidance and direction," said Dave White. "SAIL BLACK ROCK has an advisory board for the overall program's advancement, and perhaps passionate alumni can help take Fairfield University's Stag Sailing to the next level." For more information, contact White at dave@dhwhiterealestate.com.