Federal government's planned sale of Plum Island would put endangered wildlife at risk
By Leah Lopez Schmalz, Director of Legal and Legislative Affairs, Save the Sound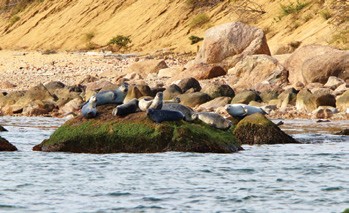 In the first days of 2015, Save the Sound (a bi-state program of Connecticut Fund for the Environment) and Soundkeeper issued a 60-day Notice of Intent to Sue to the Department of Homeland Security (DHS) and the General Services Administration (GSA) under the Endangered Species Act. The letter alleges that the agencies have failed to protect endangered and threatened species while pursuing a public sale of the federally-owned island.
The rocks off Plum Island are one of the most important seal haul-out areas in southern New England. © Save the Sound
The 840-acre Plum Island, located off the tip of Long Island's North Fork, has been a haven for rare wildlife in our highly developed region. Human presence is restricted due to a federal animal disease research facility, allowing the island to become a de facto wildlife refuge with a diverse array of habitats. Birds like the federally endangered Roseate Tern and the federally threatened Piping Plover use its shores, as do 57 bird species listed as being of Greatest Conservation Need in New York, such as the Osprey and Common Eider. The waters around the island are probable habitat for five species of threatened and endangered sea turtle. Threatened plants and insects also populate the island, and its rocks are one of the most important seal haul-out areas in southern New England.
Sadly, GSA and DHS conducted their environmental assessment and issued their final decision for a sale in August 2013 without sufficiently consulting U.S. Fish and Wildlife Service and the National Marine Fisheries Service about alternatives that could protect endangered species, as required by law. This consultation is not a mere formality—it's essential to making sure GSA and DHS's actions don't jeopardize these rare plants, birds, and animals. This failure violates the Endangered Species Act and puts the natural resources that belong to the American people at risk.
New York and Connecticut leaders are in strong support of conserving Plum Island.
"Congress' decision to sell Plum Island was flawed from the start, and GSA's process since then has only compounded that unacceptable mistake," said Senator Richard Blumenthal of Connecticut. "Failure to protect this environmental treasure—and the endangered species that rely on its pristine habitat—would be a true crime against nature."
"The island—which is home to rare, threatened, and endangered species—needs to be managed by an entity that has environmental preservation as its top priority; anything else would be a step backwards in our goal of achieving a cleaner, healthier planet," added Senator Chris Murphy of Connecticut.
"We have a responsibility to ensure that Plum Island, and the Sound as a whole, is a healthy and vibrant natural resource for the next generation," said Congressman Steve Israel (NY-3), co-chair of the Long Island Sound Caucus. "Maintaining Plum Island as a haven for a large number of species, including some endangered species, is of the utmost importance."
"The Sound's overall health and vitality is of great significance for our region and the ecological importance of Plum Island cannot be overstated," said Congresswoman Rosa DeLauro (CT3), co-chair of the Long Island Sound Caucus. "This natural habitat is a refuge for wildlife that, once developed, cannot be undone."
"I share the concerns of many on both sides of the Sound about the harmful impact of the statutory requirement that GSA sell the island—a requirement that short-circuits the normal process of disposing of federal property like Plum Island in a thoughtful way," said Congressman Joe Courtney (CT-2).
"The decision to sell Plum Island was, in my opinion, made without adequate critical analysis and evaluation," said Connecticut Attorney General George Jepsen. "The lack of development on Plum Island makes this unique open space an environmental treasure that should be preserved."
"It is impossible to understand how the federal government could simultaneously document the island's unique and fragile environmental, cultural, and historical resources, yet conclude that a private sale of the island for any number of potential development purposes would not result in significant environmental damage," said Bob DeLuca, President of the Group for the East End. The Long Island-based organization is a member, along with Save the Sound, of the Preserve Plum Island Coalition.
The Endangered Species Act protects listed species from harassment or harm, including interference with breeding and feeding. In addition, it requires that federal agencies must ensure that any action authorized, funded, or carried out by them is not likely to threaten the existence of protected species or their habitats.
Plum Island and the waters around it are a safe haven for terns, plovers, sea turtles, rare orchids, and untold thousands of migrating birds each year. The federal government has a solemn legal and ethical obligation to protect threatened and endangered species. But GSA and DHS's current plan fails to ensure that their action will not jeopardize endangered or threatened species or destroy critical habitat. Moving forward with an unfettered sale of Plum Island therefore constitutes an ongoing violation of the Endangered Species Act.