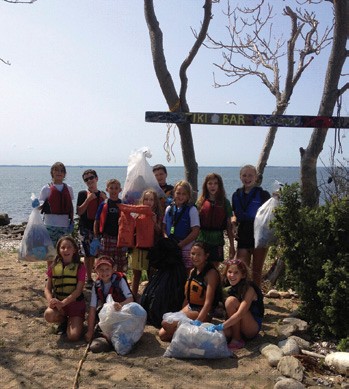 There's more to a successful junior program than racing
By Greg Fisher
This summer marks my second year as head instructor at Cedar Point Yacht Club in Westport, CT, and fourth year coaching as a whole. In my experience, by far the most challenging aspect of running a junior sailing program is finding the right balance between competition and fun for so many unique personalities.
With a new event every week in the Junior Sailing Association of Long Island Sound, it is easy to get overly focused on racing and "coaching to the regatta." While competition is fun, this mindset also makes it easy to lose sight of all the different things that make sailing such a wonderful, enjoyable sport.
CPYC juniors help clean up their sailing environment!
When I look back on myself as a junior sailor and think about what it was that has made me stick with the sport, I remember the simple things like the long distance sails and the beach days that always put a smile on my face. Of course, traveling to different venues and regattas for competition was also an important factor that kept me engaged and filled me with a desire to continue improving. In essence, finding the appropriate balance between race and play is what makes a summer especially awesome, and it is an equilibrium that I have tried hard to instill in my time here at Cedar Point.
In our program, while the beginning Optimist sailors in the morning classes spend their summer sailing up the Saugatuck River to Dunkin' Donuts or heading out to Cockenoe Island for treasure hunts, sailors in the afternoon focus on racing and practice to prepare for actual competition. While the kids are young, we try hard to show them what makes sailing fun so that they want to come everyday; a desire to race and compete often follows. When friendships are made, rivalries follow suit, even if the competition is who can get to the "haunted catboat" fastest.
As my club did when I was a junior sailor, every summer we have Pirate Day, Halloween Day, and America Day where the most ridiculous costume wins. Nothing helps kids learn how to use their tell-tales better than when a bucket of candy or floating alligator lies upwind and the only way to get there is by sailing. As an instructor, there is no greater feeling than when your kids are having a good time and learning all in one lesson.
This summer, our junior sailors also spent one morning learning about the importance of keeping our oceans and waterways clean so that all boaters can go out and have fun. We taught them about marine life, and how garbage in the water and on the beaches hurts the environment and makes animals sick. After the lesson, we took our kids to Cockenoe Island with garbage bags where they (and the instructors) donned work gloves and picked up garbage on the beaches. We explained that for each piece of trash collected, one whale was saved and by the end of the morning we had six massive bags of trash. The kids had a great time, and the event was a nice change from the daily sailing routine.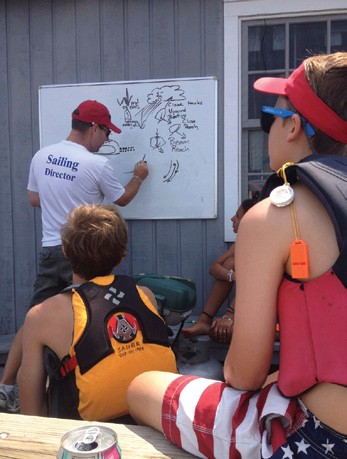 In contrast, one of the big changes we made in our program this year was scheduling Club Champs at the start of the summer in an effort to instill a sense of true competition and legitimacy in our afternoon racing sailors. By scheduling the race days early on, all sailors knew what was at stake if they decided to play hooky. It also made Club Champs similar to the other series run at our club such as in the J/70 or Atlantic fleets, and thus our older sailors took the events much more seriously than in summers past.
Along with scheduling the races at the start of the summer, our coaches also drew up sailing instructions for the competitors and ran races just as they would be run at a true regatta. We took out our racing marks, used a committee boat, and even had coaches anchored as mark boats and judge boats. Protests were handled on the water with the "PRO," and true punishments were handed down. In order to make the series fair for all competitors, instructors also agreed on how the series would be scored and how absences from the program would be accounted for.
CPYC Sailing Director Mike Ances leads a quick chalk-talk.
Our new approach to Club Champs has created an environment for our afternoon sailors that very much mirrors actual regattas. Sailors see these race days as true regattas, and thus prepared for them as they would any other competition, yet instead of racing against strangers they were challenging their peers. This format worked even better than we could have anticipated, as evidenced by our sailors' awesome finishes throughout the summer at Junior Sailing Association of Long Island Sound regattas. We have had sailors medal in every class, a fact that I happily attribute to the way we practice and train here at the club.
The distinction between the fun in the morning and the practices in the afternoon is honestly not as blatant as it would seem. For both beginning and advanced sailors there are fun days and race days as well, although depending on the age group our classes tend to lean more one way or the other.
Aside from our fun days, Cedar Point Yacht Club also has a healthy relationship with Pequot Yacht Club in Southport, which is located just a few miles down the Sound and the club where I learned to sail. Sometimes we meet up halfway between on the water and race, other times we try to sneak attack each other and cause a little bit of controlled mayhem. In either respect, our connection to Pequot is just another way we balance fun and competition for sailors of all ages.
I have found in my four years here that there is no one-size-fits-all recipe to follow when coaching, or organizing a program. With the help of my program chairs and sailing director, I have tried to instill a sense of fun in everything we do while at the same time preparing our kids for a summer full of regattas. At times, fun and racing should be separated. But over the course of an entire summer, I believe the two go hand in hand.
Greg Fisher is the Head Instructor at Cedar Point Yacht Club in Westport, CT.