By Joe Cooper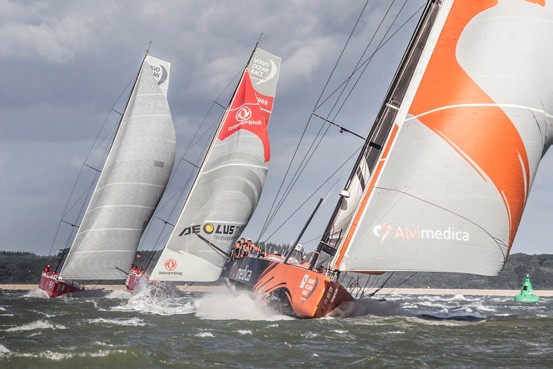 If you are going to start tossing "Who's gonna win the Volvo Ocean Race?" darts now, you better have an idea of the background for criteria on how you decide.
The one-design Volvo Ocean 65s (pictured in the recent Round Britain & Ireland Race) are identical in every way, from hulls and rigs to cleats and sheet bags. The Volvo Ocean Race 2014-15 will be won by the team with the best sailors, not the biggest budget.  © Ainhoa Sanchez/Volvo Ocean Race
With the new VO65s, this is a now a one-design race…really one-design. Each of the seven boats' running rigging is identical (all made by one firm with barcode ID labels on them), as are the stowage bags down below, used (amongst other things) for stowing the kite sheets when the kite is not set. The sheets are stripped off the deck, go in a bag and get stacked. Hey, 250 or so feet of wet 12mm line…it weighs a few pounds, right? One-design means tiller time is king. Any time you can get sailing – the number of hours actually sailing – really counts. Well, how many hours these guys have been sailing is not easy to count, except that the Team SCA girls have had their boat the longest and Team Vestas Wind basically just got theirs.
Next, how many of your crew have sailed on the track before? Done Sydney-Hobart, Fastnet, Newport Bermuda? You want guys who have been there, done that. Hands down, this puts Abu Dhabi Ocean Racing in front with the shortest odds and the most VOR vets aboard. They have 21 Volvos in the 8-man crew, and they are spread around the whole boat. Only one guy has only done one and only one has not done any, although he's a hottie on the 49er circuit so he knows fast. He also represented Abu Dhabi in the Laser at the Olympics, so he knows "small-country-lots-of-eyes-on-him" pressure and one-design, too.
If you are looking for concentrated experience, Team Brunel is the place to shop. Skipper Bouwe Bekking has done Six Volvos going for seven (almost 30 years of VOR/Whitbread), and Navigator Andrew Cape has five. Collectively there are 15 VORs in this team, and only one guy hasn't done it at all. For depth and cross training, they also have three different guys in the America's Cup column and two different guys in the Olympics column. And all five are from different countries.
This edition's American team, Team Alvimedica has half of its crew from the U.S., and On Board Reporter Amory Ross of Newport, RI is also American. They are short on total number of VORs with only five, although Nick Dana of Newport has two assists, literally, as shore crew on one and On Board Reporter in another. The remaining three crewmembers cite a mixed bag of sailing skills, mainly ocean racing.
Two of the team, Skipper Charlie Enright and General Manager Mark Towill come from Roy Disney's Morning Light project of a few years ago. The Adult Supervision is Aussie Will Oakley, who has two Volvos to his credit. There are the compulsory Kiwis who provide the other three VORs. And there is an Italian gentleman whose team bio remarks on his bicycle riding prowess and the fact he's been sailing since he was a kid. I cannot put my finger on it, but I get a good vibe from the program. It's hard to put Alvimedica on the same shelf as Abu Dhabi and Brunel, but if the stars align they might be the dark horse.
If Olympic experience you are counting on, for national pride, small fleet, lots of pressure, the all-female Team SCA would be a good look. They have three VORs in the team, one each by three crewmembers, but they have four Olympics in the boat, one Brit and three for Dutch crew Carolijn Brouwer. Team SCA also has what I think is the toughest seaman in the fleet, Bekking's six Volvos notwithstanding. That would be Englishwoman Dee Caffari. She has three circumnavigations to her credit, but tough ones they are. The BT Global Challenge is a one-design race, fully crewed by amateurs then in the same boat reconfigured for solo. Again sailing "the wrong way," Dee finished this voyage having set the non-stop solo upwind circumnavigation record in the process. So, after those two voyages the next lap around the blue marble in the Vendée Globe would seem like an easy day at the races, coming sixth of 30 starters. I read this as mental toughness par excellence. Take a minute and picture yourself in her sea boots. The only downside to this toughness is it's all in "just" long distance sailing. (Yeah, I know this is the VOR.) And if you are going one-design, knowing how to pick windshifts is good, so check another box for the girls.
British SCA crewmember Libby Greenhalgh is a professional meteorologist, has her own business in the field and has done the meteo for a variety of regattas and the Olympics. She's also spent a year match racing with fellow crewmember Annie Lush. Team SCA also has the only referenced Mini Transat sailor in the race. Swiss Under 30 crew Elodie-Jane Mettraux finished second in the 2013 Mini Transat, so if wet, wild, hair-on-fire sailing counts, check this box for the girls.
A variation on the strength through cross training theme is the Spanish Team led by Iker Martinez. They are at the lighter end of VOR experience, with only seven total Volvos on the boat (albeit with only six crew listed at press time, not eight), but beat SCA in the Olympics count with five. They also have an America's Cup presence with Iker and fellow Olympic crewman Xabi Fernendaz, who as a pair account for four of the Olympic spots, with medals each time. These two childhood mates also sailed a Barcelona World Race together. The Navigator, Frenchman Nicolas Lunven, has also won the Figaro series.
The pickle dish for the "We are here for the long haul" team has to go to Dongfeng Race Team. There is only one VOR vet aboard in the form of the skipper, Frenchman Charles Caudrelier, who to his one-design credit has won the very difficult La Solitaire du Figaro series. Sprinkled amongst the crew are a Swede, four other Frenchmen and three young Chinese men with, relatively speaking for this regatta, limited sailing experience.
The wild card with the least tiller time but serious potential and technical skill has to be the final entry, Team Vestas Wind, just announced in early August. Australian Skipper Chris Nicholson has four VOR, two Olympics and six world titles to his credit. Vestas Wind has the longest road for sure, but no shortage of technical skill – Nicholson's world championships are in the 49er and the technically demanding 5O5. And Vestas makes wind turbines, so probably have at their disposal folks who know about machines that use wind for power. Their crew has not been announced, except for two Under 30s without any cited credits.
Now you know what I know. Who will win it? Dunno, but if I was in Lloyds or on the corner payphone to my bookie in Brooklyn, I would put good, fairly safe money on Abu Dhabi or Brunel for the win. In the hunt for the final spot on the podium would be the Spanish Team. The Green fleet should be a great fight between SCA and Alvimedica. The Dongfeng guys will have a great long-term learning race, and Vestas Wind could just blow by everyone. Heading for the secure undisclosed location, Coop out!