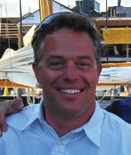 Yacht Broker Matthew Leduc has joined the team at Latitude Yacht Brokerage, LLC in Newport, RI. Leduc has a wealth of experience within the industry, having spent nearly 20 years rising through the ranks to become one of Rhode Island's leading yacht brokers. He joins fellow brokers Tim Norton and Tom Miller and company Principal Ryan Miller.
"Ryan and I have worked together for years, always talking about the industry and how we can move it forward in this new economy," said Leduc. "We are constantly collaborating on how to handle the aging fleet, how we can grow boating in New England and introduce people to the lifestyle while making the sales process as easy as possible."
"Latitude Yacht Brokerage specializes in the brokerage of select cruising, racing, and offshore sailing yachts, as well as Downeast style cruisers, trawlers, and motor yachts," said Miller. For more information, contact Latitude Yacht Brokerage at 401-560-0007 or info@latitudeyacht.com, or visit latitudeyacht.com.