By David Schwartz-Leeper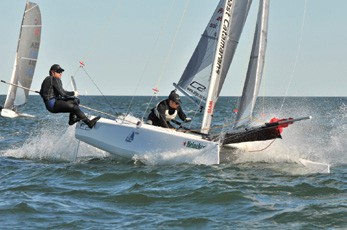 For the past decade, the Heineken High Performance Dinghy Open (HPDO), hosted by American Yacht Club in Rye, NY, has lived up to its motto of "Great racing…Great friends…Great beer." This year's HPDO promises another spectacular weekend of racing and onshore activities to an ever-growing gang of high performance dinghy, sportboat and multihull racers from around the country and beyond.
© Allen Clark/PhotoBoat.com
The HPDO features two courses running simultaneously for numerous one-design classes and two wide-open Portsmouth divisions. Not surprising, then, that last year's event saw almost 30 Vipers on the starting line of one course, which was also used for F18s, 5O5s and K6s, while Fireballs, VX Ones and WETA trimarans had class starts on another course that also saw the likes of International Moths, International Canoes,  and Flying Dutchmen. Mother Nature contributed powerful winds (15-20 knots, gusting over 25 both days) and massive waves that gave competitors plenty to talk about at the post-race kegger on the AYC lawn (thanks, Heineken!) and the Saturday night dinner.
One of the strengths of this regatta is the large turnout, from as far south as the Gulf Coast to the always-strong Canadian contingent. Another is the diversity of sailing craft, particularly in the Portsmouth division…this year may offer the first HOOT sighting. Then there's the rigging and tactical discussions in the parking lot. Whether you're a national champion or a newbie looking for tips, this one offers a bit of everything including great swag like tech shirts, toques, boat bits and more from our friends at Ronstan, Zhik, APS and Coral Reef Sailing Apparel. PhotoBoat will be capturing the whole thing in all its glory. Did I mention free Heineken after a day of hard sailing? (extra thanks, Heineken!)
Registrations are going strong, with a nest of Vipers already confirmed. So come out and enjoy the late-season fun – there's nothing else like it! In the words of one experienced competitor, "The four months preceding this regatta is just practice…no matter what it is." You'll find the NOR and registration at yachtscoring.com. For more information, check out facebook.com/Heineken HPDO.