Annapolis to the Abacos
By Captain Richard Toth
Editor's note: This article is excerpted from the author's "Sail Mai Toi" blog, in which he documents the adventures aboard his Tartan 4400 Mai Toi on the waters of Long Island Sound, coastal New England, Chesapeake Bay, Bermuda, the Bahamas and beyond.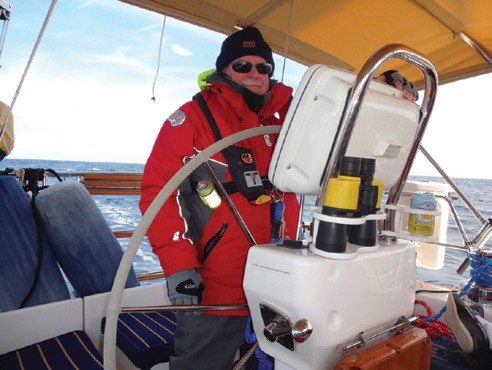 Friday, November 1, 2013: We received a pretty good weather window from Commanders Weather through Wednesday, November 6, just ahead of a strong cold front approaching the East Coast and moving offshore Thursday night with winds increasing to 30-35 knots.
Captain Tom Lanzilli at the helm of Mai Toi west of the Gulf Stream   Photo courtesy of Captain Richard Toth
Day 1, Saturday November 2: The weather forecast called for partly cloudy skies, winds NNE at 6-12 knots increasing to 12-18 knots in the afternoon with occasional showers and temperatures in the 60s during the day and 50s overnight. We had originally planned to leave Port Annapolis Marina around 9:00 am, but due to an unusually low tide we weren't able to get out of our slip until almost 2:00 pm. Our first stop was the fuel dock at Annapolis Landing Marina, where we took on 57.72 gallons of fuel at 102 engine hours and filled five 5-gallon jerry cans. We were finally underway at 2:40 pm, headed down the Chesapeake at slack tide with the wind beginning to fill in at our backs, comfortably motor sailing downwind to Norfolk. VA. We encountered some brief rain squalls overnight and arrived in Norfolk at 9:30 am (18 hours and 45 minutes later) amidst a steady 15-20-knot wind and following rough seas.
Day 2, Sunday, November 3: The day was partly sunny with the winds continuing to blow from the NNE at 18-20 knots. Although still chilly, it was warm in the sun and relatively calm within the protected and narrow confines of the Intracoastal Waterway. We arrived in Coinjack, NC at dark and were safely tied up to the bulkhead at Coinjack Marina by 6:30 pm; one lock, 13 bridges and nine and a half hours after reaching Norfolk. After dinner onboard and a few bottles of wine, our SPOT satellite communication message, "We're okay at this location" became the mantra for the remainder of our trip.
Day 3, Monday, November 4: We departed Coinjack Marina at 9:00 am amidst sunny skies, winds NNE at 13 knots and 50 degrees. We went aground where some shoaling extended just inside channel marker #130, but managed to free ourselves with a little maneuvering. At 2:00 pm we crossed the Alligator River Bridge. We anchored just outside the entrance to the Alligator River Canal at 35-40′.289″ N and 76-5′.613″ W at 5:00 pm with 138.5 engine hours and winds 15-20 knots.
Day 4, Tuesday, November 5: We weighed anchor at 7:30 am and entered the Alligator River Canal. It was sunny and warm with light NNE winds. Aside from several sailboats assisting another sailboat that lost its engine and went aground just inside the canal, the day was relatively quiet and uneventful. We passed under another three bridges and anchored in Bonner Bay just off Davis Island Point at 35-09′.122 N and 76-35′.176″ W.
Day 5, Wednesday, November 6: We weighed anchor at 7:00 am. It was partly cloudy and warm with E winds 10-12 knots. We arrived Beaufort Docks in Beaufort, NC at 2:30 pm with 156.5 engine hours. The forecast called for winds 25-30 knots gusting to 40 ahead of the cold front on Thursday and Friday, so we decided to wait until Saturday morning before going offshore. We took on 62.02 gallons of fuel, having traveled 343 nautical miles and logged 54.6 engine hours since leaving Annapolis. We spent our time doing some routine maintenance and system checks, replacing a corroded SSB coaxial connection, re-provisioning the boat and familiarizing ourselves with Beaufort. We were okay at this location.
We visited the grave of a young girl who, according to legend, traveled to England with her father who had promised the child's mother to return her safely home to America. Sadly, on the return journey, the young girl became ill and died at sea. Desperately wanting to keep his promise to return home with his daughter, the girl's father purchased a barrel of rum from the ship's captain to preserve the child's body. He placed his daughter's lifeless body in the barrel of rum and returned to Beaufort where she was buried in the rum cask at the Old Burying Ground Cemetery. Visitors leave gifts of shells, toys and trinkets on top of her gravesite, which is marked by a wooden headstone.
The weather forecast from Commanders on Friday called for fair weather with a chance of showers on Sunday and Monday, light and variable NNE winds and seas 3-5 feet through Tuesday. A strong cold front was forecast to bring a surge of very strong NNE winds as far south as the Northern Bahamas on Wednesday, with wind speeds to 30 knots making for some very rough conditions off shore. Our objective was to make Treasure Cay before the effects of the cold front arrived.
Day 8, Saturday, November 9: We departed Beaufort at 6:00 am. We had three waypoints on our offshore route to Whale Cay, our entrance to the Abacos, Bahamas. We were well on our way along our route towards our first waypoint marking our Gulf Stream crossing when we heard. "Securitas, Securitas, Securitas" on VHF channel 16. "This is U.S. Navy Warship 44. We are conducting live fire exercises in the vicinity of coordinates such and such," which were right on our route towards our first waypoint. All ships must maintain a 10-mile perimeter. If we went west we'd be directly in the line of fire. If we went east we get forced into crossing the Gulf Stream too early. The warship eventually gave us permission to pass to the west under 10 miles without going too far off course and putting ourselves in any danger of their live fire exercises.
Days 9 & 10, November 10 & 11: At sea. Weather was variably cloudy with light and variable ENE winds and 2-4 foot seas. The second cold front which Commanders warned was developing over the East Coast would bring a surge of very strong 20-30 knot NNE winds making for some very rough conditions offshore as far south as the northern Bahamas by Wednesday, so our main concern was to get into the Abacos before this next frontal system arrived. The decision was to either arrive at Whale Cay at dark before the expected cold front and rough conditions, or arrive during daylight hours the next day with the cold front and winds at our back. We chose to stay as far ahead of the cold front as possible, which would put us at Whale Cay at dark. The decision then would be whether to enter the notorious reefs surrounding Whale Cay at dark or wait until first light.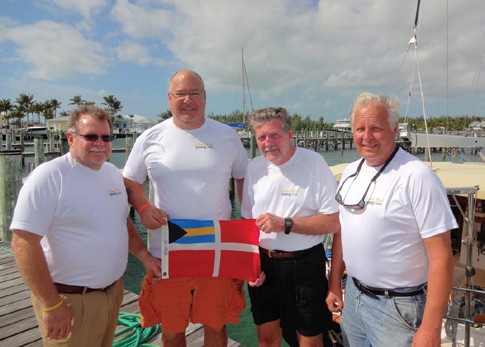 Day 11, November 12: We arrived at Whale Cay at 11:00 pm. We had been monitoring and comparing the accuracy of our depth finder, paper and electronic charts and taking range bearings as we approached Whale Cay, and were comfortable that our electronic charts were accurate enough to enter Whale Cay in the dark with only the light from the moon. What we didn't expect was for our chartplotter at the helm to lose its backlighting. We had originally planned to take Loggerhead Channel, but decided on the straight
Mai Toi's crew (l – r) Captain Tom Lanzilli, Captain Richard Toth, Captain Bob Clark and Capt. Mike Bancroft hold the Bahamian flag after clearing Customs & Immigration.   Photo courtesy of Captain Richard Toth
approach to Treasure Cay. In hindsight this turned out to be a prudent decision, because we later found out that a barge went aground on the shoal at the entrance to Loggerhead channel which we may have not seen in the dark.  So using a flashlight to backlight our chartplotter and our crew strategically positioned on deck as lookouts, we were able to navigate our way through Whale Cay into Treasure Cay and arrive safely at our slip at 1:50 pm on Wednesday, November 13, Day 12.
Offshore distances
11/9-10                     116 nm
11/10-11                   126 nm
11/11-12                   130 nm
11/12-13                   115 nm
Total offshore           487 nm
ICW                         343 nm
Total combined        830 nm
Total fuel used including five 5-gallon jerry cans: 188.34 gallons ˜132.5 engine hours = 1.42 gallons per hour
In summary, we nailed the southbound eddy just to the east of the Gulf Stream at 32 40 N and 076 11W. There was also apparently no place for us to go south of the eddy where we would have hit the adverse current if we had altered course. Based on the departure data, we were exactly where we were supposed to be in the eddy but the current had changed against us. Maybe the storm from the preceding Thursday and Friday changed the direction of the current in the eddy. The U.S Navy also ultimately forced us to use the northern Gulf Stream crossing instead of our alternate southern crossing, which would have put us in an adverse current much sooner. By altering course from S to SE we increased our SOG from 3.8 to 5.5+ knots and were on the best VMG possible under the circumstances.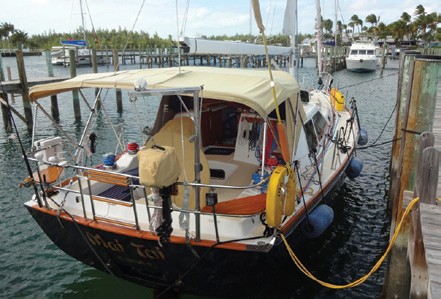 In hindsight we probably should have taken advantage of that SE route for a few more hours, which would have put us further east and given us more south, bucking a weaker adverse current and potentially picking up some fair current the last day. Nevertheless, in the end we were able to average 5.5 knots offshore, beat the second cold front and arrive Treasure Cay safely.
Mai Toi docked at the Treasure Cay Resort & Marina in the Abacos, Bahamas   Photo courtesy of Captain Richard Toth
Unfortunately the Caribbean rallies didn't fare as well. They elected to depart Beaufort, NC for the BVIs on the Wednesday we arrived, in hopes of beating the first impending cold front where forecasters had predicted gale force conditions offshore on Thursday and Friday.  The U.S. Coast Guard, assisted by the U.S. Navy, reportedly saved four lives and responded to five sailboats in distress. Two sailboats, Ahisma and Wings, were abandoned due to hull damage and gear failure, and their crews were rescued by the USCG. It is believed that Ahisma has sunk while Wings is adrift and awaiting salvage by her owners.
Two other sailboats, Like Dolphins and Nypa, were dismasted and made it back to port under their own power. Three sailboats encountered rudder problems and were towed into port by the USCG, and Braveheart returned to port with one crewmember with a broken arm. There have been a number of other reports of torn sails, gear breakdowns and system failures, and these boats diverted to Bermuda and/or the Bahamas for repairs under their own power.
I would like to thank my crew, Captain Mike Bancroft, Captain Bob Clark and Captain Tom Lanzilli for their time and help to make this a safe and successful passage, but most of all for their friendship and the camaraderie which evolved from our having to rely solely on each others' experience and seamanship skills to succeed. Good judgment comes from experience but experience comes from bad judgment.
After cruising the Abacos until this past spring, Mai Toi is back at her homeport of Guilford, CT.
Captain Richard Toth has logged over sailing 3,500 hours, of which 1,000 were logged offshore to and from the Chesapeake Bay, Bermuda and the Bahamas, as well as various charters in the British Virgin Islands, the Leeward Islands, and Costa Verde, Brazil. A resident of Tuxedo Park, NY, he is a member of Guilford Yacht Club, Tartan Owners Northeast, the Seven Seas Cruising Association, and Fleet 5 Long Island Sound, an association of "Sailors with a Passion for Cruising." For more information and to become a member of Fleet 5 Long Island Sound, visit fleet5lis.org. To read more of the Sail Mai Toi blog, log onto maitoitravelblog.blogspot.com.