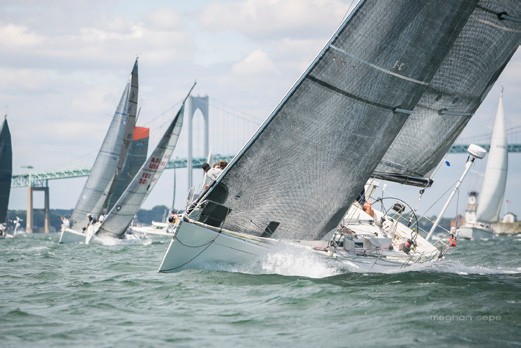 Mother Nature celebrated the 10th Anniversary of the Ida Lewis Distance Race by sending winds up to 25 knots and big waves, challenging the record 47-boat fleet and forcing 12 to retire. Nevertheless, the popular overnighter, which started at 12:30 pm Friday, August 15 off Fort Adams in Newport, RI, delivered plenty of memories for the IRC, PHRF, Doublehanded and Multihull competitors on the 150-nautical mile "Block Island" course.
There was plenty of breeze for the 10th Anniversary of the Ida Lewis Distance Race.   © Meghan Sepe
Heidi & Steve Benjamin's Carkeek HP 40 SPOOKIE (Norwalk, CT) claimed line honors, crossing the finish line at 8:42 am Saturday, August 16 and winning the IRC Division. "The winds were more or less as predicted, fairly strong, but the seas were rougher than usual," said Benjamin, whose team won the Russell L. Hoyt Memorial Trophy for best overall elapsed time and the Commodore's Trophy for best corrected time in IRC. "We have a technique where we heel over to cut through the waves, which was very valuable in this race."
SPOOKIE gained a major lead after rounding the newly conceived "virtual mark," approximately 77 nautical miles into the race. Before that, her crew was trying to catch Dave Lussier's F-31 trimaran Bazinga! (Exeter, RI), winner of the Multihull Division. "This is the first time this race has had multihulls competing, so it was mostly upwind and downwind legs and not much reaching, which is what our type of boat loves," said Lussier. "Upwind, the monohulls beat us, and downwind we beat them."
The 37.65-nautical mile upwind leg from Buzzards Bay to Montauk Point proved tricky for the entire fleet, including Kevin McLaughlin's custom 50 Crazy Horse (Fairhaven, MA), on which a team representing Duquesne University won the separately scored Collegiate Challenge. Crazy Horse finished second in PHRF behind Tristan Mouligne's Quest 30 Samba (Boston, MA), winner of Lime Rock Trophy for best corrected time in PHRF.
"It was quite a challenging leg for our entire team, but we got through it fine," said McLaughlin, whose crew of seven included four college sailors. The team was awarded the William Tuthill Memorial Trophy for their Collegiate Challenge win, and the Lois J. Muessel Memorial Trophy for best elapsed time in PHRF. "The team did an excellent job," McLaughlin continued. "With the exception of one, all the college kids we had onboard have done long distance races with us. Two of them did the Newport Bermuda Race on Crazy Horse earlier this year." To qualify for the Collegiate Challenge, more than 40% of the crew had not turned 26 prior to August 15. Ed Cesare and Chad Corning sailed the Class40 Pleiad Racing (Norwalk, CT) to victory in the 6-boat PHRF Doublehanded Division, while Bill Clavin's C&C 37 R/XL Duck Soup (Warwick, RI) topped the 7-boat PHRF Cruising Spinnaker Division.
Awarded the Arent H. Kits van Heyningen Trophy for victory in the Youth Challenge Division (also separately scored) was the team on the Alfred Van Liew's J/111 Odyssey (Middletown, RI). To qualify for the Youth Challenge, more than 40% of the crew had reached their 14th birthday but not turned 20 before August 15. Describing the determining factors in Odyssey's win, 17-year-old Trevor Davidson said, "Team chemistry and the fact that we were so comfortable and trusting in each other's judgment." Davidson was one of seven youth sailors onboard. "We also sailed really well at night. Between one and four o'clock in the morning is when everyone starts to drop off, but we were at our best. We had four guys on deck and we were doing ten knots with the kite in 15 knots of breeze."
Van Liew and Bob Goss comprised the "adult" portion of Odyssey's crew. "The youth sailors we had with us were very competent," said Van Liew, noting that "The Ida" is a fantastic steppingstone for young sailors transitioning into longer offshore races. "This is a star event and one I am going to put on the schedule for next year." The Ida Lewis Distance Race is hosted by Ida Lewis Yacht Club in Newport, RI. For more information, visit ildistancerace.org.
Kirsten Ferguson at Media Pro International contributed to this report.