By Lauren E. Brajer & Bill Sabanski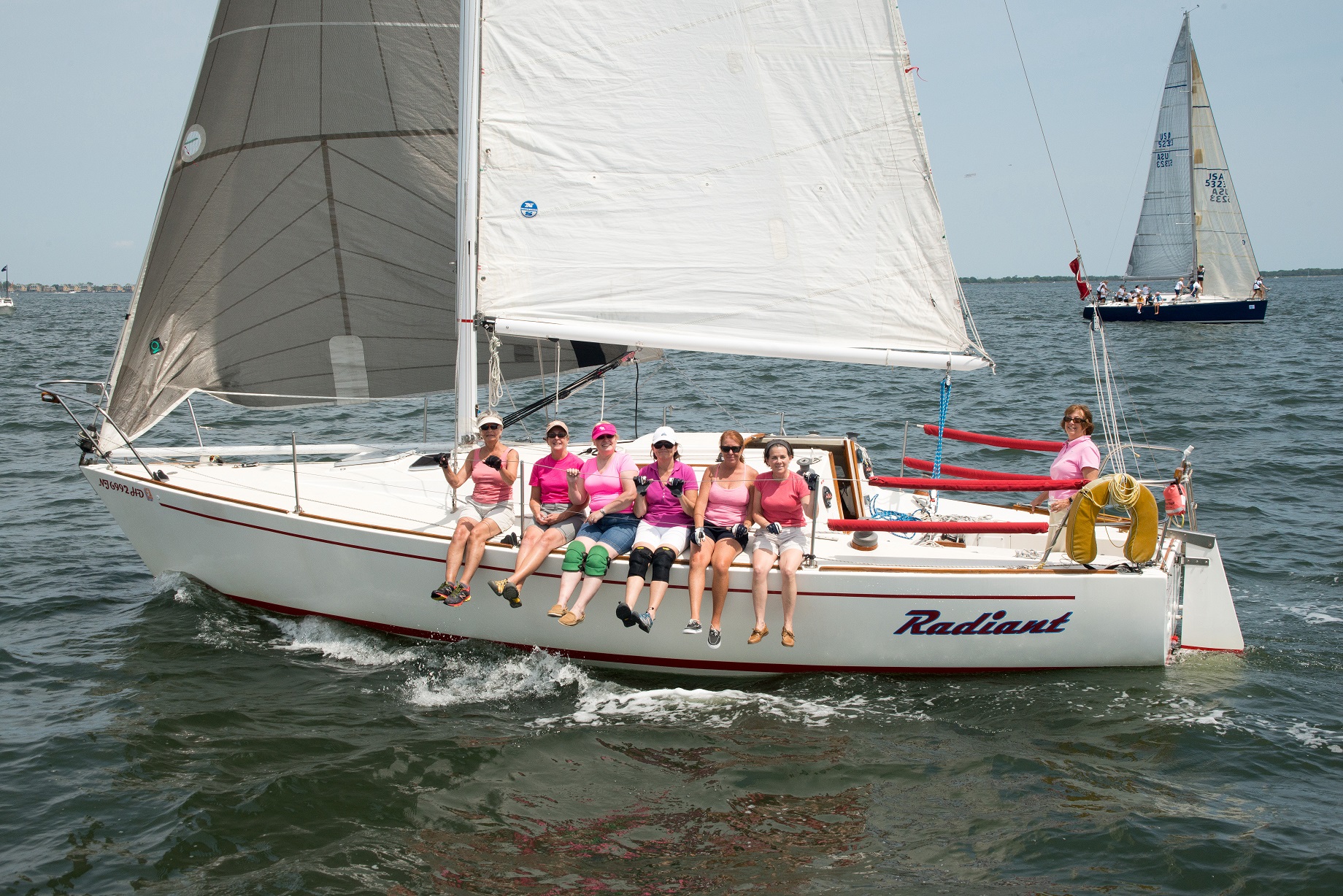 When the term "A Perfect 10" is invoked, the implication is something of exquisite beauty, perfection, or extraordinary execution. For 2014, the Ms. Race, an event for all-women crews hosted by Atlantic Highlands Yacht Club in Atlantic Highlands, NJ on August 16, adopted the slogan to commemorate its 10th anniversary. When all was said and done, it proved a prophetic description.
Emily Smith's J/29 Radiant won the 2014 Ms. Race and the Charles Francis Adams Trophy.   © Jeff Smith/jeffsmithphoto.net
On race day, Sandy Hook Bay glistened under blue skies and brilliant sunshine. Adding to the perfect conditions was a moderate summer breeze of 10 knots for the nine boats and 67 participating women, ranging in age from 6 to 71. This was second largest fleet in the event's history as the local fleets continue to rebuild from Sandy. The Ms. Race raises funds and awareness for 180 Turning Lives Around, Inc., a non-profit organization that provides programs and services for survivors of domestic and sexual abuse and violence.
First place went to Radiant, a J/29 skippered by Emily Smith. Moondance, a Tartan 372 skippered by Karin Ruffus, took line honors and placed second on corrected time. CODA, a C&C 33 skippered by Eileen Campbell, finished third.
Each year the Ms. Race hosts young women from the Atlantic Highlands Sailing Education Program (AHSEP), this year placing 12 accomplished young female sailors on the boats. Before the race, a small group of young women chatted about participating for the first time and spoke of the race as "a way to have fun and give back." Ms. Race Co-chair Diane Kropfl added, "The camaraderie amongst the women of the Ms. Race has allowed the event to achieve this 10-year milestone and will help us sail into the future."
A further honor was bestowed on the Ms. Race this year by the presence of Georgi Munger from the North Jersey Yacht Racing Association. Munger announced that the prestigious Charles Francis Adams Trophy, first commissioned in 1959 and not awarded since 2006, has been repurposed and will be awarded to the top finisher of this year's Ms. Race, an action the NJYRA hopes will encourage other yacht clubs in the region to establish additional womens' events.
Sailors, families and friends gathered at the AHYC clubhouse for post-race festivities that included an awards ceremony followed by an evening dinner and fundraiser featuring DJ entertainment. It once again proved successful, contributing to over $65,000 raised during the previous nine years by the Ms. Race for 180 Turning Lives Around.
Mother Nature lent her support for the women of the Ms. Race by providing a "picture perfect" afternoon. With the ladies contributing an enthusiastic race and a great evening   event coupled with a successful fundraiser, the day certainly added up to "A Perfect 10!" For more information, visit ahyc.net/msrace.htm.