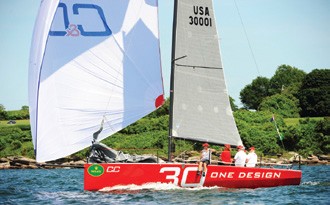 The third annual C&C Owners Northeast Rendezvous will be held in Newport, RI on the weekend of September 19 – 21. This event has enjoyed rapid growth, with about 30 boats from New York, Connecticut, Rhode Island and Massachusetts attending last year's rally on Block Island. Headquarters for the 2014 Rendezvous is the Alofsin Piers at Fort Adams State Park, adjacent to the Museum of Yachting.
© Allen Clark/PhotoBoat.com
Boats arrive in Newport on Friday, September 19, and an informal shoreside gathering (BYOB) is scheduled for 5:00 pm. A private C&C Yachts boat show featuring the exciting new Redline 41 and One Design 30 (pictured) takes place on Saturday, with demo sails available as weather permits. A cocktail party sponsored by USWatercraft (the Warren, RI-based builder of the aforementioned models) starts at 5:00 Saturday, followed by a C&C history discussion with guest speaker Barry Carroll, C&C Manager at USWatercraft.
The Museum of Yachting will be open to Rendezvous participants on Saturday and Sunday. All C&C owners and others with an interest in the history and exciting future of this great brand are welcome. For more information and to register, visit cncrendezvous2014.com.