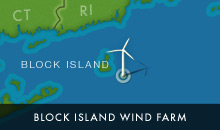 With financing now in place, construction of the Deepwater Wind Block Island project is underway. Foundations for the five offshore wind turbines are scheduled to be installed at a location approximately three miles southeast of Block Island this summer. Deepwater Wind Block Island, which will be America's first offshore wind farm, will be in-service in the fourth quarter of 2016.
"We are on the cusp of bringing offshore wind from theory to reality in the U.S.," said Deepwater Wind CEO Jeffrey Grybowski. "We're full speed ahead and moving ever closer to 'steel in the water,' [and] we're poised to launch a new American clean-tech industry."
The wind farm will generate over 125,000 megawatt hours annually, enough to power over 17,000 homes. Power will be exported to the mainland electric grid via the 21-mile, bi-directional Block Island Transmission System, a submarine cable proposed to make landfall in Narragansett, RI.
For more information, visit dwwind.com/block-island.