The Rolex Swan Cup Caribbean
By Adam Loory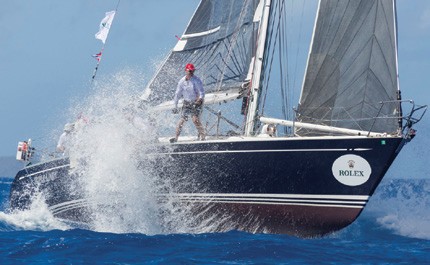 After sailing at the Rolex Swan Cup Caribbean, hosted by the Yacht Club Costa Smeralda in Virgin Gorda, BVI the first week of March, I now know what sailing heaven will be. I have sailed from Maine to Key West, and Virgin Gorda wins hands down for the best sailing conditions and best scenery. During the Swan Cup, the wind blew 18-25 knots and it was warm enough to sail in shorts and a long-sleeved sun shirt. Getting splashed by clear blue water did not make us cold.
Champagne conditions prevailed at this year's Rolex Swan Cup Caribbean.   ©Rolex/Carlo Borlenghi
I sailed on Joe Mele's Swan 44 Mk II Triple Lindy (City Island, NY), which was the smallest boat in Class B. Even though the long courses in the big breezes favored the bigger boats, we had a great week finishing sixth out of nine in our class. The event was fun not only because of the weather and scenic surroundings, but because of how well our team came together. Never had the ten of us sailed all together before, but the team came together solidly as the week went on, which is a testament to the organizational skills of Joe Mele.
Our starts were first row, our tacks were crisp and our spinnaker drops were all "letter boxes" that kept the chute dry. On one downwind leg, we made huge gains by seeing the big boats get hit with a new breeze that was much stronger and too far forward to continue carrying the chute. We timed our change to the jib top perfectly, while other boats nearby held on too long and struggled to get their chutes down.
Twenty-one Swans from around the world, from 42-100 ft, sailed in the regatta. ©nautorswan.com
The memory that all of us will carry for a long time was the tow we caught off a Swan 53 for over 30 minutes. Jamestown Boat Yard partner Steve DeVoe was calling tactics on that boat and when his crew got nervous about our bow staying ten feet off their transom, he told them to stop worrying and to trim harder since the littlest boat in the fleet was keeping up.
At one of the dinners thrown by the Yacht Club Costa Smeralda, I talked with Joe about how he puts together his crew. He said that it took a while to build up a good pool of his friends. Then experience taught him to only allow very few people to make suggestions for new people to join the team. Joe does not sail many events a year, but the ones he does sail he puts out a first class effort with an all-Corinthian crew – besides me. I only got the nod because someone invited before me dropped out in fear of Chikungunya, a malaria-like disease that is spread by mosquitoes, of which we saw very few buzzing about.
If you get a chance to sail in the BVI, do not let the mosquitoes scare you away; the BVI is a sailor's paradise – especially during a winter of record cold and snow.
Adam Loory is the General Manager at UK Sailmakers International in City Island, NY.