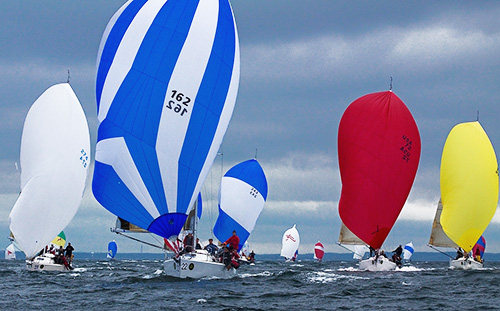 The mass migration of sailors and boats is drawing near. From June 21-26, 2015 the 50th anniversary of Block Island Race Week will take place. Racers can look forward to the type of action that they have been accustomed to throughout the years, with tight competition, a hard-working race committee, great organization on shore and off, excellent tent parties, and other shoreside events and amenities.
But the Storm Trysail Club has even more in store for 2015. This year competitor's can join feeder races leaving from Rye, NY, Fishers Island, NY and Newport, RI, all beginning on June 20, with a finish line just outside the Great Salt Pond.
In recognition of the 50th Anniversary, organizers plan to pay tribute to the early years of Race Week by reintroducing some of the features of yesteryear. A focus on families and fun will be a fundamental component of 2015. Look for full Crew Names listed in the Race Week Program as a helpful way to get to know people on other boats and maybe recognize an old junior sailing chum or college racing pal.
Family and Cruising classes are being developed and are growing. The Storm Trysail Club would like to see lots of growth in these classes and are hoping that a new crop of sailors will try their hand at going 'round the buoys, or in navigator's classes. This year there will be a place for just about any boat and crew – and with the same conditions, excitement and race management the grand prix divisions will enjoy.
Heidi & Steve Benjamin of Norwalk, CT have donated a new youth trophy to honor the ideals of Heidi's father, Bill Zeigler III. Zeigler almost always had a crop of young sailors aboard to bring along, learn the ropes and how to become great ocean sailors. The Gem Trophy will be open to non-service academy vessels (service academy vessels vie for the John Alden Reed Perpetual Trophy at Race Week) crewed by sailors 25 years and under who make up at least 70% of the total crew, including Skipper. This leaves room for a safety advisor, or boat owner, or other adult supervision if necessary to get the boat to the racecourse.
Look for more green initiatives at this year's Race Week. With a goal of becoming a fully sustainable regatta, organizers plan to provide water filling stations to reduce the use of disposable plastic bottles, as well as the use of digital race documents where available to reduce the use of paper. In fact, the STC will be implementing a wide variety of digital and traditional media outlets, for information, chats, scoring, pictures and video about Race Week. The belief is that the audience is not just on Block itself, but all around North America, and they want sailors to be able to participate vicariously or virtually wherever possible. Additionally, there will be a beach cleanup during Race Week. STC wants to make a positive mark on the environment of Block Island during the weeklong event.
Expect the same level of organization, grand prix and one-design action as in year's past. With a mix of the new initiatives and old-time fun, 2015 should be the best Block Island Race Week yet. Go to blockislandraceweek.com for more information on classes, events and registration, and look for a full preview in the May issue of WindCheck.